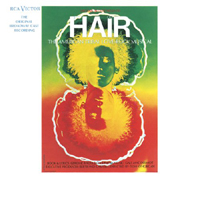 Original Off-Broadway and Broadway Casts, 1967/1968 (RCA, 2CDs)
(1 / 5) Many musical theater traditionalists were nonplussed when the seminal rock musical Hair became a big hit Off-Broadway and then on Broadway in the late 1960s. Those productions were deplorable in that they featured lots of substandard singing, as is proved by RCA's re-release of their cast albums in a two-CD Broadway Deluxe Collector's Edition. On both discs, the singing ranges from okay to execrable. The few listenable performances of songs from Galt MacDermot's wonderful score are to be found on the Broadway disc; among them are Lynn Kellogg's "Easy to Be Hard" and Shelley Plimpton's "Frank Mills." And it is fun to hear a young Diane Keaton and Melba Moore in "Black Boys" and "White Boys," respectively. Leads Gerome Ragni and James Rado, who wrote the lyrics and book for the show, sing well enough, but their interpretations lack theatrical charisma. On the Off-Broadway recording, "Aquarius" and "Good Morning, Starshine" are sung so poorly and so far off-pitch that you'll gasp. With the exceptions noted above, and a couple of others, the performances to be found on these recordings are off-putting and dispiriting. — Michael Portantiere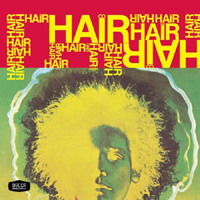 Original London Cast 1968 (Decca)
(1 / 5) Decca released two LPs worth of recordings of songs from the original London production of Hair, "the American tribal love-rock musical." As Peter Knight explains in his notes for the CD release, "the show contains some 34 titles but, when the initial recording [of the London Hair} was made in 1968, it was impossible to cram them all onto one 12-inch vinyl pressing … Fresh Hair [a follow-up album} was conceived to resolve the problem." Both albums are included in full on the single CD. Unfortunately, the singing here is often as ragged and out of tune as on the original RCA albums. For a worthy recording of this great score, look elsewhere. (See below.)  — M.P.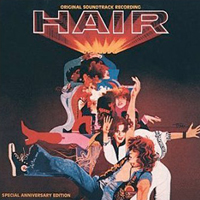 Film Soundtrack, 1979 (RCA)
(5 / 5) The film version of Hair was a vast improvement over the original stage productions in New York and London, not only in terms of its script (a brilliant adaptation by Michael Weller), but also for the overall excellent representation of the score. To begin with, the songs are sung very well — and all of the voices you hear are actually those of the performers you see on screen. Treat Williams is an ideal Berger, bursting with subversive energy in "Donna" and "I Got Life."John Savage sings "Where Do I Go?" with great beauty of tone as well as great depth of feeling, and he engagingly duets with Williams in "Manchester." Don Dacus is funny and very appealing as Woof in "Sodomy" and "Hair."  Cheryl Barnes sings the hell out of "Easy to Be Hard." And, in her one brief solo spot, Beverly D'Angelo brings a sweet voice to "Good Morning, Starshine," even if she does have some minor pitch problems. Two alums of the Broadway staging of Hair, Melba Moore and Ronnie Dyson, sing powerfully in the terrifying "3-5-0-0," while Nell Carter and Ellen Foley turn up elsewhere. The phenomenal score is thrillingly arranged and conducted by composer Galt MacDermot himself. (Tom Pierson is the vocal arranger/conductor.)  This recording was originally released on two LPs, but the longer playing time of CDs allowed all of that content to be issued on one disc. As was the case with some previous, classic film soundtrack albums — for example, Carousel and The King and I — the Hair recording includes several songs from the original score that are not in the film, most notably "Frank Mills," and full versions of other songs that were edited down for the film, such as "Donna" and "Black Boys." The only really negative thing to be said about this recording is that, annoyingly, none of the vocalists are specifically credited anywhere in the CD package. — M.P.