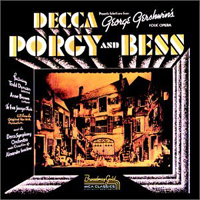 Original Broadway Cast Members, 1940/1942 (Decca)
(5 / 5) Porgy and Bess may be the most fabulous failure in musical theater history, although it can only be judged a failure in that its original 1935 run of 124 performances at the Alvin Theatre was brief by Broadway standards, and not financially successful. George Gershwin's iconic work is based on the play Porgy by Dorothy and DuBose Hayward; the latter was the primary librettist-lyricist for Porgy and Bess, with Ira Gershwin collaborating on the lyrics. It might be argued that recordings of this full-fledged opera should not be reviewed along with those of musicals, but Porgy and Bess has become part of the fabric of American culture in a way that Regina, The Consul, and other operas that played on Broadway never did. If critics and audiences didn't fully appreciate the work in 1935, they certainly came to do so in the years following George Gershwin's tragic, early death in 1937. The first recordings reviewed here were made by members of the original Broadway cast and others several years after the fact, under the leadership of the opera's original conductor, Alexander Smallens. Todd Duncan and Anne Brown sing gloriously in the title roles, and their rendition of the beautiful duet "Bess, You Is My Woman Now" has served as a benchmark for every subsequent recording. This compilation also offers Duncan and Brown performing several songs that were written to be sung by other characters: She does Clara's "Summertime" and Serena's "My Man's Gone Now," he does Sportin' Life's "It Ain't Necessarily So" and Crown's part in "What You Want Wid Bess?" John Bubbles, the original Sportin' Life, is not among the singers here; Avon Long, who played the part in the 1942 revival, does "There's a Boat That's Leavin' Soon for New York" and is also heard in a bonus track of Porgy's "I Got Plenty o' Nuttin" that features a jazzy arrangement for the Leo Reisman Orchestra. The only other original cast member represented here among the leads and featured players is the rich-voiced Edward Matthews as Jake, singing "A Woman Is a Sometime Thing" and "It Take a Long Pull To Get There." This album represents only a small fraction of the three-hour score, and it has unfortunate interior cuts in some of the selections — for example, "Porgy's Lament" is bereft of the wonderful counterpoint parts for Maria and Serena. Still, the wonder of these recordings lies not in their completeness but in their authenticity. (Note: Three months before the opera's Broadway premiere, excerpts from the score were recorded in a CBS studio with Gershwin conducting several of the original cast members and a 43 piece orchestra. Those recordings are available on the MusicMasters CD Gershwin Performs Gershwin. They are precious in allowing us to hear "Summertime" and "My Man's Gone Now" as conducted by the composer and sung by their original interpreters, Abbie Mitchell as Clara and Ruby Elzy as Serena.) — Michael Portantiere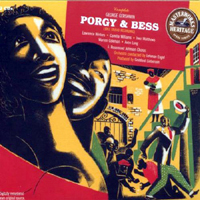 Studio Cast, 1951 (Columbia, 2CDs)
(5 / 5) While this recording is not "complete" as advertised, it contains so much more of Porgy and Bess than had previously been recorded that the exaggeration can be forgiven. Of the many fine studio recordings of great musical theater scores conducted by Lehman Engel and produced by Goddard Lieberson, this one is the cream of the crop. Among the singers are original cast members Warren Coleman as Crown, Edward Matthews as Jake, J. Rosamond Johnson as Frazier, and Helen Dowdy, who sings Maria in addition to her original role of Lily. Coleman lunges at some of the notes and speaks rather than sings much of Crown's music, but he makes the character dramatically potent and truly menacing. Avon Long is back as Sportin' Life, and although his voice isn't ideal for the part, his performance oozes with personality. Camilla Williams is an adequate Bess, even if her vocal tone is a bit droopy and lacking in sensuality, but Lawrence Winters is magnificent as Porgy. His ringing high-baritone voice sounds ideal throughout, and then, just when you think he couldn't possibly top himself, his delivery of the climactic line "I gotta be wid Bess" in the final scene is thrilling beyond description. Engel's conducting is always on point, and the sound quality of the recording is excellent for 1951 mono.  Overall, a triumph.– M.P.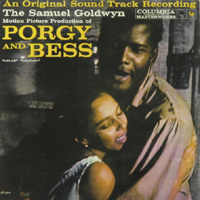 Film Soundtrack, 1959 (Columbia)
(3 / 5) This is an aural memento of a troubled film. The movie itself was withdrawn from circulation decades ago because it was do despised by certain people who controlled the Gershwin estate, which held ownership of the rights, and even the soundtrack album has been out of print for years; I somehow acquired a Japanese CD pressing that sounds like it was transferred directly from the LP master tape, with no digital processing or remastering whatsoever. The film stars Sidney Poitier as Porgy, Dorothy Dandridge as Bess, Sammy Davis, Jr. as Sportin' Life, Pearl Bailey as Maria, Brock Peters as Crown, Ruth Attaway as Serena, and Diahann Carroll as Clara, but only Davis, Bailey, and Peters do their own singing — and, for contractual reasons, Davis is not heard at all on this album. Instead, Cab Calloway sings Sportin' Life's "It Ain't Necessarily So" and "There's a Boat That's Leavin' Soon for New York" with an engaging personality that lacks the sense of evil necessary for the character. What we have presented here are pretty much the songs of Porgy and Bess; the movie retained very little of the opera's spoken dialogue, and there is none on the album. Despite its flaws, this recording is worth tracking down if only for baritone Robert McFerrin's extraordinary performance of Porgy's music, dubbed for Poitier, and Adele Addison's lovely singing for Dandridge. Both rein in their operatic voices somewhat for the film medium, but they still sing beautifully under the skillful, respectful musical direction of André Previn and Ken Darby. — M.P.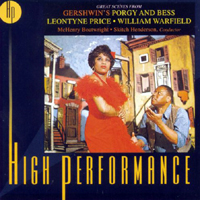 Studio Cast, 1963 (RCA)
(4 / 5) There are many recordings of highlights from Porgy and Bess, but this one is exceptional for its superb singing, conducting, and sound quality. Opera diva Leontyne Price had one of the most beautiful voices of the 20th century. She toured in the role of Bess for two years (1952-54), and posterity should be grateful that she commercially recorded large portions of this score when she was in her vocal prime. Her Porgy on tour and on the album is William Warfield, to whom Price was briefly wed; the marriage may not have worked out, but they sure make beautiful music together, she with her glorious soprano and he with his warm baritone. Less successful is McHenry Boatwright, who brings a somewhat stuffy operatic sound to the role of the brutal Crown, but it's great to have original Sportin' Life John Bubbles on hand. Although his voice had weakened with age by the time of this recording, Bubbles still gives us style for miles. Price and Warfield also sing sections of the score that were written for other characters, but this compromise in faithfulness to the narrative is justified when we hear Price's thrilling renditions of "Summertime" and "My Man's Gone Now." Skitch Henderson conducts with tremendous verve, and the technical quality of the recording is astoundingly good. Be sure to attenuate the volume control of your sound system during the orchestral postlude to "There's a Boat That's Leavin' Soon for New York" if you don't want to disturb your neighbors. — M.P.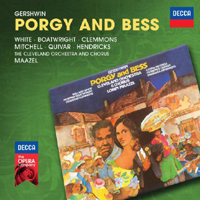 Studio Cast, 1976 (London, 3CDs)
(3 / 5) For 40 years after the premiere of Porgy and Bess, no truly complete recording of the score was available. Then, two such recordings were released in 1976. This one features the first-rank conductor Lorin Maazel leading the Cleveland Orchestra, and if some of his choices of tempo are a little eccentric, none of them are damaging, and the performance is very laudable overall. Willard White is a strong Porgy, if perhaps a bit too bass-sounding for some tastes, while Leona Mitchell is in fresh and lovely voice as Bess. McHenry Boatwright, who was Crown on the 1963 recording, is back, and he sounds even stodgier here. But Barbara Hendricks as Clara, Florence Quivar as Serena, and Francois Clemmons as Sportin' Life are very well suited to their roles, and the large chorus sounds fine even though it's apparently not authentic in terms of racial makeup. The excellent quality of the recorded sound helps make this a full, rich, and exciting recording that probably would have achieved greater popularity if not for its having been bettered by the one reviewed immediately below. — M.P.
Houston Grand Opera Cast, 1976 (RCA, 3CDs)
(5 / 5) A superb production of a great American work marked the country's bicentennial when the Houston Grand Opera's Porgy and Bess came to Broadway in 1976. Because this complete recording was based on an actual stage production (which was performed live with a fair amount of cuts), it has a palpable theatricality, and John DeMain's conducting of the score is beyond criticism. The solo singers are generally excellent, if only definitive in one case: Larry Marshall is the best Sportin' Life on records. Donnie Ray Albert displays a strong baritone as Porgy, but his voice may strike some listeners as a bit too darkly "operatic" for the part, and his sibilant esses are somewhat distracting. As Bess, Clamma Dale proves herself to be a great singing actress, and one of the sexiest-ever exponents of the role. The other singers on hand help to make this recording really special: Betty Lane offers an ethereally beautiful performance of "Summertime," Wilma Shakesnider is immensely moving in Serena's "My Man's Gone Now," Carol Brice's Maria is a force to be reckoned with, and Andrew Smith has just the right voice for  Crown. The large chorus and orchestra sound fabulous throughout. Although Albert's Porgy is not quite all that we might wish it to be, this set still rates five stars because it's by far the most satisfying of the three note-complete recordings of a true American masterwork. — M.P.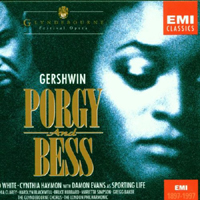 Studio Cast, 1989 (EMI, 3CDs)
(1 / 5) What might have been an estimable recording is sabotaged by Simon Rattle, a maddeningly willful conductor who seems more interested in calling attention to his presence at the podium than in interpreting Porgy and Bess according to the composer's intentions. Several of the tempi that Rattle sets for the London Symphony Orchestra are ridiculously fast, others are absurdly slow, and there is no sense of dramatic cohesion throughout the opera. That's unfortunate, because the singers are strong: Willard White is back as Porgy, sounding even better than before, and he's superbly partnered by the Bess of Cynthia Haymon. Also happily on hand are Gregg Baker as the sexiest Crown imaginable, Damon Evans as a slick, very well-sung Sportin' Life, and Harolyn Blackwell as a pure-toned Clara. After the fact, this recording served as the soundtrack for a 1993 video version of Porgy and Bess that's deplorable not only because it's so badly lip-synched, misdirected, and poorly conducted, but also because it was apparently sanctioned by the Gershwin estate in lieu of a TV telecast of the contemporaneous Metropolitan Opera production. — M.P.