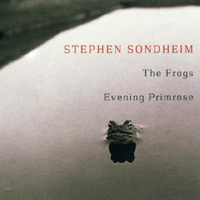 Studio Cast, 2001 (Nonesuch)

(4 / 5) Based on a play by Aristophanes, The Frogs was written by Stephen Sondheim and Burt Shevelove to be performed by the Yale Repertory Theatre in the university's swimming pool. It had a one-week run in 1974, with an ensemble that included three Yale School of Drama students who would be heard from again: Meryl Streep, Sigourney Weaver, and Christopher Durang. The show harkens back to the Sondheim-Shevelove-Larry Gelbart musical A Funny Thing Happened on the Way to the Forum in that both were freely based on ancient comic classics. This excellent recording of the brief score of The Frogs benefits from the luxury casting of Nathan Lane as the god Dionysos ("an aging juvenile of great charm") and Brian Stokes Mitchell as his slave, Xanthias. The comic chemistry between these two is terrific, never more so than in the droll "Prologos: Invocation and Instructions to the Audience." "Please don't cough / It tends to throw the actors off," Dionysos begs of the assembled theatergoers, going on to make further requests: "Please refrain / From candy wrapped in cellophane," and "Please, don't fart — there's very little air and this is art." In the equally funny title song, the chorus alternates between froggy noises and witty self-assessment ("Frogs! / We're the frogs / The adorable frogs! / Not your hoity-toity intellectuals / Not your hippy-dippy homosexuals"). The only disappointing moment of this world-premiere recording of the score comes when Shakespeare shows up in the person of Davis Gaines to sing the beautiful ballad "Fear No More" (with a text by the Bard himself, from Cymbeline). Gaines has displayed a gorgeous baritone in myriad musical theater roles over many years, but here he sounds tired and affected.
The second part of this disc is devoted to songs from Evening Primrose, an hour-long musical that aired on ABC-TV in 1966. The teleplay by James Goldman concerns a struggling poet who remains in a Manhattan department store after closing time and there discovers — in the words of Frank Rich, who wrote notes for the Nonesuch recording — "a mysterious nocturnal society of eccentric shut-ins as well as the muse he's been searching for, a sort of modern Rapunzel named Ella." In the telecast, Charles was played by Anthony Perkins, Ella by Charmian Carr. Since it was never a stage musical and is unlikely ever to be one, Evening Primrose doesn't warrant a lengthy review here, but it must be said that the four-song score contains two of the best ballads Sondheim ever wrote: Ella's touching reminiscence "I Remember," and the gorgeous duet "Take Me to the World." For this recording, Charles and Ella are sung persuasively by Neil Patrick Harris and Theresa McCarthy. Both the Evening Primrose and Frogs tracks feature the American Theatre Orchestra, brilliantly conducted by Sondheim specialist Paul Gemignani. The CD boasts Nonesuch's typically stunning recorded sound: powerful but not harsh, ambient but not overly reverberant, with great dynamic range.  — Michael Portantiere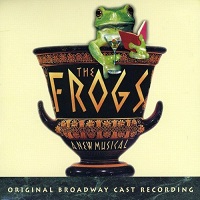 Original Broadway Cast, 2004 (PS Classics)

(4 / 5) A new version of The Frogs was presented by Lincoln Center Theater at the  Vivian Beaumont in 2004 for a limited, three-month run, but the lack of an extension or commercial transfer for the production should not be taken as a measure of its quality, as there's much to savor here. Nathan Lane starred in the show as Dionysos, bringing the full force of his presence and talents to a role he had previously recorded a few years earlier (see review above). One of Broadway's biggest stars for the past several decades, but not previously known as a writer, Lane became so enamored of the Sondheim/Shevelove adaptation of Aristophanes' play that he himself collaborated with Sondheim in crafting an extensively revised and expanded version; the full credits for the text and score of this production read, "A comedy written in 405 b.c. by Aristophanes; "The Frogs" freely adapted by Burt Shevelove; "The Frogs" even more freely adapted by Nathan Lane; music by Stephen Sondheim; lyrics by Stephen Sondheim; lyrics for "Fear No More" from Cymbeline by William Shakespeare." Lane and Sondheim perhaps overwrote a bit in reworking the piece, but the great news here is that Sondheim composed some excellent new songs to augment the 1974 score. Arguably the best of them all is "I Love to Travel," a number with a wonderfully old-time showbiz, almost vaudevillian feel to it, for Dionysos, Xanthias (a perfectly cast Roger Bart) and the Greek Chorus. In another style entirely, "Ariadne" is a lovely, elegiac new ballad for Dionysos about his deceased wife, affectingly rendered by Lane. PS Classics' cast album of the show would be worth purchasing if only for those two items, but there are many other pleasures to be had in the performances of the new songs and those carried over from the original score, courtesy of Jonathan Tunick's orchestrations, Paul Gemignani's musical direction, and a strong cast that also includes Burke Moses as Herakles, John Byner as Charon/Aekos, Peter Bartlett as Pluto, and Daniel Davis as George Bernard Shaw. Finally, although Michael Siberry is nowhere near as vocally gifted as Davis Gaines, he does a more satisfying job with "Fear No More" in that his performance sounds simpler and fresher.   — M.P.