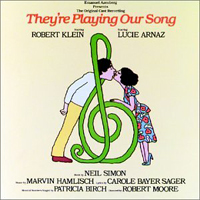 Original Broadway Cast, 1978 (Casablanca)

(2 / 5) Neil Simon based his book for They're Playing Our Song on the real-life relationship of the show's composer and lyricist, Marvin Hamlisch and Carole Bayer Sager. The result was a hit musical with catchy, pop-oriented tunes for the leading characters, Vernon and Sonia, and their alter egos — three boys for him, three girls for her. Robert Klein and Lucie Arnaz, who created the roles on Broadway, must have been better onstage than they are on this recording. Here, Klein is mannered and lacks a strong singing voice; his pseudo-pop sound doesn't put the songs across. Arnaz's vocals are scratchy and short on vulnerability. Still, the energy of this recording is unquestionable. Conductor Larry Blank and the back-up vocalists are first-rate. There is almost no dialogue to put the songs in context, but the score contains some solid numbers. Both Vernon's and Sonia's versions of the title song are witty, and they also have their own separate versions of the introspective "If He Really Knew Me." "Fallin' " is presented as one of Vernon's hit compositions, while the strong ballad "I Still Believe in Love" is his collaboration with Sonia. Another nice song of Sonia's is "Just for Tonight." — Jeffrey Dunn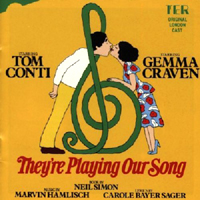 Original London Cast, 1980 (Chopper/TER-JAY)

(4 / 5) It's hard to define just why this recording is so far superior to the original. Tom Conti is primarily a non-musical actor, and Gemma Craven is better known as a soprano than a belter, but the two use all of their acting and vocal abilities to create fully realized characters. So, even though the London recording contains no more dialogue than the Broadway album, it's far more theatrical. Conti immediately captures us with his touching performance of "Fallin'." He and Craven deliver their respective versions of the title song with wonderful abandon, and the fact that their sensitive performances of "If He/She Really Knew Me" are programmed on the album as they are in the show only enhances their impact. Especially noteworthy here is the performance of "I Still Believe in Love"; this is supposedly the last song that Vernon and Sonia wrote before their breakup, and you can really hear that in Craven's voice. The six alter egos are fine, and the orchestra sounds very good, but Craven and Conti are what make this disc spin. — J.D.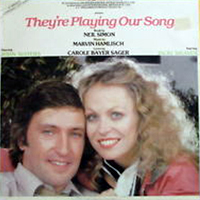 Original Australian Cast, 1980 (Festival Records)

(2 / 5) They're Playing Our Song became an international hit: Germany, Italy, Hungary, Austria, Mexico, Holland, and Australia all found the show to be a fine star vehicle. Down Under, Vernon and Sonia were played by John Waters (an Australian film actor, not the American film director!) and Jacki Weaver (an Aussie TV star). Neither of them is an accomplished vocalists, but both are excellent actors, and their charms do come across on this recording. The alter egos here are very strong singers, perhaps to compensate for the fact that the leads are not. Overall, the performance is spirited and more than pleasant. — J.D.