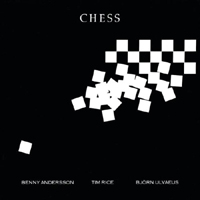 Studio Cast, 1984 (RCA, 2CDs)
(5 / 5) Dramatically incoherent but musically thrilling, Chess concerns the fierce rivalry between a Russian chess champion (Murray Head) and his American opponent (Tommy Körberg), a rivalry complicated by nasty Cold War politics and by the fact that both men become romantically involved with a Hungarian woman named Florence (Elaine Paige). The music is by Benny Andersson and Björn Ulvaeus, who wrote the songs for their mega-famous pop group ABBA; the lyrics are by Tim Rice, the most talented of Andrew Lloyd Webber's writing partners. Rice's work here is occasionally ungrammatical ("We wish, no must, make our disgust") but there are also many wonderful turns of phrase ("I see my present partner in the imperfect tense.") Frankly, the music is so great that even if the lyrics were less good than Rice's, Chess would probably still have gained a huge following. In a score that's exciting, moving, and witty by turns, highlights include the Russian's soul-searching "Where I Want to Be" and passionate "Anthem"; the American's searing "Pity the Child"; and Florence's angry "Nobody's Side" and wistful "Heaven Help My Heart." Also check out the extended "Mountain Duet," during which Florence and the Russian fall in love, and "I Know Him So Well," in which Florence and the Russian's wife, Svetlana (Barbara Dickson), commiserate. The performances of Körberg and Paige have never been surpassed, and if Head tends to scream more than sing at the top of his range, that's not inappropriate to the character he portrays. The other two soloists on the recording are Denis Quilley (a round-toned Molokov) and Bjorn Skiffs (a sexy Arbiter). As conducted by Anders Eljas, who also provides terrific orchestrations, the London Symphony Orchestra and The Ambrosian Singers sound magnificent. The recording level of the original CD transfer of this performance was unusually low, but happily, that has been remedied for the most recent release. — Michael Portantiere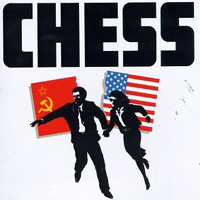 Original Broadway Cast, 1988 (RCA)
(3 / 5) It's generally agreed that Chess flopped on Broadway because of the awful book that Richard Nelson wrote around the score in a vain, inept effort to make dramatic sense of it all. Tim Rice reworked his lyrics extensively, but most of the revisions are not improvements. Some songs were added, most notable among them the hauntingly beautiful "Someone Else's Story." As performed by Judy Kuhn, playing Florence, that number alone would justify the purchase of this recording, but there is much more to recommend it. Philip Casnoff as the American chess champ (now named Freddie) is superb; in his amazing performance of the extremely rangy and difficult "Pity the Child," he maintains full vocal control while not stinting on the song's outsized emotions. Also, in contrast to Murray Head, Casnoff actually sounds American, which matters for this role in terms of the plot. The late David Carroll brought a major voice to the role of the Russian champ (now named Anatoly), and his Russian accent sounds excellent. Overall, this single CD of highlights from the score has its pleasures but does not supplant the original recording. — M.P.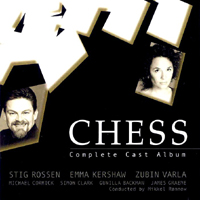 Danish Touring Cast, 2001 (Scanbox, 2CDs)
(4 / 5) The performance captured here is so fine that this recording would be worth buying even it were less complete. In the role of Anatoly, Stig Rossen sounds a lot like the original, Tommy Körberg — and that's meant as a great compliment. As Florence, Emma Kershaw may not have quite the voice of her predecessors; still, she's impressive, especially in the more lyrical sections of the score. (Note that the lovely "Someone Else's Story" is sung here by the character Svetlana, played persuasively by Gunilla Backman.) The two-disc set contains just about every scrap of music that had ever been written for Chess up to that time, but the not-so-great news is that the songs are sequenced in questionable order. For example, the rage-filled "Pity the Child," persuasively sung by Zubin Varla, occurs toward the end of Act I rather than in the middle of Act II, thereby making the songs that follow it seem anticlimactic — even Rossen's heartfelt rendition of "Anthem." On the plus side, the recording boasts a large orchestra and choir conducted by Mikkel Rennow, and the sound quality is excellent. — M.P.