Original London Cast, 1983 (Castle)

(2 / 5) This is the story of Mrs. Johnstone, a lower-class Liverpudlian whose husband deserts her, even though she's pregnant and already has seven children. Mrs. J., having determined that she can afford to care and provide for only one more child, is devastated to learn that she'll be giving birth to twins. In desperation, she agrees to let her rich employer, Mrs. Lyons, take one of the babies to raise as her own. At age seven, the two non-identical twin boys — Mrs. J's Mickey and Mrs. L's Eddie — improbably meet and become fast friends, unaware that they are siblings. Years later, this melodramatic situation leads to tragedy, explicated in ominous tones by a Narrator. It's easy to make fun of Blood Brothers, and indeed, it inspired a hilarious Forbidden Broadway spoof. With book, music, and lyrics by Willy Russell, the show is very earnest, but it leaves much to be desired in terms of professional polish. Some of the lyrics don't quite fit the music, and there are several imperfect rhymes ("chap/chat") along with some neat, clever ones ("soldier/told yer"). In the first version of a song titled "Marilyn Monroe," most of the references to that screen goddess are apt, but they become strained to the point of ridiculousness in subsequent numbers. On the whole, Russell's music is better than his lyrics; the melodies of "Sunday Afternoon," "Easy Terms," and "Tell Me It's Not True" are haunting, while "Bright New Day" is joyous. Some melodies and themes recur with added impact, as when the tune of "My Child," sung early on by the two mothers, is later used for "My Friend," the twins' declaration of their instinctive bond. Other recurring melodies and/or lyrics are simply annoying, as for example the seemingly endless repetitions of the phrase "You know the devil's got your number." The strong cast of the first recording is led by Barbara Dickson as Mrs. Johnstone, George Costigan as Mickey, Andrew C. Wadsworth as Eddie, and Andrew Schofield as the Narrator, but the score's virtues are undermined by keyboard-and-synthesizer-heavy arrangements. — Michael Portantiere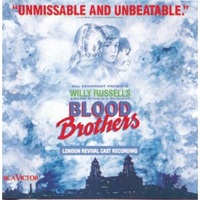 London Cast, 1988 (RCA)

(3 / 5) This recording is superior to its predecessor, offering better arrangements/orchestrations and more music — about 15 minutes' worth. Oddly, the song originally called "The Devil's Got Your Number" is now called "Shoes Upon the Table." Other titles have changed as well. Kiki Dee, best known as a Brit-pop singer and sometime musical partner of Elton John, is very good as Mrs. Johnstone. So is Robert Locke in the role of Eddie. And Con O'Neill is the best Mickey in all the recordings under review, bringing to the character a wonderfully winning innocence in the childhood stage and a moving angst as an adult. Also praiseworthy is Warwick Evans as the Narrator. (Both O'Neill and Evans would go on to play these roles in the 1993 Broadway production of Blood Brothers, which did not yield a cast recording.) — M.P.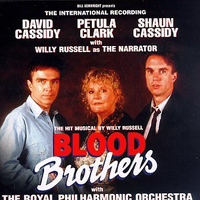 The International Recording, 1995 (First Night)

(4 / 5) Three starry leads and the Royal Philharmonic Orchestra will make this the preferred Blood Brothers recording for many listeners. At over an hour in length, it's also the most complete of the recordings under review. The singers and the huge orchestra are recorded in a weighty, reverberant acoustic that makes the score seem lush and important or somewhat heavy and pretentious, depending on one's taste; the overture here is a far cry from the synthesized sound of the one on the first Blood Brothers cast album. As for the famous lead singers, it's a pleasure to report that all three are excellent. Petula Clark, a major pop star of the 1960s with impressive stage and film credits as well, has a compelling, soulful voice that's perfect for Mrs. Johnstone. The erstwhile American teen idols David and Sean Cassidy, half-brothers in real life, sing very well as Mickey and Eddie, and their Brit accents are quite convincing. The Narrator here is Willy Russell, who wrote the show's book, music, and lyrics. — M.P.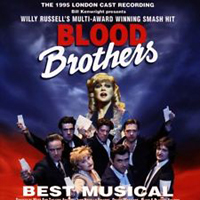 London Cast, 1995 (First Night)

(3 / 5) This recording is worth tracking down primarily for the superb singing and acting of Stephanie Lawrence, who had previously played Mrs. Johnstone on Broadway in 1993. Here heading a fine cast that also includes Paul Crosby as Mickey and Joanna Monro as Mrs. Lyons, with Warwick Evans back as the Narrator, Lawrence is in a class by herself as Mrs. J. The fact that she died at age 50, about five years after this recording, only increases the value of the album as a memento of her heartbreaking performance, so deeply committed that it even makes the most purple passages of the score seem moving rather than silly. Another big plus is the endearing Eddie of Mark Hutchinson, who had also been a member of the first Broadway cast of the show; his rendition of the sweet pop ballad "I'm Not Saying a Word" is particularly enjoyable. — M.P.