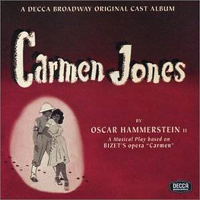 Original Broadway Cast, 1943 (Decca)

(4 / 5) It's easy to understand why Carmen Jones was such a hit on Broadway in 1943. Not only was it a novelty — an Americanized opera with an all-black cast — it was also valid on its own terms.  In writing the book and lyrics, Oscar Hammerstein adhered quite closely to Bizet's opera Carmen. This was no jazzing-down of the score, but there were some bright vernacular equivalents: a factory that makes parachutes (it was during WW-II, remember) instead of cigarettes, a prize fighter (Husky Miller) in place of a toreador (Escamillo), and so on. The opera's arias, ensembles, and choruses were adapted with great skill; for example, the famous quintet lost none of its spirit and dash in being revamped as "Whizzin' Away Along de Track." The show had spoken dialogue rather than recitatives, and what might now seem dated, jarring, and even offensive to some ears — "dat" and "dis" for "that" and "this," and so on — was seen as candid at the time. As heard here, some cast members show the strain of singing this demanding material several times a week. Others seem intent on proving that this, too, is an opera! But, overall, the album is excellent. Muriel Smith, reportedly a knockout onstage, would be a good Carmen under any circumstances; she sings with fire and conviction. The rest of the company is pretty much up to her standards, with Luther Saxon offering a beautifully sung "Dis Flower." The commitment level of the performance in general more than makes up for the recording's minor flaws. (There's a fun bonus track: Kitty Carlisle's "Beat Out Dat Rhythm on a Drum.") — Richard Barrios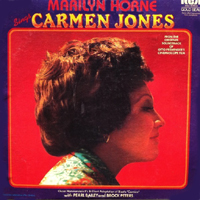 Film Soundtrack, 1954 (RCA/no CD)

(4 / 5) Otto Preminger's movie version of Carmen Jones was daring on numerous fronts: a Hollywood film of an opera (albeit with spoken dialogue), an all-black cast, and a forward look at sexuality. It was a huge success. For movie purposes, a smaller-scale vocal approach than would be heard in an opera house or on Broadway was deemed necessary. Still, like the film itself, this recording works very well on its own terms. Setting the tone as Carmen is the 20-year-old Marilyn Horne, her first name listed in the credits as "Marilynn." In voice and style, Horne is closer here to Dorothy Dandridge — the on-screen Carmen, and a pop singer of some merit — than to the later Horne, who was to become one of the greatest mezzo soprano divas of the 20th century with her rich low notes and electrifying Rossini roulades. Most of the remainder of the movie cast was dubbed as well, including two other pop singers, Harry Belafonte (by LeVern Hurcherson) and Diahann Carroll (by Bernice Peterson). As Cindy Lou, OlgaJames sings with warmth and sincerity even if she ducks a high note in her big aria, "My Joe." Pearl Bailey avoids any such problem by singing "Beat  Out Dat Rhythm on a Drum" down in her own range; aided by no less than Max Roach on drums, she makes it a piece for the ages. Herschel Burke Gilbert's musical arrangements are superb, and even though Dandridge's scorching Carmen needs to be seen, this aural record of the movie is a winner. (Technical note: Although the score was recorded in stereo and may be heard that way on home video releases of the film, the soundtrack LP has never been issued in true stereo.)– R.B.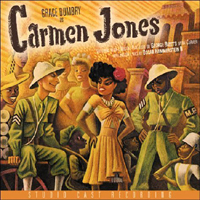 Studio Cast, 1967 (WRC/DRG)

(2 / 5) Another opera diva, Grace Bumbry, built a sizable part of her career on Bizet's Carmen and turned to the gypsy's American sister in the recording studio. The result, if not theatrical, sounds beautiful. Bumbry had one of opera's most luscious voices, and she could be a compelling dramatic performer as well. As Ms. Jones, her tone is plush, but the fire is there only intermittently. Since this recording is very much a "Diva Gets Down" kind of event, the supporting cast takes a back seat; in the case of Joe, that's just as well, for George Webb is a milquetoast in voice and manner. Bumbry demolishes him in the last scene without so much as chipping her nail polish. The others fare better, and it's worth noting that the veteran Elisabeth Welch gets to do "Beat Out Dat Rhythm," which is again transposed down from the original score. She's good, but Pearl Bailey still wins the prize. This is an acceptable Carmen Jones in true stereo, but a few minutes of either previous recording will show you what's missing. — R.B.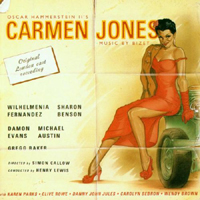 Original London Cast, 1991 (EMI)

(1 / 5) It took nearly 50 years for Carmen Jones to cross the Atlantic, and she picked up some baggage for her trip to the Old Vic. The show in its original version was felt to be old-hat, resulting in this glossy production by Simon Callow, with reduced orchestrations and a jazzed-up overture. There were rapturous reviews, numerous awards, and the production had a long run — but, apparently, it was an experience far better suited to live viewing than home listening. At least two factors make this recording unsatisfying: drastically cut-down orchestrations, and back-and-forth switching between the lead singers. Wilhelmenia Fernandez and Damon Evans sing Carmen and Joe in Acts I and IV, while Sharon Benson and Michael Austin do so in Acts II and III. Though all are committed to the task at hand, some fall a bit short. Fernandez has a warm tone but faulty diction. Even more unfortunate, Benson makes "De Cards Don't Lie" sound nice, light, and even-tempered. (Yes, this is the number in which the cards foretell Carmen's death!) Evans is a slightly more substantial Joe than the reedy Austin, whose "Dis Flower" is a trial. Karen Parks gets through "My Joe," and Gregg Baker, another genuine opera singer, is a decent Husky.  — R.B.