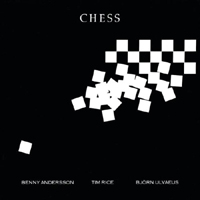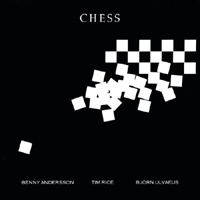 Studio Cast, 1984 (RCA, 2CDs)

(5 / 5) Dramatically incoherent but musically brilliant, Chess concerns the fierce rivalry between an American chess champion (here sung by Murray Head) and his Russian opponent (Tommy Körberg), a rivalry complicated by nasty Cold War politics and by the fact that both men become romantically involved with a Hungarian woman named Florence (Elaine Paige). The music is by Benny Andersson and Björn Ulvaeus, who wrote the songs for their mega-famous pop group ABBA; the lyrics are by Tim Rice, best known for his work with Andrew Lloyd Webber. The lyrics as heard on this concept album of Chess are occasionally ungrammatical ("We wish, no must, make our disgust at this abuse perfectly clear"), but there are also many wonderful turns of phrase ("I see my present partner in the imperfect tense"). Frankly, the music is so great that even if the lyrics were not as good as Rice's, Chess would probably still have gained a huge following. In a score that's exciting, moving, and witty by turns, highlights include the Russian's soul-searching "Where I Want to Be" and passionate "Anthem"; the American's searing "Pity the Child"; and Florence's angry "Nobody's Side" and wistful "Heaven Help My Heart." Also check out the extended "Mountain Duet," a falling-in-love duet for Florence and the Russian, and "I Know Him So Well," in which Florence and Svetlana (Barbara Dickson), the Russian's wife, commiserate. The performances of Körberg and Paige have never been surpassed, and if Head tends to scream more than sing at the top of his range, that's not inappropriate to the character he portrays. The other two soloists on the recording are Denis Quilley (a round-toned Molokov) and Bjorn Skiffs (a sexy Arbiter). As conducted by Anders Eljas, who also provides terrific orchestrations, the London Symphony Orchestra and The Ambrosian Singers sound magnificent. The recording level of the original CD transfer of this performance was unusually low, but happily, that has been remedied for the most recent release. — Michael Portantiere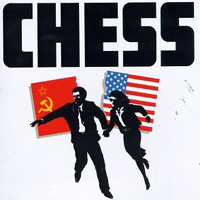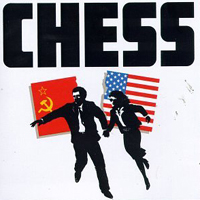 Original Broadway Cast, 1988 (RCA)

(3 / 5) It's generally agreed that Chess flopped on Broadway because of the ineptly crafted book that Richard Nelson wrote around the score in a vain effort to make dramatic sense of it all. Happily, none of his work is included on this recording. Tim Rice reworked his lyrics extensively for the Broadway production, but most of the changes are not improvements. Some songs were added, most notable among them the hauntingly lovely "Someone Else's Story." Beautifully sung by Judy Kuhn as Florence, that number alone would justify the purchase of this recording, but there is much more to recommend it. Philip Casnoff as the American chess champ (now named Freddie) is superb; in his amazing performance of the extremely rangy and taxing "Pity the Child," he maintains full vocal control while not stinting on the song's outsize emotions. Also, in contrast to Murray Head, Casnoff sounds American (which he is), and that's important in terms of the plot. The late David Carroll brought a major voice to the role of the Russian champ (now named Anatoly), and his accent is excellent. Overall, this single CD of highlights from the score has its many pleasures, even if it certainly does not supplant the original recording. — M.P.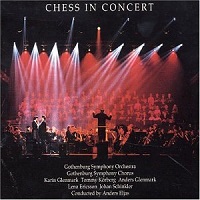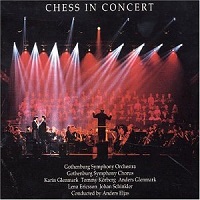 Swedish Concert Cast, 1994 (MONO, 2CDs)

(4 / 5) This album was released in Sweden on Benny Andersson's label MONO, drawn from concerts that were recorded live at Eriksbergshallen in Gothenburg, Sweden in August 1994, with an all Swedish cast singing in English. A major attraction here is Tommy Körberg returning to the role of the Russian chess master, which he created on the concept album of Chess.  If anything, he sounds even better here, equally solid from a vocal standpoint and even more emotionally engaged — perhaps in part because this is a recording of a full concert performance before a live audience, rather than a studio album recorded piecemeal. Married couple Anders and Karin Glenmark, who were background singers on the concept recording, are here promoted to the leading roles of Freddie Trumper and Florence Vassy, and they do very well by their assignments. Anders Eljas, conductor of the original recording, is happily on hand as well, leading the Gothenburg Symphony Orchestra and Chorus plus three band members from ABBA: Rutger Gunnarsson, Lasse Wellander, and Per Lindvall, all of whom also played on the concept album. As of this writing, this recording is out of print and extremely expensive to purchase if you can find it at all, but you might be able to seek out an excerpt or two on YouTube or elsewhere to sample it. — M.P.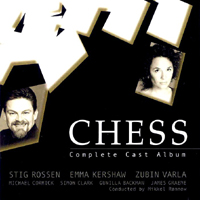 Danish Touring Cast, 2001 (Scanbox, 2CDs)

(4 / 5) The performance captured here is so fine that this recording would be worth buying even it were less complete. In the role of Anatoly, Stig Rossen sounds a lot like the original, Tommy Körberg — and that's meant as a great compliment. As Florence, Emma Kershaw may not have quite the voice of her predecessors; still, she's impressive, especially in the more lyrical sections of the score. (Note that "Someone Else's Story" is here given to  Svetlana, sung persuasively by Gunilla Backman.) The two-disc set contains quite a lot more material than had previously been recorded, but the not-so-great news is that some of the songs are sequenced in a questionable order that apparently more or less replicates their sequencing in the original London stage production of Chess, which did not yield a cast album. For example, the rage-filled "Pity the Child," powerfully delivered by Zubin Varla, occurs toward the end of Act I rather than in the middle of Act II, thereby making the songs that follow it seem anticlimactic — even Rossen's heartfelt rendition of "Anthem." On the plus side, the recording boasts a large orchestra and choir conducted by Mikkel Rennow, and the sound quality is first rate. (Note: Following the initial release of this two-disc set, Andersson and Ulvaeus objected to the recording of some musical sequences without authorization, so they were removed for a subsequent edition.)  — M.P.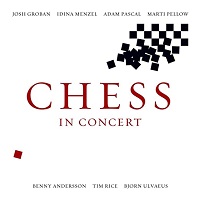 Royal Albert Hall Concert Cast, 2009 (Reprise, 2CDs)

(4 / 5) Fans of Chess can be happy that, even if there has not yet been a completely satisfying presentation of the show as a fully staged musical (or pop opera) with full sets, costumes, etc. — including the original London and Broadway productions — there are several excellent recordings of the score. Presenting the work as a staged concert seems to have become viewed as the wisest choice since the failure of the Broadway production, and this live recording is an audio document of one of the best efforts in that form. Josh Groban and Adam Pascal had previously proven to be pretty much ideal in the roles of the Russian and American chess champs Anatoly Sergievsky and Frederick Trumper in a benefit concert of Chess for The Actors' Fund of America that was presented on Broadway as a one-night-only event in 2003, and here they reprise those roles in triumph, both perfectly cast in terms of vocal timbre and personality. The male leads are joined by Idina Menzel as Florence Vassy, and even those who are not usually enamored of Menzel's nasal style of vocal production may feel that this role is a very good fit for her; to these ears, she sounds equally good in the ballads and the more rock-belty sections of the score.  Marti Pellow's singing of the Arbiter's song is a little too mellow of tone for that intense character, but David Bedella and Clarke Peters are both very strong as Molokov and Walter De Courcy, and Kerry Ellis sounds lovely as Svetlana, who gets to sing "Someone Else's Story." There is some new or unfamiliar material here, and the song order isn't quite the same as any previous production or recording — but Chess enthusiasts should be used to that by now. The very large chorus and orchestra perform excitingly and impeccably under conductor and musical advisor David Firman.  (Note: This performance is also available on video, which may be purchased as a DVD along with the 2CD set, or separately.) — M.P.