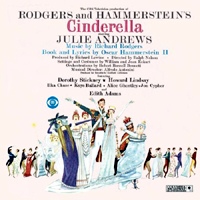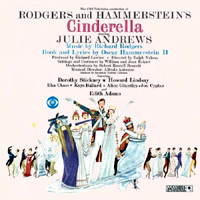 Original Television Cast, 1957 (Columbia)

(5 / 5) In the age of television's big-cast, major-hoopla "spectaculars," one program stood out as a truly gala event: Rodgers and Harnmerstein's Cinderella, starring Julie Andrews. Forget the Fairy Godmother; here, the magic was in the score and the star. Broadcast on March 31, 1957, Cinderella still stands as one of the most-watched programs in television history. Those were the days of live TV (the show survives in a kinescope, later released to home video) and of quick turnover for cast albums; this LP was actually in stores six days prior to the telecast! R&H's Cinderella may not be their greatest achievement, but the team produced a fine score that is romantic and funny by turns, and the album is wonderful. Naturally, Andrews dominates. Wistful when singing "In My Own Little Corner," rapturous in "A Lovely Night," this great star is utterly believable as a fairy tale heroine. Nearly everyone else in the cast is up to her level, with only Jon Cypher as the Prince seeming a tad out of his league. Kaye Ballard and Alice Ghostley are very funny as the stepsisters — not hateful, just buffoonish in an endearing way. Dorothy Stickney and Howard Lindsay are sweet as the King and Queen, and Edith (Edie) Adams is a Fairy Godmother almost as young and charming as her cinder-smudged charge. Listening to this souvenir of a long-vanished era of TV entertainment, you think: "It really hasn't gotten better, has it?"  — Richard Barrios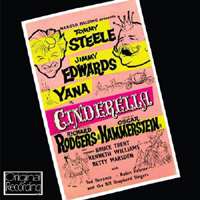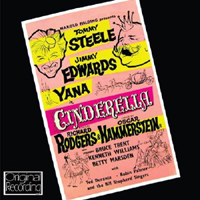 Original London Cast, 1958 (Decca/Bayview)

(2 / 5) Although it was written for television, Cinderella soon found its way onto the stage in productions that were usually fleshed-out with additional material, as in this recording. Rodgers and Hammerstein normally kept close tabs on major foreign productions of their work, but in this exceptional case, the property was sold outright for a Christmas pantomime at the London Palladium. A beloved British tradition, the "panto" format was pretty much set in stone — a star comedian, special music-hall material, comic drag — and all shows had to conform. Oddly enough, a version of the Cinderella story had been presented at the Palladium some years earlier, with the title role played by –Julie Andrews. (That was before she became famous as Eliza Doolittle in My Fair Lady.) But here, the star was the young Tommy Steele in a role that R&H never dreamed of: Buttons, a servant with a thick Cockney accent. The added songs are English-music-hall pop.  While all of these changes diminish the heroine's role, Cinderella still fares pretty well as performed by Yana, a British pop singer and TV personality of the time. As the prince, Bruce Trent is given an additional R&H gem, "No Other Love" — a song from the Broadway show Me and Juliet, with a melody Rodgers originally composed for Victory at Sea, a TV documentary about naval combat during World War II! There are other changes here and there but, fortunately, the drag stepsisters are not as campy as might have been feared. All in all, the recording is a curiosity at least, and sometimes more. — R.B.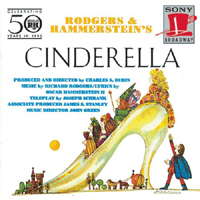 Television Cast, 1965 (Columbia)

(1 / 5) The 1957 Cinderella telecast was a tremendous success, but since it wasn't preserved on videotape, it quickly passed into legend. Eight years later, the property was ripe for remake — albeit without Julie Andrews, who was by then a big Hollywood star. Hammerstein had died, and the new production very much reflected the Rodgers-alone aesthetic: extremely "sincere," no sly winks at the story, the whole of it done with solemnity. Changes such as turning "A Lovely Night" from a quartet into a solo were not improvements, and the interpolated "Loneliness of Evening" (cut from South Pacific) makes the show seem all the more funereal. As Cinderella, teenager Lesley Ann Warren tries to fill some very large glass slippers. While she displays a certain charm, her singing here is thin and uncertain, and she is not yet the assured performer she would later become. Stuart Damon's prince is well sung but stodgy, and Celeste Holm is a synthetic Fairy Godmother. Only Pat Carroll and Barbara Ruick escape the gloom, but they have less opportunity to shine than did Ballard and Ghostley. Despite its inadequacies, the show was rerun numerous times. (In 1997, another TV version aired, with a cast headed by singer Brandy, Paolo Montalban, Bernadette Peters, Whitney Houston, Jason Alexander, Victor Garber, and Whoopi Goldberg. That production was commercially released only on home video, not on CD.) — R.B.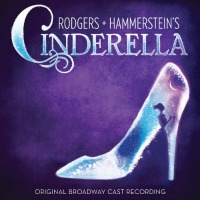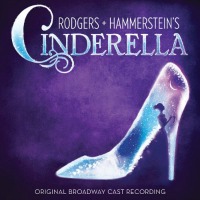 Broadway Cast, 2013 (Ghostlight)

(2 / 5) You can't keep a good score (or a familiar, beloved story) down. As noted above, Rodgers and Hammerstein's made-for-TV fairy tale was adapted for the stage within a few years of that first sensational telecast, and numerous productions have followed. The most ambitious effort came with the show's Broadway premiere in 2013, featuring a new book by Douglas Carter Beane. The King and Queen were omitted (or exiled), Cinderella was given a you-go-girl sense of empowerment, and once again there were songs from elsewhere in the R&H catalogue. ("Loneliness of Evening" came this time with altered lyrics.) The production was heavy on dazzle, the costumes won a Tony, and the show ran on Broadway for two years. Not surprisingly, the main virtue of this recording is the score, add-ons and all. Fortunately, there are some good voices singing it. While Laura Osnes does not always phrase with the utmost grace, her crystalline tone is both attractive and appropriate. Santino Fontana makes an endearing, truly charming prince, while Victoria Clark is luxury casting as the Godmother. Also in the deluxe realm is the marvelous Harriet Harris, though her stepmother doesn't have much to do on the album. While never challenging Julie Andrews and the rest of the 1957 team, this is still Rodgers and Hammerstein, reasonably well performed — and that puts it well ahead of most of its Broadway competition. — R.B.