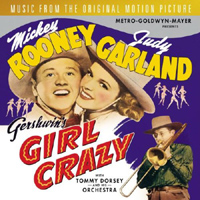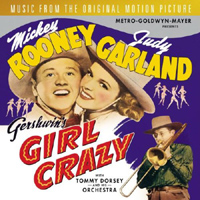 Film Soundtrack, 1943 (Rhino-Turner)

(3 / 5) It's widely known that George and Ira Gershwin's Girl Crazy has a terrific score, and that Ethel Merman made her legendary Broadway debut in the show singing "I Got Rhythm." Many aficionados also know that Ginger Rogers, not Merman, was the heroine, and that the opening night pit orchestra included Benny Goodman, Glenn Miller, and Gene Krupa. No one, however, knows or wants to know the script; even for 1930, this was a loose assemblage of ethnic humor, stock situations, and leftover shreds from cowboy movies. Small wonder that the musical was so thoroughly rewritten for its one major Broadway revival that it needed a new title: Crazy for You (see separate review of the cast album under that title). Fortunately for home listeners, a timeless score matters far more than an unrevivable script. The property was filmed three times, never faithfully but twice with some interest. The 1943 version starred Mickey Rooney and Judy Garland in their vocal prime, as evidenced by this album of songs from the soundtrack. The duet "Could You Use Me?" is an outstanding Gershwin cut, and so is Garland's sparkling "Embraceable You." Nor does June Allyson, in her feature film debut, hold anything back in "Treat Me Rough." The Tommy Dorsey Orchestra really swings out in "I Got Rhythm," and any recording that features Garland singing a definitive "But Not for Me" has its own built-in justification. — Richard Barrios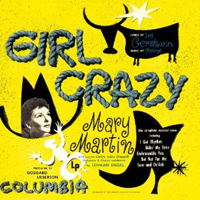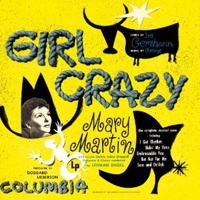 Studio Cast, 1951 (Columbia/Sony)

(1 / 5) The first studio cast recording of Girl Crazy is in no way a true reflection of the show; it might have better been titled "Mary Martin and Friends Sing Songs From Girl Crazy." There is no theatricality here, simply an assured star blandly sailing through some favorite pieces. Martin is assisted by conductor Lehman Engel plus a chorus and supporting singers who evidently have no idea that the Gershwins intended these songs to have energy and fire. Even "Treat Me Rough" sounds laid-back! This, then, is the Muzak version of Girl Crazy, and only Martin completists need give it their attention. — R.B.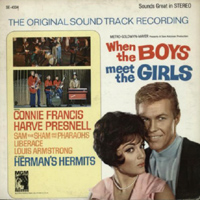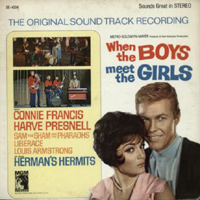 When the Boys Meet the Girls, Film Soundtrack, 1965 (MGM/no CD) No stars; not recommended. When Girl Crazy made it to the big screen for the third time, it was a humdrum effort retitled When the Boys Meet the Girls. The flick starred two enjoyable singers, Connie Francis and Harve Presnell, but neither the orchestrations nor the new material were worthy of their talents, let alone those of the brothers Gershwin. All that need be added about this soundtrack recording is that it certainly is unique: Liberace and Sam the Sham and the Pharaohs perform material that is not from the show, and where else could you find a rendition of "Bidin' My Time" by Herman's Hermits? — R.B.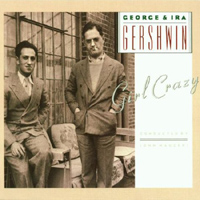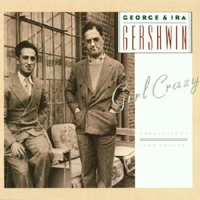 Studio Cast, 1990 (Nonesuch)

(4 / 5) Six decades after its first hearing, the Girl Crazy score was finally given something close to its due. This time, there was a reconstruction of the orchestrations, and there is an almost time-capsule feel to the performances, ably conducted by John Mauceri. Although the singers work hard, the casting is not all it should be, so it's really the orchestra and the material that make this recording special. Judy Blazer is an attractive Molly, but the Danny of David-James Carroll (he later dropped the "-James") is too much in the sensitive juvenile vein; this show does not need a Candide! The toughest role to cast, of course, is the dramatically extraneous, musically necessary part of Kate — the Merman role. The character's songs have "self-assurance" written allover them from the very first note of "Sam and Delilah," and although Merman's type of brass isn't necessarily a requirement, some sort of magic is. Lorna Luft tries and has good moments, but something more is needed. (Maybe Bernadette Peters or Donna Murphy could make these songs work without imitating Merman.) At least Mauceri and his musicians hold up their end unfailingly, and there's a fun appendix included as well: "You've Got What Gets Me," written by the Gershwins for the 1932 Girl Crazy film. This is a worthy recording that will serve well until something even better comes along.  — R.B.