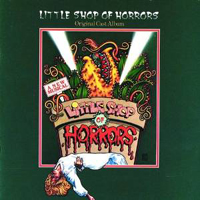 Original Off-Broadway Cast, 1982 (Geffen)

(4 / 5) Who would have thought that Roger Corman and Charles B. Griffith's campy 1960 horror flick about a bloodthirsty plant out for world conquest would make such a delightful musical? The original cast recording of Little Shop of Horrors beautifully demonstrates why this show has become a modern classic. The score, with lyrics by Howard Ashman and music by Alan Menken, is a treasure; it charmingly combines evocative, early-'60s pop/rock song styles with theatricality so solid that the "girl group" sound of the catchy title song and the driving Motown beat of "Git It" don't sound out of place next to the sweetly heartfelt "Somewhere That's Green" or the soaring duet "Suddenly Seymour." Then there's a wonderful cast. Lee Wilkof is just right as the nebbishy Seymour, who tends to the carnivorous Audrey II (soulfully voiced by Ron Taylor). Hy Anzell is fine as flower-shop owner Mushnik; Franc Luz plays a variety of bit parts successfully, including the sadistic biker dentist; and Sheila Kay Davis, Jennifer Leigh Warren, and Leilani Jones are great as the close-harmony singing, Greek-choruslike urchins. Finally, there's Ellen Greene, her unique talents perfectly matched to the role of the abused yet ever-hopeful Audrey. Greene perfectly melds trashiness with vulnerability while singing beautifully. It's disappointing that one full song, an important reprise, and small sections of other numbers are omitted from this cast album, and included is a version of "Mushnik and Son" that was later replaced. These changes make it an incomplete record of the material that most people will see performed in revivals, but what's here is presented well enough to forgive what's not. — Matthew Murray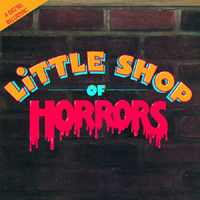 Film Soundtrack, 1986 (Geffen)

(3 / 5) All things considered, the film adaptation of Little Shop of Horrors is excellent: bright, funny, thoughtfully directed by Frank Oz, and well performed by a cast that features Rick Moranis as Seymour, the irreplaceable Ellen Greene as Audrey, and Steve Martin in a riotous performance as the dentist. Among the changes for the film, all of Mushnik's songs are cut, and "Some Fun Now" replaces "Ya Never Know." The new song "Mean Green Mother from Outer Space" is fine, but not as exciting as "Don't Feed the Plants." Note also that the soundtrack album's spoken prologue and "Skid Row" have minor but noticeable differences from what's heard in the film, and "The Meek Shall Inherit" doesn't reflect the movie's cuts. Happily, while the score retains most of its original intimacy, it sounds better than ever with full orchestrations by Bob Gaudio, Thomas Pasatieri, and original orchestrator Robby Merkin; "Suddenly Seymour" is particularly thrilling.  — M.M.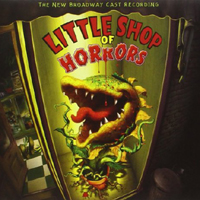 Broadway Cast, 2003 (DRG)

(3 / 5) This recording is commendable for its completeness. Everything in the score is here, including "Mushnik & Son " (with the now-standard lyrics), "Call Back in the Morning," Audrey's "Somewhere That's Green" reprise, and even the "Shing-a-ling" first act finale. While some of the show's sweet simplicity was sacrificed in favor of bigger takes on everything for the Broadway revival, Little Shop fans will want this cast album to be part of their collection despite its minor flaws. There are a few musical changes — most significantly, the use of the movie version's extended title song. Danny Troob's orchestrations lack the appeal of Robby Merkin's, and some of the casting, particularly Hunter Foster as Seymour and Kerry Butler as Audrey, is more functional than ideal. Still, the recording is very well done, and it includes five bonus tracks of demos/cut songs sung by Menken, Ashman, and original Audrey II voice Ron Taylor. — M.M.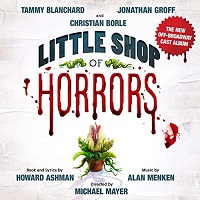 Off-Broadway Cast, 2019 (Ghostlight)

(4 / 5) As per the show's marketing, a 2019 revival returned Little Shop of Horrors to its Off-Broadway "roots" (get it?), playing at the intimate Westside Theatre on far West 43rd Street in a very well received production directed by Michael Mayer and starring Jonathan Groff as Seymour, Tammy Blanchard as Audrey, and Christian Borle as Orin Scrivello, DDS. Happily, the mistakes that were made for the pumped-up Broadway presentation of 2003 were not replicated here, and the show was a big hit in its run at the Westside until it had to close indefinitely due to the COVID-19 crisis of 2020. The score, as heard in Will Van Dyke's fine new arrangements/orchestrations, is lovingly presented, and the leads are every inch as appealing a couple as they need to be; though some Little Shop fans may be nonplussed by Groff's lack of a New York accent in the role, his Seymour is arguably the most warmly sung on record, while Blanchard's Audrey is only a slight disappointment in that her limitations at the top of her vocal range seem to have necessitated a downward transposition of "Suddenly Seymour." Borle is hysterically funny as the dentist of one's nightmares, while Kingsley Leggs richly and dynamically voices Audrey II in the traditional mode. Tom Alan Robins is just right as Mushnik, and the three women who play the Urchins — Ari Groover, Salome Smith, and Joy Woods — come across as powerhouse vocalists individually and when functioning as a girl group.  — Michael Portantiere