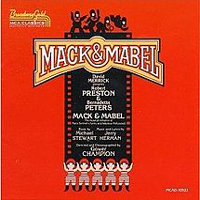 Original Broadway Cast, 1974 (ABC/MCA)

(4 / 5) This beloved flop starred Robert Preston as silent-movie pioneer Mack Sennett and Bernadette Peters as his leading lady/lover, Mabel Normand. In spite of numerous revisions and revivals, the show never works. Michael Stewart's downbeat book tells the story of a failed romance ending with Normand's early death, while Jerry Herman's witty, hooray-for-Hollywood songs belong to another musical altogether. The promised cocktail of tough humor and glossy tears is, in fact, a melange of unpalatable opposites. Nevertheless, it's a hell of a score that provides a deluxe showcase for two of Broadway's greatest stars. Preston's gritty singing is ideally suited to the clever lyrics of "Movies Were Movies," "Hundreds of Girls," and "My Heart Leaps Up," all of which layout Sennett's philosophy of filmmaking. Peters' Betty Boop-style belt is perfect in the galvanizing "Look What Happened to Mabel," the furious "Wherever He Ain't," and the wounded torch song "Time Heals Everything." Both stars score in different versions of the ballad "I Won't Send Roses." Other pluses include Lisa Kirk belting her way through the vivacious "Big Time" and "Tap Your Troubles Away," as well as the inevitable Herman salute to the female star, "When Mabel Comes in the Room." All of the melodies sparkle in Philip J. Lang's orchestrations. This is a classic case of a show album that outclasses the show itself. — David Barbour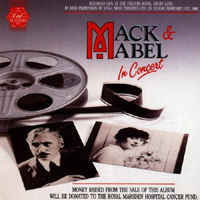 London Concert Cast, 1988 (First Night)

(2 / 5) This live recording of a concert of songs from Mack & Mabel has George Hearn and Denis Quilley lending their big voices to Mack's songs, Debbie Shapiro Gravitte walloping the daylights out of "Big Time" and "Wherever He Ain't," Georgia Brown's eccentric but touching version of "Time Heals Everything," and Tommy Tune's ebullient "Tap Your Troubles Away." Debits include the replacement of "My Heart Leaps Up," Mack's tribute to the Keystone Kops, with the inferior "Hit 'Em on the Head." Jerry Herman narrates. — D.B.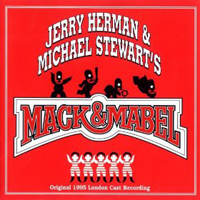 Original London Cast, 1995 (Angel)

(3 / 5) Although the leads are not ideal, this recording contains plenty of material not found on the Broadway album, including both act finales, an entr'acte, some reprises, and a title song that uses the melody of "Look What Happened to Mabel." Howard McGillin is vocally overqualified as Mack; in "I Won't Send Roses," he laments the lack of romance in his soul in a voice that throbs with feeling. Caroline O'Connor as Mabel sounds eerily like Bernadette Peters (or an impersonator of her). Still, McGillin makes a very good case for "Hit 'Em on the Head," and O'Connor is appealing throughout. Kathryn Evans provides lusty renditions of "Big Time" and "Tap Your Troubles Away." And, if anything, Larry Blank's revisions of Philip ]. Lang's orchestrations improve upon the originals.  — D.B.