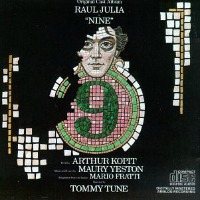 Original Broadway Cast, 1982 (Columbia/Sony)

(5 / 5) The most original musical of its decade is both a dazzling exercise in style and a heartfelt tale of a middle-aged man's fear of maturity. Arthur Kopit's book for Nine is based on the Fellini film masterpiece 8½, about a famous director who holes up in a chic spa to retreat from his chaotic private life while he struggles to come up with an idea for his next project. The show is a wild, dreamlike, Felliniesque carnival in which Guido Contini — creatively stalled, his marriage collapsing — is besieged by all of the women from his past and present. Presiding over this fantasia is Raul Julia, a suave and saturnine presence throughout. He's witty in "Guido's Song," seductive in "Only With You," full of self-loathing in "I Can't Make This Movie." And what women! As Guido's sorrowful wife, Luisa, Karen Akers is superb, especially in the resigned "My Husband Makes Movies" and the furious "Be on Your Own." Anita Morris as his lover, Carla, sizzles in "A Call From the Vatican." Liliane Montevecchi as his skeptical producer, Liliane La Fleur, vivaciously recalls a world of old-fashioned entertainment in "Folies Bergeres." Taina Elg, as his mother, delivers the lovely title tune. And Shelly Burch, as his muse Claudia, movingly delivers the soulful "Unusual Way." Maury Yeston's kaleidoscopic music and lyrics are by turns satirical, biting, sentimental, and romantic; each song shines in the hands of orchestrator Jonathan Tunick. The CD is considerably expanded from the original recording, with longer versions of several numbers and bonus tracks of Yeston performing three numbers from the show. — David Barbour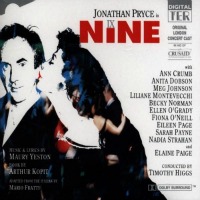 London Concert Cast, 1992 (JAY/TER)

(5 / 5) This recording of Nine benefits from the intelligent, probing, well-sung Guido of Jonathan Pryce. With Elaine Paige as Claudia and Ann Crumb as Luisa, you can expect a certain amount of belting, but that's in keeping with the expansive, rather grand work of conductor Timothy Higgs. The performance lacks some of the lightness and wit of the Broadway original but, thanks to the singers' crystalline diction, this is the recording to go with if you really want to savor Yeston's lyrics. Even the tongue-twisting "Germans at the Spa" is perfectly clear here, as is the notoriously difficult "Grand Canal" sequence that depicts Guido's disastrous attempts to shoot a film about Casanova. It's a robust and dramatic account of the score, quite the equal of the original recording.  — D.B.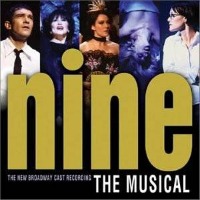 Broadway Cast, 2003 (PS Classics)

(4 / 5) Armed with considerable sex appeal and acting skills, along with a pleasing and expressive singing voice, Antonio Banderas had a triumph as Guido in the Broadway revival of Nine. Banderas's accent is occasionally intrusive, but his boyish, tormented Guido is very effective. Overall, the recording is a little less strong than its predecessors. Mary Stuart Masterson's Luisa is a tad prosaic, although she delivers a powerful "Be on Your Own." As Carla, Jane Krakowski sounds sexy but not truly madcap. Chita Rivera is amusing but more than a little spurious as Liliane Lafleur. Laura Benanti is a lovely Claudia, and if her performance lacks the original's humor, it does have intelligence and skill. Jonathan Tunick's orchestrations were thinned out for this revival, and the disc omits "The Germans at the Spa" and "Waltz from Nine," a haunting instrumental that usually follows Guido's breakdown in "I Can't Make This Movie." — D.B.