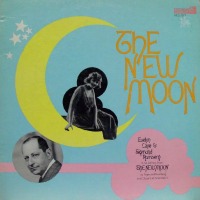 Original London Cast, 1929 (Columbia/Pearl)

(4 / 5) With wonderful music by Sigmund Romberg and lyrics by Oscar Hammerstein, this frippery about New Orleans, the French Revolution, and love leveling all classes is one of Romberg's most melodious works — and the first London cast recording, which has never been long out of print in one form or another, is still one of its best readings. It's not that the singing here is so impressive; actually, much of it's quite awful. But the style is so confident, and the choral work and conducting so excellent, that it's a triumph of operetta spirit over technical considerations. Leading man Howett Worster sings some of "Wanting You" and "Stouthearted Men" an octave down, but he still comes across like an authentic operetta hero. Opposite him, Evelyn Laye is vocally and histrionically his superior, though she does have that late-'20s habit of overemphasizing her vowels. Comic leads Gene Gerrard and Dolores Farris have great fun with "Gorgeous Alexander" and "Try Her Out at Dances"; he's so callow and charmingly understated, with practically no vocal equipment, that you'd swear he's Peter Lawford. — Marc Miller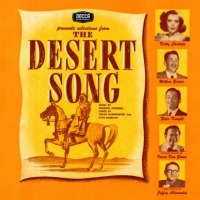 Studio Cast, 1953 (Decca) [user=1] This is a greatest-hits version of the New Moon score, missing several incidental numbers and lacking in theatrical orientation. There's an overture that's at least marginally modeled on the original, but those muted trumpets and that augmented string section practically scream "1950s." The best vocal work comes from Lee Sweetland, who sings "Stouthearted Men" and "Wanting You" like he means it. Leading lady Jane Wilson sounds like she's out to lunch, while Thomas Hayward is only somewhat more involved in "Softly, as in a Morning Sunrise." And what are those soft-shoe temple blocks doing in "Marianne"? They and the lobotomized chorus are decades away from authenticity; this New Moon is a little too new. Good digital remastering, though — and it's packaged on CD with selections from The Desert Song, another Romberg hit. — M.M.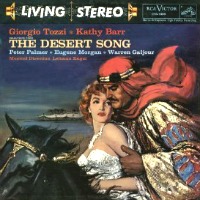 Studio Cast, 1962 (RCA)

(3 / 5) Poor Peter Palmer: born too late for operetta's golden age, too early to play Jean Valjean. His supple, slightly syrupy tenor is ideal for classic Romberg, and he gets to strut his stuff in this boiled-down version of The New Moon. With Lehman Engel conducting, the tempi are accurate enough, and the cast is fairly well acquainted with the form's bravado style. Palmer is personable and secure in "Marianne" and "Wanting You," Arthur Rubin delivers thrilling high notes in "Softly, as in a Morning Sunrise," but Jeanette Scovotti sounds a bit pinched in the upper register of her songs. The score's comic numbers are not to be found here. In fact, the editing is pretty schizo; some seldom-recorded snatches of the show are included, such as the intro to "Marianne," while second choruses and familiar strains are omitted. Henri René's upholstered arrangements recall the 1960s rather than the heyday of operetta. Here, again, selections from The Desert Song accompany the New Moon songs on CD. — M.M.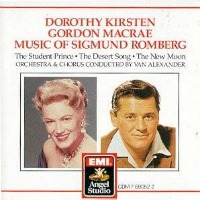 Studio Cast, 1963 (Capitol/EMI)

(2 / 5) Sigmund Romberg surely did not intend "Softly, as in a Morning Sunrise" for a marimba-band arrangement, but that's what it gets in this arthritic reading of his classic New Moon score. (Only a few songs from the original recording are included on the EMI CD, along with numbers from other Romberg shows.) The indignities don't end there: Van Alexander stiffly conducts some of his own godawful orchestrations and others by Warren Barker. But Gordon MacRae is in fine voice, and Dorothy Kirsten's timbre is well suited to the likes of "The Girl on the Prow" and "Lover, Come Back to Me." The Roger Wagner Chorale backs them up, sounding bored. The polka "Try Her Out at Dances," usually expurgated, is included; but with Alexander practically dozing off as he conducts an uninvolved band of choristers in Muzak-like arrangements, this is the Geritol version of the score. On EMI's CD, it's packaged with selections from The Student Prince and The Desert Song, also performed by MacRae and Kirsten. — M.M.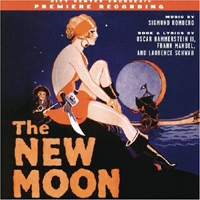 Encores! Cast, 2004 (Ghostlight)

(5 / 5) To date, The New Moon is the only operetta presented by the New York City Center Encores! series, in a 2003 production that was surprisingly limber and popular. Ghostlight released a well-produced cast album a year later. Rob Fisher expertly conducts a lush 36-piece orchestra, some never-before-recorded fragments turn up in a gratifyingly complete reading, and the casting is top-notch from top to bottom. Rodney Gilfry's hero is neatly poised between sincerity and winking irony — he's tongue in cheek, but he never camps — and his operatic baritone makes as good a case for "Stout-Hearted Men" and "Wanting You" as will ever be made. Christiane Noll is a winsome leading lady with spirited attitude and secure high Cs, and Brandon Jovanovich's "Softly, As in a Morning Sunrise" is absolutely thrilling. A special shout-out to comic second couple Peter Benson and Lauren Ward, who are vocally secure and shot through with the proper vaudeville DNA. A large chorus nails the harmonies, and even F. Murray Abraham generously taxied to the studio to set down a couple of lines of less-than-deathless dialogue. If this recording doesn't sell you on the charms of operetta, nothing will. — M.M.