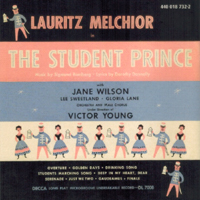 Studio Cast, 1950 (Decca)

(3 / 5) Operetta albums from decades ago often sound even more dated than the material itself, with white-bread orchestrations and stilted singing. You'd expect the 1924 warhorse The Student Prince, with music by Sigmund Romberg and lyrics by Dorothy Donnelly, to come across badly in this recording; standards like "Serenade," "Deep in My Heart, Dear," and the "Drinking Song" can sound like parodies if mistreated. But the performance is quite good, thanks to Victor Young's conducting and Lauritz Melchior's singing. Although the heldentenor was thrice the age of an ideal Karl Franz at the time of the recording, he sounds like he could step right into a pair of lederhosen and play the hell out of the role. His top notes are thrilling, his enthusiasm infectious, and his thick accent great fun. ("The sweet May moon" comes out as "this wheat May moon"; "perfumed of roses and dew" sounds like "parv-youmed of roses and you.") Jane Wilson's American Kathie seems a little incongruous, but she's warm and bright, despite some shrill trills. The original orchestrations are mostly intact, and Lee Sweetland and Gloria Lane offer able support. (Ed. Note: The CD edition of this recording also includes songs from The Merry Widow sung by Kitty Carlisle, Felix Knight, and Wilbur Evans. ) — Marc Miller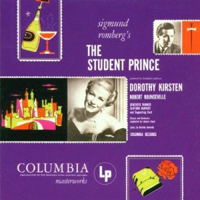 Studio Cast, 1952 (Columbia/DRG)

(3 / 5) Lehman Engel crams everything important from Sigmund Romberg's landmark operetta into 52 minutes — quite a lengthy album for the time. The performance has a theatrical flair to it, right from the character-actor footmen in the opening number singing "By our bearing so sedate / We uphold the royal state." The recording is well cast, with Robert Rounseville an enthusiastic Karl Franz (if a bit desperate on the top notes of "Serenade")and Dorothy Kirsten a spirited Kathie. The choral singing is mushy at times, and some of the lyrics are unintelligible. An unbilled George Gaynes is easily recognizable in a prominent supporting role. — M.M.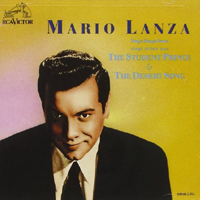 Studio Cast, 1952 (RCA)

(2 / 5) Oddly, when MGM made its 1954 film version of The Student Prince with Edmund Purdom lip-synching Mario Lanza's vocals as he romanced Ann Blyth, no actual soundtrack album was released; instead, RCA offered this recording, which paired Lanza with Elizabeth Doubleday. The album includes three new songs by Nicholas Brodsky and Paul Francis Webster that were written for the movie. Lanza is in excellent voice here, but the sound quality of the mono recording is quite poor. This CD compilation also features Lanza et al. in excerpts from The Desert Song. — M.M.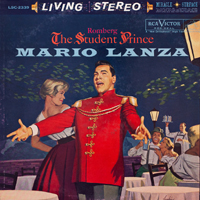 Studio Cast, 1960 (RCA/Sepia)

(3 / 5) A sort of stereo remake of the recording reviewed immediately above, this one has Mario Lanza joined by the coquettish Norma Giusti. The uncredited orchestrations are lush, and Paul Baron conducts with spirit. Lanza easily hits Karl Franz's high notes, even with the keys pushed way up to show off his tenor. His singing is nicely understated in the Brodsky-Webster "Summertime in Heidelberg" and fervent in "I'll Walk With God." Most of the original score's songs are here, too, though wildly out of order and exclusively the property of Lanza and Giusti. Considering the absence of a supporting cast, this barely qualifies as a cast album, but the stereo sound quality is far superior to that of Lanza's previous recording. — M.M.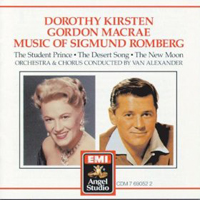 Studio Cast, 1962, Music of Sigmund Romberg (Capitol/Angel)

(2 / 5) Gordon MacRae's unforced high baritone is always impressive, but he sounds bored and not very princely here. This recording also suffers from impersonal arrangements and bloodless conducting by Van Alexander. Dorothy Kirsten returns as Kathie, sounding much as she did 10 years earlier. Fully cast with no-name supporting players and capably backed by the Roger Wagner Chorale, the album zips through the score in 35 minutes but omits nothing major, reminding us how well Romberg spun standard-size scores into full-length operettas. With its safe tempi and American accents, this is sort of a summer-tent-theater rendering with a larger orchestra — agreeable enough, but more Harrisburg than Heidelberg.  On Angel's CD compilation, titled Music of Sigumund Romberg, the Student Prince tracks are accompanied by excerpts from The Desert Song and The New Moon. — M.M.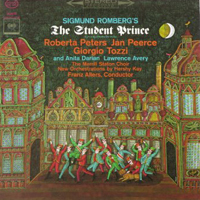 Studio Cast, 1962 (Columbia/no CD)

(1 / 5) Roberta Peters was a great lady of opera whose warmth and lack of pretension should have made her an ideal performer of operettas and musicals. Her entrance here, trilling in the "Drinking Song," is lovely, and her voice is in wonderful shape; but afterward, there's an excess of coyness that's accentuated by the snatches of dialogue included on the recording. Jan Peerce as Karl Franz is a mature prince, but he has conviction, and Giorgi Tozzi is excellent as Dr. Engel. There's just enough linking dialogue to propel the simple story. With a new set of orchestrations by the great Hershy Kay and musical direction by Franz Allers, this recording certainly seemed to have the potential to revitalize operetta, but Allers' conducting is a trifle stiff, and Kay's string-heavy charts don't entirely escape that Muzak-operetta sound of the '60s. — M.M.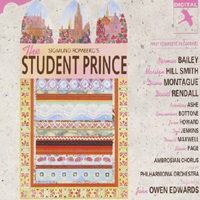 Studio Cast, 1990 (JAY, 2CDs)

(4 / 5) Emil Gerstenberger was one of the outstanding Broadway orchestrators of the 1920s, equally adept at Romberg operetta and the jazzy musical comedies of the day. In the Romberg repertoire, his charts are lush and without that filmy coat of Muzak heard in many latter-day operetta recordings. For this first-ever complete recording of The Student Prince, the Philharmonia Orchestra and conductor John Owen Edwards recreated Gerstenberger's work as closely as they could — and the result is a revelation. From the seven-minute overture to the bittersweet finale, the strings are full but not oppressive, the harp prominent but not obnoxious, and the brass thrillingly alive. It's also a treat to hear a lot of incidental music not available elsewhere: an attractive waltz intermezzo, a couple of choral numbers, and some near-recitative linking passages. Edwards might have brought a little more urgency to the tempi, especially in the ballads, but his musical direction is otherwise expressive. As for the lead singers, Marilyn Hill Smith and Norman Bailey: If her Kathie seems to have arrived in Old Heidelberg by way of Mayfair, and if there's a bit too much Dudley Do-Right in his attack, none of this compromises the material. David Rendall and Rosemary Ashe offer expert support, and a young Maria Friedman turns up as a "serving wench." A single-disc highlights version is also available, but the double-CD set offers an authentic, 100-minute operetta experience. — M.M.