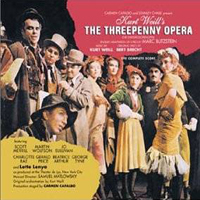 Original Off-Broadway Cast, 1954 (MGM/Decca)

(5 / 5) This is the Carmen Capalbo production that helped put Off-Broadway on the map. One of the most important musical theater works of the 20th century, The Threepenny Opera is Marc Blitzstein's translation of Die Dreigroschenoper, as it was titled in Germany. (Several recordings of the original German language version are available.) The powerful score is sung here by Jo Sullivan, Scott Merrill, Beatrice Arthur, Charlotte Rae, Martin Wolfson, Paul Dooley, and the one-and-only Lotte Lenya. The story, lifted freely from John Gay's The Beggar's Opera, concerns the ruthless Mack the Knife, his doxies, and the Peachum family, headed by Mr. Peachum, who makes tattered costumes guaranteed to garner beggars a solid income. When Kurt Weill spewed the score, he hadn't yet begun to smooth the corners of his oom-pah-pah melodies; meanwhile, his collaborator Bertolt Brecht had honed his cynicism so that it cut as cleanly as Mack's signature weapon. Lenya doesn't sing much, but what she does utter our of the corner of her mouth includes the vengefully triumphant "Pirate Jenny" and "The Solomon Song." She may also be heard with Merrill in the "Tango-Ballade" duet, and the Decca CD edition of this recording offers Lenya in a bonus track: her rendition of "Mack the Knife," with Blitzstein on piano, taken from "an unidentified source." Is any more reason needed to own this disc? Beatrice Arthur knocks the "Barbara Song" around, Jo Sullivan is perfect as the innocent/tarnished Polly, and Charlotte Rae is terrific as the tough Mrs. Peachum. — David Finkle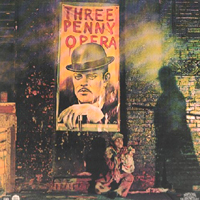 Broadway Cast, 1976 (Columbia/Masterworks Broadway)

(4 / 5) Not unlike Show Boat and Porgy and Bess, to cite two other famous examples, The Threepenny Opera may have an official version, but does anyone know what it is?  Certainly, people like Richard Foreman, who directed this still-talked-about revival at Lincoln Center's Vivian Beaumont Theatre, have felt no compunction about taking major liberties with the show; they have freely rearranged the Kurt Weill-Bertolt Brecht song order, and have turned to various translators and adapters to do what they will with Brecht's libretto. Here, the cast sings words by Ralph Manheim and John Willett. Too much of the time, sorry to say, those words are set more awkwardly on the notes than Brecht might have approved. (Did keeper-of-the-flame Lotte Lenya not speak up?) The cast, attempting to make fluid sense of the lyrics, fares well throughout. Raul Julia may sound less like a typical English criminal than a fellow with a Hispanic background, but he does impress as a bloke whose knife flashes quickly. The supporting cast members include some of the best talent available at the time. Maybe the most surprising is Ellen Greene, heard here before she put herself on the theater map in Little Shop of Horrors; she sings "Pirate Jenny" with glee and vengeance oozing from every note. Other standouts are Caroline Kava as the once-innocent Polly Peachum and Blair Brown as Lucy Brown. Kava sings "Barbara-Song," bringing out the disillusion that infiltrates the young woman's optimistic philosophy, and she joins Brown in the ironic catfight "Liebeslied." Perhaps the most notable feature of this Threepenny Opera is how strikingly it's conducted by Stanley Silverman, who wields a properly unforgiving baton. — D.F.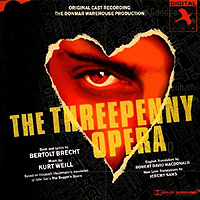 London Cast, 1994 (JAY)

(3 / 5) No way to know for sure without scoping every Threepenny Opera recording known to humankind, but there are those who say this is the most scatological version ever. Jeremy Sams, who directed the Donmar Warehouse production, is responsible for the lyrics, with the translation/adaptation of the book credited to Robert David MacDonald. What surely can be said of the result as heard on the cast album is that anyone who prizes English propriety is in for audible shock after shock. Of course, John Gay's Beggar's Opera (1728) is the Threepenny Opera inspiration, and Gay was writing at a time when Newgate Prison banter had a big influence on English vocabulary and expression. That sort of thing is abundantly present here in a liberal employment of various words that family newspapers don't consider printable. (There are also contemporary references to the likes of Marks & Spencer.) Moreover, Sams may be the only lyricist who has rhymed "foreigner" with "coroner." The cast is little recognized internationally, and as is often the case with British productions of musicals, they seem to have been selected primarily for their acting prowess. Nevertheless, the singing is fine. In the role of Macheath — a.k.a. Mack the Knife — we have Tom Hollander, one of England's best actors for several decades, who slashingly delivers all the character's razor-sharp declarations. This version of the show includes both "Pirate Jenny" and "Barbara Song" in that order, which isn't the way it's always done, and even more unusually, Jenny (Tara Hugo) sings what's now familiar as "Mack the Knife." (Prior to the chart-topping Bobby Darin recording, it was commonly called the "Moritat.") More traditionally, Polly (Sharon Small) sings "Pirate Jenny."  Musical director Gary Yershon gives the orchestrations lighter readings than others have done. — D.F.