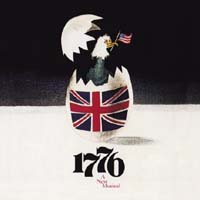 Original Broadway Cast, 1969 (Columbia/Sony)

(4 / 5) History teacher-turned-songwriter Sherman Edwards got the idea for a musical about the writing and adoption of the Declaration of Independence, and the result was 1776, one of Broadway's most distinctive hits. Although Peter Stone's libretto has deservedly garnered great praise ever since the show's premiere, Edwards' score is seldom given its due, but it's replete with flavor, character, and stirring emotionalism. The original Broadway cast album documents that score — with Eddie Sauter's grand orchestrations and Peter Howard's top-notch musical direction — in its freshest, most exciting recording to date. William Daniels is the definitive John Adams, displaying a combination of fire, ice, desperation, and dry humor in songs like "Piddle, Twiddle, and Resolve" and "Is Anybody There?" Rex Everhart does quite well as the ribald Benjamin Franklin, spelling original cast member Howard da Silva, who had suffered a heart attack and was absent for the recording sessions but eventually returned to the show. Ken Howard brings an earnest likability to Thomas Jefferson; Ron Holgate's joyful bombast as Richard Henry Lee is infectious; Paul Hecht as John Dickinson and Clifford David as Edward Rutledge make formidable opponents in Adams' quest for independence. "Molasses to Rum," in which David as Rutledge takes on the infamous Triangle Trade, is one of the recording's most brilliant highlights. Virginia Vestoff gives a vibrantly romantic performance as Abigail Adams, while future Broadway powerhouse Betty Buckley belts out Martha Jefferson's coyly suggestive "He Plays the Violin."  — Matthew Murray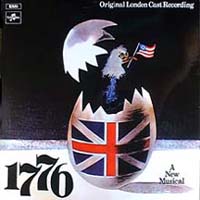 Original London Cast, 1970 (Columbia/no CD)

(3 / 5) The London production of 1776 had a brief run, and the cast album is now a difficult-to-find curiosity, but a few of the performances are truly remarkable. Lewis Fiander's John Adams is sweeping and energetic, the best-sung Adams recorded, and Ronald Radd's booming baritone provides Franklin with that role's lustiest interpretation. Vocally challenging items like "Cool, Considerate Men" and "Mama, Look Sharp" receive rich renditions by Bernard Lloyd and David Firth, respectively, while David Kernan's "Molasses to Rum" is first-rate. Under Ray Cook's musical direction, the ensemble is full of dynamic singers and the orchestra is clear and precise. Still, the recording is not without its problems: John Quentin has trouble with what little music Jefferson is asked to sing, Vivienne Ross's voice is distractingly thin for Abigail, and Cheryl Kennedy's Martha is somewhat cloying. — M.M.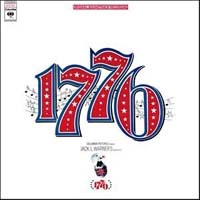 Film Soundtrack, 1972 (Columbia/no CD)

(3 / 5) With so many of the original Broadway leads retained, the film version of 1776 is one of the most faithful screen adaptations of a stage musical, and the soundtrack recording documents that very little was lost in the transition. Daniels, Vestoff, Howard, and Holgate recreate their roles, and they all sound better here than on the Broadway cast album. Howard da Silva finally got to record his Franklin, and he's delightful in the role. Blythe Danner is a softer, more tentatively sung, yet ultimately more effective Martha Jefferson than Buckley. John Cullum assumes the role of Rutledge and provides a solid "Molasses to Rum."  — M.M.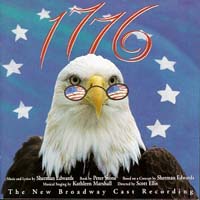 Broadway Cast, 1997 (TVT)

(2 / 5) This is a frustrating recording of the 1776 score. It's the most complete, with all of the usual songs, a fair amount of dialogue, "Compliments," all of "The Lees of Old Virginia," and the full lead-in to "Is Anybody There?" But most of the performances are problematic. Though Brent Spiner sings well enough, his Adams always sounds annoyed. Pat Hingle's Franklin is frail and uncertain, Lauren Ward's Martha is somewhat flavorless, and a number of the other portrayals lack bite. On the plus side, Linda Emond sings Abigail quite attractively; Gregg Edelman's Rutledge and Michael Cumpsty's Dickinson are vivid; and Paul Michael Valley is the best-sung Jefferson on record. But Brian Besterman's orchestrations for a reduced number of musicians are conducted too sedately by Mark Mitchell, preventing the recording from ever really getting off the ground. (Paul Gemignani was the musical director for this Broadway revival.) — M.M.