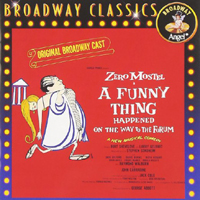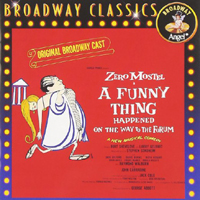 Original Broadway Cast, 1962 (Capitol/Angel)

(4 / 5)  Except for the "House of Marcus Lycus" sequence and the courtesans' dances, every important piece of music in this playful, skillful Stephen Sondheim score is included here, along with just enough dialogue to allow the listener to appreciate the songs in context. The album captures the indelible performances of the great clowns Zero Mostel, Jack Gilford, David Burns, and their fellow low-vaudevillians. Brian Davies and Preshy Marker imbue the romantic couple Hero and Philia with sweetness, although the recording misses the daffy humor that they brought to these roles onstage. As the stentorian Domina, Ruth Kobart finally explodes in "That Dirry Old Man" and makes it clear why she received a Tony Award nomination for her performance. The album is dominated by Mostel in "Comedy Tonight," "Free," and other gems, but almost all of the principals have their shining moments, especially Ron Holgate as a hilarious Miles Gloriosus in "Bring Me My Bride." The visual gags that convulsed audiences cannot be found here, of course, but this delightful recording will give your imagination a prod. Listening to "Everybody Ought to Have a Maid," you can almost picture Messrs. Mostel, Gilford, Burns, and David Carradine ambling across the stage of the Alvin Theater. — Jeffrey Dunn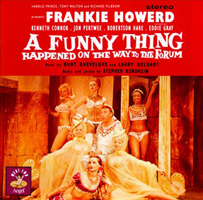 Original London Cast, 1963 (HMV/Angel)

(2 / 5) Typical of many London cast recordings, this one includes more dialogue than the Broadway album. Frankie Howerd stars as Pseudolus, leading a … Forum cast made up of Britain's comic hierarchy under the direction of the great George Abbott. The original orchestrations by Sid Ramin and Irwin Kostal are conducted by Alyn Ainsworth, and the sound quality here is excellent throughout. "Comedy Tonight" is almost complete (only the introduction of the Proteans is missing), and there are full dialogue lead-ins to "Free," "Lovely," "Pretty Little Picture," "Bring Me My Bride," "That'll Show Him," the "Lovely" reprise, and "The Funeral Sequence." But how do the London cast members stack up against their Broadway counterparts? Well, these actors seem reserved in their approach to the high art of low comedy. Also, Howerd often misses the mark as a singer. The others are reasonably musical, but they lack comic impact. As Philia, Isla Blair has a thin voice that is tremulous and colorless in "That'll Show Him." Hero is played by John Rye with a mature baritone voice that sounds much more well suited to Miles Gloriosus; that part is sung by Leon Greene with comic credibility, but without the stentorian tones required. Linda Gray's adequate "That Dirty Old Man" is totally outclassed by Ruth Kobart's rendition on the Broadway album. While this disc wins points for completeness, it loses points for its several lackluster performances. — J.D.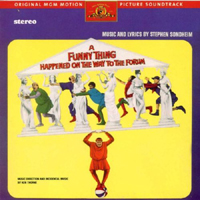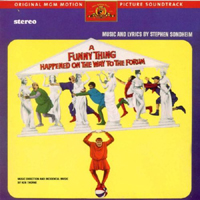 Film Soundtrack, 1966 (United Artists) No stars; not recommended. The film version of A Funny Thing Happened on the Way to the Forum was directed by Richard Lester in a manic style that made the songs virtually superfluous. This very funny film deleted any song that did not have overt comedic value. Those that remain are "Comedy Tonight," "Lovely" (both versions), "Everybody Ought to Have A Maid," "Bring Me My Bride," and "The Funeral Sequence" (listed here as "The Dirge"). The rest of the recording consists of music by Ken Thorne, who only utilizes Sondheim's themes in two selections. Zero Mostel (Pseudolus) and Jack Gilford (Hysterium) recreated their Broadway roles, and Leon Greene (Miles) his London role; they make solid contributions. It's also of interest to hear a young Michael Crawford as Hero singing "Lovely." Still, this disc is only for collectors who feel they need to have every single Sondheim recording. — J.D.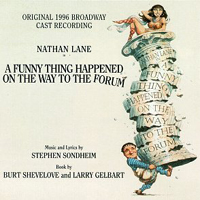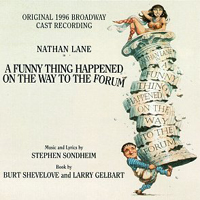 Broadway Cast, 1996 (Angel)

(3 / 5) This revival (revisal?) of …Forum offered new orchestrations by Jonathan Tunick, plus quite a few new lyrics by Sondheim, and other musical changes that were integral to the production. The entire "House of Marcus Lycus" sequence (not on the original cast album) is included and, while much of the dance music for the courtesans is new, the song itself has been preserved, performed by the always funny Ernie Sabella with musical assists from the ladies and connecting dialogue by Pseudolus (Nathan Lane) and Hero (Jim Stanek). Lane was the raison d'etre for this production; it was inevitable that he and the role of Pseudolus would eventually meet. The actor does not disappoint, making good on the character's promise to "employ every device we know in our desire to divert you." (He even recorded the tongue-twisting "Pretty Little Picture," which was not actually performed in this production.) Conductor Edward Strauss keeps everything surging forward, allowing us just enough time to savor the details of words and music before hurtling ahead. The supporting cast is variable: Stanek and Jessica Boevers as Philia are on the dull side (the humor of their characters is hard to capture on a recording), but their singing is lovely. Although the shoes of Jack Gilford and David Burns are hard to fill, Mark Linn-Baker (Hysterium) and Lewis J. Stadlen (Senex) do their best. Cris Groenendaal's Miles Gloriosus isn't as funny as Ron Holgate's original, but Mary Testa puts her own stamp on the role of Domina and delivers a smashing "That Dirty Old Man." This is a highly enjoyable, energetic recording of a classic musical farce. — J.D.