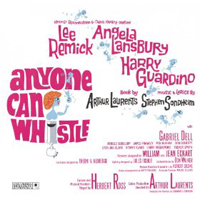 Original Broadway Cast, 1964 (Columbia/Sony)

(5 / 5) The show was a flop, but virtually every number is a winner, and so is this recording. Broadway audiences were bored by Arthur Laurents' bizarre, satirical fable in which corrupt, small-town politicians fake a miracle by pumping water out of a rock, thus creating a new Lourdes with its attendant tourist trade. But what a cast! Angela Lansbury launched her musical theater career as Cora Hoover Hooper, the scheming mayor. Her co-stars were Lee Remick as Fay Apple, head nurse in the local nuthouse (named The Cookie Jar!), and Harry Guardino as J. Bowden Hapgood, a phony psychiatrist who stirs up trouble. And what a score! Stephen Sondheim's wildly inventive songs include a lengthy musical-dramatic sequence, "Simple," and a campy ballet, "The Cookie Chase." Lansbury's opener, "Me and My Town," is a riotous spoof of nightclub-diva dramatics. Remick gets the achingly beautiful title tune, and Guardino delivers the biting, driving "Everybody Says Don't." The final duet for Hapgood and Fay, "With So Little to Be Sure Of," is one of Sondheim's finest, most adult love songs. Don Walker's orchestrations are brassy and delightful. Recorded the day after the show closed, the album has a raw quality — Lansbury, for one, evidences some vocal strain — that, paradoxically, makes it seem fresher than many recordings that are more polished. One of Remick's numbers, "There Won't Be Trumpets," was cut before the show opened and left off the LP, but has been restored for the CD. This kind of "failure" is far more interesting than lots of long-running hits. Note: Look for the version of the cast album marked "Deluxe Expanded Edition." It includes bonus tracks of Sondheim singing demo versions of, among other things, the cut number "The Lame, the Halt, and the Blind" and an alternate version of "With So Little to Be Sure Of." — David Barbour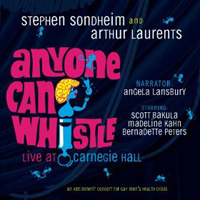 Carnegie Hall Concert Cast, 1995 (Columbia/Sony)

(1 / 5) This live recording of a starry concert version of Anyone Can Whistle, produced as a benefit for Gay Men's Health Crisis, preserves more of the score than is heard on the original cast album. It includes "There Won't Be Trumpets" as well as "There's Always a Woman," an unpleasant bitch-fest between Cora and Fay that was also cut from the score before the show opened on Broadway. But, 30 years on, nobody can muster much conviction for Laurents' talky satire. As Cora, Fay, and Hapgood, Madeline Kahn, Bernadette Peters, and Scott Bakula respectively offer tentative, vocally wobbly performances, while Angela Lansbury narrates. Peters manages a lovely version of the title tune but lacks Remick's vulnerability, and she's really at a loss in the scenes where Fay impersonates a sexy French temptress. Kahn is the biggest disappointment here, giving a performance that lacks bite or energy. And Bakula doesn't possess Guardino's rough authority. What's especially missed is the urgency of the original album. As sometimes happens in live recordings, the balance between singers and the orchestra is not ideal. Even Don Walker's orchestrations, supervised by Jonathan Tunick, lose some edge. — D.B.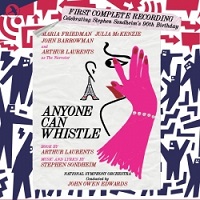 Studio Cast, 1997/2020 (JAY, 2CDs)

(2 / 5) Elephants, who take 23 months to gestate, have nothing on this two-disc set, which incubated for 23 years. Recording began, and the bulk of it was completed, in 1997 — several presidential administrations ago. This is one of those JAY efforts billed as complete recordings, including playoffs and curtain call and exit music. Chat room savants insist that certain numbers have been cut slightly, and "There's Always a Woman" is M.I.A. Nevertheless, this is the fullest recorded edition of Anyone Can Whistle that we are likely to get. Happily preserved are "The Cookie Chase" (in a lengthier version than that contained on the OBCR) and the ballet attached to "Everybody Says Don't," one of the jazzier passages in any Sondheim-composed musical. But the overly reverent approach to this score, treating a scrappy, satirical musical like a tony Gesamtkunstwerk, is counterproductive. Of the three stars, Julia McKenzie comes off best, punching her way through "Me and My Town" and "A Parade in Town" with gusto, but, unlike Lansbury, she doesn't seem to be having fun with Cora's cartoon-villain qualities. John Barrowman is a disconcertingly boyish Hapgood, which may be why he oversells "Everybody Says Don't," shouting every fifth or sixth word of the lyrics to signal his passion. Also problematic is Maria Friedman as Fay — a joyless Joan of Arc, lacking in warmth and applying an unpleasant vibrato to several numbers. Everyone's line readings are pretty dire; this is a real issue in "Simple," which weaves together music and dialogue. Conductor John Owen Edwards gets an expansive sound out of the National Symphony Orchestra, not always an asset in a show designed to be a sprightly spoof. It's a pity that nobody recorded the 2010 New York City Center Encores! production of Anyone Can Whistle, which boasted the nearly ideal cast of Raúl Esparza, Sutton Foster, and Donna Murphy. But if you're a superfan of the show, you'll want to hear this recording if only because it does have material not available anywhere else — with Arthur Laurents, sounding like he needs a nap, providing occasional narration — D.B.