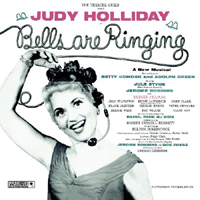 Original Broadway Cast, 1956 (Columbia/Sony)

(5 / 5) There was only one Judy Holliday, a comic genius who could make you laugh, then break your heart a split second later. Her good friends Betty Comden and Adolph Green provided her with a loving showcase in Bells Are Ringing, and this essential recording preserves one of the great Broadway performances. Holliday stars as Ella Peterson, a lonely operator for the Susanswerphone answering service, who meddles in the lives of her clients. Breaking all the rules, she helps Jeff Moss (Sydney Chaplin), a boozing, self-doubting Broadway playwright, get his career back in order — without revealing her identity. There's more trouble brewing when another client, Sandor, posing as the head of a classical record company, uses Susanswerphone as the front for a betting ring. This less-than-magisterial plot is fitted out with the most delightful score to come from the long-running partnership of Comden, Green, and Jule Styne. Holliday is given free rein in "It's a Perfect Relationship," her fantasy about Jeff; "Is It a Crime?" (her defense of meddling), in which she says that if she'd been around in the days of Romeo and Juliet, "Those two kids would be alive today!"; and the number to end all 11-o'clock numbers, "I'm Going Back." "Drop That Name," sung by the chic guests at an Upper East Side party, is a dazzling catalog of celebrities circa 1956, and "The Midas Touch" is a typically funny Comden and Green spoof of nightclub shows. The story's melancholy undertone comes through in the moving "Long Before I Knew You" and in that ultimate song of resignation, "The Party's Over." As Jeff, Sydney Chaplin has a masculine manner and boyish enthusiasm that are real 'assets, and he partners delightfully with Holliday in the lovely "Just in Time." Eddie Lawrence is an amusing Sandor — especially when seducing Jean Stapleton as Sue, Ella's boss and cousin, in the comic waltz "Salzburg." Peter Gennaro is Holliday's playmate in the Latin dance spoof "Mu-Cha-Cha." Robert Russell Bennett's orchestrations are jaunty and witty. Bonus tracks on the CD include Jule Styne performing "It's a Perfect Relationship," "Just in Time," and the cut song "Boogie, Woogie, Shoogie, Baby." — David Barbour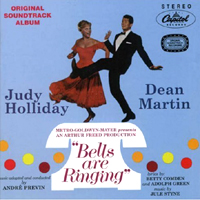 Film Soundtrack, 1960 (CapitollDRG)

(2 / 5) The film version of Bells Are Ringing is essential viewing for Holliday's performance, but the soundtrack album is less interesting. Most of the numbers highlighting Comden and Green's oddball humor have been cut, including "Is It a Crime?" and "Mu-Cha-Cha." Much more mysteriously, "Long Before I Knew You" has been eliminated as well. But one nice addition is a jazzy, percussive gem: "Better Than a Dream," sung by Ella and Jeff at their first meeting. Dean Martin's crooning as Jeff is a plus, and the two stars sound like they're having fun in "Just in Time." If anything, Holliday's reading of "The Party's Over" is even more affecting here than on the original recording, and she offers another zesty performance of "I'm Going Back." Still, it's not the full score, so stick with the Broadway album. (Note: A very young Hal Linden, who had understudied and replaced Sydney Chaplin on Broadway, turns up as the soloist in "The Midas Touch.") — D.B.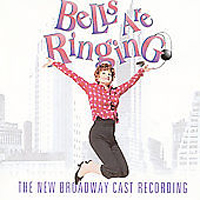 Broadway Cast, 2001 (Fynsworth Alley)

(1 / 5) Faith Prince was at sea in this misbegotten revival, which lacked both hilarity and heart. The disc is much the same; gone are Holliday's marvelously offhand humor and compelling sadness. Prince projects a tough professionalism that's at odds with the role of Ella, and her accomplished vocals further rob the character of any vulnerability. However, she does offer a lovely rendition of "The Party's Over." Marc Kudisch works much too hard as Jeff, and the strain shows. In the hands of David Garrison and Beth Fowler, the Sandor/Sue subplot falls flat, and Don Sebesky's brassy, reduced orchestrations pale in comparison to the originals.  — D.B.