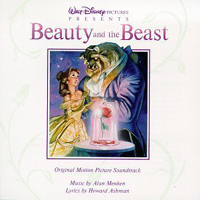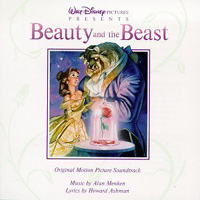 Film Soundtrack, 1991 (Walt Disney Records)

(3 / 5) The soundtrack album of songs from Disney's highly successful 1991 animated film Beauty and the Beast makes it clear why the material was destined for stage adaptation. (See below.) Paige O'Hara, with her vibrant Broadway belt, is full of warmth as Belle,  Jerry Orbach is a delightful Lumière in "Be Our Guest," and Angela Lansbury as Mrs. Potts is perfect in the title song. Richard White is a grand Gaston, and Robby Benson is just wonderful as the beast. The six Alan Menken-Howard Ashman numbers are orchestrated by Danny Troob with a true Broadway sound. While subsequent stage cast albums include additional songs (with music by Menken and lyrics by Tim Rice), this recording is fun to hear as a reminder of how it all began. — Jeffrey Dunn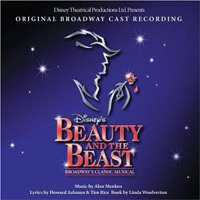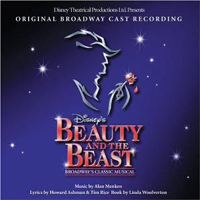 Original Broadway Cast, 1994 (Walt Disney Records)

(4 / 5) This Broadway cast recording demonstrates how a solid stage score for Beauty and the Beast was created by adding terrific new songs to the film version's song stack, and it also serves as a document of several fine performances. Susan Egan is a strong-voiced Belle, Terrence Mann an excellent Beast, and Burke Moses the definitive Gaston. Giving fine support are Tom Bosley as Belle's father in the new song "No Matter What"; Gary Beach, who performs Lumière's "Be Our Guest" and his part of "Human Again" with great éclat; and Beth Fowler, using her ravishing tones to burnish the title tune. Barbara Marineau as Madame de la Grande Bouche. Stacey Logan as Babette, and Kenny Raskin as Lefou round out the laudable cast. Alan Menken and Tim Rice were perceptive about how to give the film score the additional depth it needed to support a full-length stage musical, and the cast album, like the film soundtrack, boasts orchestrations by Danny Troob. It is now difficult to conceive of Beauty and the Beast without Belle's "Home," the Beast's "If I Can't Love Her," and Gaston's "Me." This "tale as old as time" is destined for a long life on the world's stages and on recordings as it introduces youngsters all over the world to the joy of musicals. — J.D.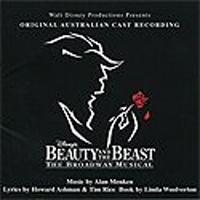 Original Australian Cast, 1995 (Walt Disney Records)

(3 / 5) Hugh Jackman played Gaston in the first Australian company of Beauty and the Beast, making this cast album worthy of attention if only for that reason, but the recording as a whole has great energy. Rachael Peck as Belle is strong in the opening ensemble number, saucy and audibly amused by Gaston in "Me," and her alternately sweet and powerful voice really opens up in "Home." As the Beast, baritone Michael Cormick is heart-wrenching in "How Long Can This Go On?" and "If I Can't Love Her." Jackman's delivery of "Me" makes this comic gem his own. In "Gaston," he is exultant and genuinely funny, assisted by Zachary McKay's zany Lefou; in later numbers, when his character turns from amusing to evil, Jackman delivers totally. Robyn Arthur is not in great voice for the title song, but her rendition is nevertheless compelling. The rest of the supporting cast is solid without being distinctive. — J.D.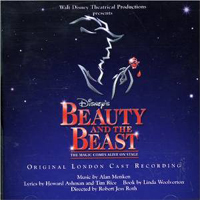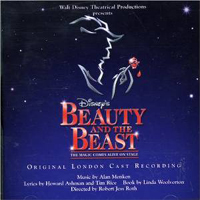 Original London Cast, 1997 (Walt Disney Records)

(2 / 5) Save for a small cut in "Home," the content of this album is virtually the same as the Broadway recording (both were produced by Bruce Bornick and Alan Menken). But the overall performance differs in style; it has a gentler quality, and lacks a certain magic. Julie-Alanah Brighten is a very proper Belle with little spunk or fire. Alasdair Harvey is a well-mannered, sweet-voiced Beast; he misses the surface gruffness that's needed for the role, though he's moving in the reprise of"If I Can't Love Her." Burke Moses again plays Gaston, and he lifts the proceedings with "Me" and "Gaston," supported in the latter by Richard Gauntlett's cockney Lefou. Mary Millar is delightful as Mrs. Potts, finding some interesting nuances in the title song. The opening narration by Barry James, who plays Cogsworth, sets the subdued tone for this pleasant if unexceptional recording.  — J.D.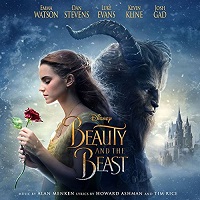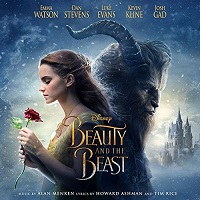 Film Soundtrack, 2017 (Walt Disney Records) No stars; not recommended. This is the soundtrack album of a live-action remake of the animated Disney film of the same title. Since it was not conceived as a big-screen transfer of the stage musical Beauty and the Beast, none of the songs that Alan Menken and Tim Rice wrote for the Broadway show as additions to the original Menken/Ashman score for the animated film were retained; instead, Menken and Rice were enlisted to write another set of new songs. Fans of the stage show will be dissatisfied that "If I Can't Love Her" (Menken/Rice) and "Human Again" (Menken/Ashman) have been replaced by the inferior "Evermore" and "Days in the Sun," respectively, and even audiences who are unfamiliar with previous versions of the property may find that these items seem out of place. Though the movie has star power, this is the least vocally impressive of any Beauty and the Beast recording to date. Emma Watson's singing is colorless and wispy in the role of Belle. She's paired with the unimpressive Beast of Dan Stevens, both of them sounding heavily autotuned. Emma Thompson, Ewan McGregor, and Luke Evans are fine as Mrs. Potts, Lumière, and Gaston, but none of their performances compare favorably with those of the Broadway or original film casts. Only Audra McDonald as "Madame Garderobe" displays any musical theater prowess, and she's criminally underused. As for the songs carried over from the 1991 Menken-Ashman score, they suffer greatly here due to a lack of vocal power ("Something There"), fussy orchestrations and arrangements ("Belle"), and/or misguided edits ("Gaston"). The huge commercial success of this film has inspired Disney to continue the live-action-remake trend. Whether this will eventually produce artistically compelling results remains to be seen. — Matt Koplik