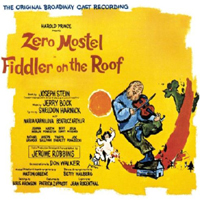 Original Broadway Cast, 1964 (RCA)

(5 / 5) One of the glories of the RCA cast album catalogue, this is a treasured memento of the original production of the Jerry Bock-Sheldon Harnick-Joseph Stein masterpiece Fiddler on the Roof, based on stories by Sholom Aleichem. It's well documented that Zero Mostel, the show's hugely talented star, became impossible as Fiddler settled into its long run, ad-libbing outrageously and pretty much abandoning the character of Tevye. (According to some reports, his antics were partly responsible for his being passed over for the film version of the musical.) So we can be thankful that "Z" was on his best behavior for the cast recording, made just after the show opened. His Tevye is a force of nature, a definitive portrayal of the role, and his rendition of "If I Were a Rich Man" will likely remain unsurpassed till the end of time. The rest of the company is marvelous: The late, great Maria Karnilova is sharp and funny as Golde, golden-voiced Julia Migenes delivers a heart-tugging performance of "Far From the Home I Love," Austin Pendleton sings "Miracle of Miracles" like he really means it, and Bert Convy's gorgeous baritenor is showcased in "Now I Have Everything." It's fun to have Beatrice Arthur on hand as Yente, and you can hear more of her on the CD/digital download issue of this album than on the LP and tape editions, because one of the numbers in which she's featured, "The Rumor," is included; it was previously unreleased, along with the "Bottle Dance," which is also happily to be found here. The sound quality of the recording is superlative, and several bonus tracks are included. All but one of them feature lyricist Harnick, who performs "If I Were a Rich Man" and two cut songs from the show, "How Much Richer Could One Man Be?" and "When Messiah Comes." He additionally shares stories of the original production. The remaining bonus item is an instrumental version of "If I Were a Rich Man" as played by the Moscow Virtuosi. — Michael Portantiere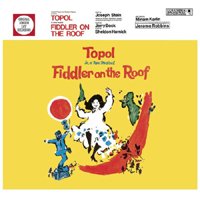 Original London Cast, 1967 (Columbia/Sony)

(3 / 5) This is an enjoyable recording if you don't mind the British accents of most of the singers and the strange, hard-to-pin-down accent of Topol (full name: Chaim Topol) in the role of Tevye. Some listeners  may actually prefer Topol's performance here to the one he gives on the film soundtrack album (see review below), as it's less mannered and has more theatrical energy. The other major soloists on the London cast album are Miriam Karlin (Golde), Linda Gardner (Hodel), Rosemary Nicols (Tzeitel), Jonathan Lynn (Motel), Sandor Elès (Perchik), and Paul Whitsun-Jones (Lazar Wolf). All are fine but not distinctive enough to warrant special note, except to say that Karlin is an extremely baritonal Golde. The Broadway orchestrations are used here, but it's interesting to note that they sound a bit different than they do on the original Broadway cast album, because of the way the score is conducted (by Gareth Davies), recorded, and mixed.  — M.P.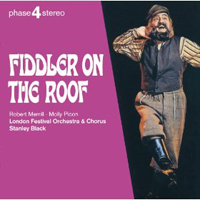 Studio Cast, 1968 (London)

(2 / 5) Here is an odd but intermittently pleasurable recording made in "Phase 4 Stereo." Aside from overload distortion in certain passages, the sound quality is terrific. Although the orchestrations seem to be the Don Walker originals with a few enhancements, the score sounds quite grand as recorded in a weighty, reverberant acoustic. Conductor Stanley Black sets some very slow tempi, but his pacing does bring out the melodic beauty of "Sunrise, Sunset," "Sabbath Prayer," and "Far From the Home I Love." As Tevye, we have opera star Robert Merrill, who toured in the role and who comes across here as both a fine actor and a great singer. Playing opposite him as Golde is Molly Picon, a treasured artist of the Yiddish theater — but she was too old for the role when this recording was made, and is further hampered by Black's slow pacing and by her having to switch back and forth between octaves to negotiate the range of Golde's songs. Still, Picon has many engaging moments. Gary Cole sounds too operatic and too British in Motel's "Miracle of Miracles," but Mary Thomas sings Hodel's "Far From the Home I Love" well, even if she indulges in an ill-advised high note at the end. There is no Perchik to be found here; the character's "Now I Have Everything" has been eliminated. On the other hand, we get to hear Merrill perform one of the partly sung, partly spoken monologues Tevye delivers upon learning that his daughters are planning to marry against his wishes. The most controversial aspects of this recording are that (1) it features annoying, superfluous narration written by Jacob Kalich and spoken by Picon and Merrill, and (2) for some reason, the order of the first several songs in the score was changed. — M.P.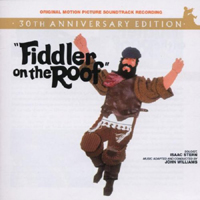 Film Soundtrack, 1971 (United Artists)

(3 / 5) While the film version of Fiddler on the Roof is a creditable adaptation of the show overall , the soundtrack recording doesn't stand up all that well on its own. The music was adapted and conducted for the screen by John Williams, and the violin soloist is the great Isaac Stern, but many of the vocal numbers fall short as enjoyable listening experiences. Topol's Tevye has lots of personality, but again, his odd accent is somewhat disconcerting, as on the original London cast recording. Also, he delivers his spoken lines in "Tradition," "Tevye's Dream," and elsewhere v-e-r-y slowly. Norma Crane seems miscast as Golde, and Michele Marsh as Hodel goes overboard in trying to make "Far From the Home I Love" sound "natural" rather than musically expansive. More happily, when Rosalind Harris and Neva Small join Marsh in "Matchmaker, Matchmaker" it's a delightful performance. The "Chava Ballet Sequence" is gorgeous, thanks in large measure to Stern's achingly beautiful solo, and the highlight of the recording is Leonard Frey's rendition of "Miracle of Miracles" — two minutes and four seconds of utter joy. The latest CD edition of this album includes some tracks that were not on the original two-LP set or on the first CD edition. One of them is "Any Day Now," a song that was written for Perchik to sing in place of "Now I Have Everything" but didn't make it into the movie. — M.P.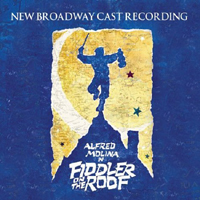 Broadway Cast, 2004 (PS Classics) No stars; not recommended. This production was woefully misdirected by David Leveaux. We can be grateful that the cast album doesn't preserve such bits of staging as Tevye's daughters sponge-bathing themselves during "Matchmaker, Matchmaker," Tzeitel and Motel dangling from the flies during "Tevye's Dream," and the minor character of Nahum the beggar taking over the spotlight in every big number. From a purely musical standpoint, the production wasn't quite so deplorable, but that's not to say there's any compelling reason to purchase the recording. As Tevye, Alfred Molina has a bit more life here than he did onstage, but he's still bland in a role that requires a tremendous amount of presence, energy, and humor. Sally Murphy, Laura Michelle Kelly, and Tricia Paoluccio as (respectively) Tzeitel, Hodel, and Chava are colorless. Randy Graff is very good as Golde, but it's difficult to enjoy her performance in these surroundings. And although John Cariani does a fine job with Motel's "Miracle of Miracles," Robert Petkoff doesn't have enough voice for Perchik's "Now I Have Everything." Larry Hochman's rewrites of the original Don Walker orchestrations are completely unnecessary; the fillips he adds to "Tradition" are especially egregious. Conductor Kevin Stites distorts such great songs as "Matchmaker, Matchmaker" and "Far From the Home I Love" with weird internal shifts in tempo. For what it's worth, the recording includes a fair amount of Joseph Stein's wonderful dialogue.  — M.P.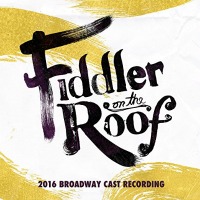 Broadway Cast, 2016 (Broadway Records)

(1 / 5) Here we have the cast album of yet another misdirected Broadway revival of Fiddler on the Roof — this one surprisingly botched by Bartlett Sher, whose previous productions of two other classic musicals, South Pacific and The King and I, were excellent. Sher's ill-considered revamp of Fiddler included the addition of a pointless framing device, with Danny Burstein as a present-day Jew returning to the former site of Anatevka and then assuming the role of Tevye in what essentially became a show-length flashback; and a nonsensically dark misinterpretation of the formerly lighthearted "Matchmaker, Matchmaker" scene and song. Happily, neither of these major missteps come through on the recording. But several other infelicities do, such as the near-ruination through downward key transposition of "Sabbath Prayer" and "Sunrise, Sunset," presumably done in order to keep these numbers within the narrow vocal range of Jessica Hecht as Golde. Other liabilities are the fussy new orchestrations by Ted Sperling, incorporating some passages borrowed from the film version of Fiddler; and the fact that Ben Rappaport, as Perchik, lacks the vocal chops for "Now I Have Everything." (Given the deep pool of performing talent available to Broadway directors, one has to wonder why both David Leveaux in 2004 and Bartlett Sher in 2016 cast Perchiks who couldn't properly sing the character's one song.)  Adam Kantor's Motel is persuasive in "Miracle of Miracles," but while Samantha Massell displays a lovely voice as Hodel, her rendition of "Far From the Home I Love" is marred by poor phrasing and jarringly modern pronunciation. Very much on the plus side, Burstein is a warm and vital Tevye despite all the mishegoss that surrounds him. He fully deserved the Tony Award nomination he received for carrying this production on his shoulders, and his recorded performance is the primary reason why the cast album has not been handed a 0-star rating here. [Note: Although the recording was made and released early in 2016, this Fiddler officially opened on December 20, 2015.] — M.P.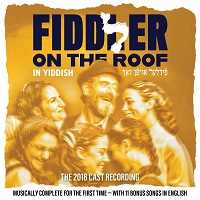 National Yiddish Theatre Folksbiene/Off-Broadway Cast, 2019 (Time/Life, 2CDs)

(5 / 5) This recording is an impressively well produced and comprehensive aural document of a gorgeous, extraordinary production of Fiddler on the Roof that was first presented by the National Yiddish Theatre Folksbiene at the Museum of Jewish Heritage at Battery Park City in lower Manhattan, where it was such a big hit that it transferred to Stage 42 on West 42nd Street for a gratifyingly successful Off-Broadway run. The show was performed in Yiddish, in a translation dating from the 1960s,  lending a wonderfully authentic flavor to a musical that's beloved the world over for its depiction of the universality of life experiences among people living in an insular Jewish community in Tsarist Russia. Steven Skybell's sometimes hilarious, sometimes heartbreaking, always powerful and achingly human embodiment of Tevye in this production was deservedly praised to the high heavens, and he leads a superb company including Jennifer Babiak as the best-sung Golde on records; Rachel Zatkoff, Stephanie Lynne Mason, and Rosie Jo Neddy perfectly cast as Tsaytl, Hodl, and Khave (that's how their names are spelled in this version); Ben Liebert as an especially charming Motl (ditto); and Broadway scene-stealer Jackie Hoffman in a refreshingly restrained turn as Yente the Matchmaker. For the recording, Zalmen Mlotek expertly conducts an orchestra that adds 10 musicians to the 14 or so who actually played the production. Over and above the excellent performance of the score in Yiddish, this album is a must-have item as it contains bonus tracks (in English) of a large handful of songs that were cut from the show for various reasons, performed by such notables as Hal Linden, Richard Kind, and Tom Wopat; original Fiddler cast members Austin Pendleton and Joanna Merlin; Rosalind Harris and Neva Small, who respectively played Tzeitel and Chava in the 1971 film version; honored veteran Joey Grey, who so skillfully and sensitively directed this Yiddish production; and the show's lyricist, Sheldon Harnick, still vital in his mid-90s. — M.P.