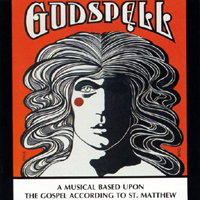 Original Off-Broadway Cast, 1971 (Bell-Arista)

(5 / 5) Conceived and originally directed by John-Michael Tebelak, based on the Gospel according to St. Matthew, with music and new lyrics by Stephen Schwartz, Godspell was for many years a perennial on the stock, amateur, college, and high-school theater circuit, and by now has achieved the status of a modern musical theater classic. The show's wonderfully tuneful songs have a simple beauty that makes them sound like old friends even upon first meeting. The cast of this original recording is strong, so it's surprising to realize that not one of these performers went on to a significant musical theater career. Stephen Nathan sings the role of Jesus in an oddly smoky but appealing voice, and David Haskell is a vivid presence as Judas/John the Baptist. Robin Lamont's lovely, plaintive recording of "Day By Day" became a popular hit. Lamar Alford compellingly sings the glorious thanksgiving anthem "All Good Gifts" in a voice with a dark, full, vibrato-laden timbre that doesn't blend all that well with the voices of the rest of the ensemble. Another especially beautiful song is "By My Side," written not by Schwartz but by cast member Peggy Gordon with Jay Hamburger; it's given a moving rendition by Gordon, beautifully harmonizing with Gilmer McCormick. Joanne Jonas ("Bless the Lord"), Jeffrey Mylett ("We Beseech Thee"), Sonia Manzano ("Turn Back, O Man"), and Herb Braha ("Light of the World") round out the talented cast. The excellent band consists of Steve Reinhardt on keyboards, Jesse Cutler on acoustic and lead guitar, Richard LaBonte on bass, and Ricky Shutter on drums and percussion; these first three sing the heartbreaking "On the Willows" as Jesus and his disciples say their final goodbyes to one another. Godspell is one of the very best of the seminal rock musicals of its era. — Michael Portantiere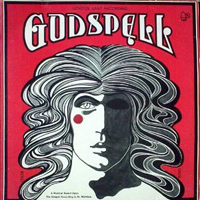 Original London Cast, 1972 (Bell-Arista/no CD)

(3 / 5) Because the tune stack and the arrangements are virtually the same, this Godspell sounds very much like the Off-Broadway recording, except for the singers' British accents and their different vocal qualities as compared to the original New York company. The cast includes Jeremy Irons, who eventually became a movie star and only rarely returned to musical theater (e.g., as Henry Higgins in a studio cast recording of My Fair Lady and as Fredrik in a New York City Opera production of A Little Night Music), as Judas/John the Baptist. Three more future names in the company are David Essex (as Jesus), Marti Webb, and Julie Covington, who would go on to sing the title role on the concept recording of Evita. All of the above, including Irons, give fine vocal performances here, though Essex's renditions of Jesus's songs may strike some listeners as a bit smarmy. Several lines of spoken dialogue included on this long out-of-print recording help to lend it a certain theatricality. — M.P.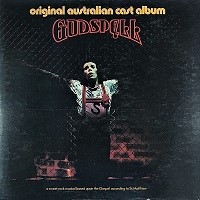 Original Australian Cast, 1972 (Festival/no CD)

(1 / 5) Incredibly, no record label name is listed anywhere on the LP copy of this album in this reviewer's possession — the "Festival" name was found somewhere online, but it could be incorrect — and apparently, the recording is not commercially available in the digital domain. The instrumental component of the performance is fine throughout, but the singing is generally mediocre when it's not execrable: for examples, Christopher Pate's prosaic rendition of "Save the People," Colleen Hewett's wobbly "Day by Day" (and Rob Ellis's even more wobbly "On the Willows" solo), Jillian Archer's pitch-approximate attempt at "Bless the Lord," Domenic Luca's blunt and shouty interpretation of "All Good Gifts," Colette Mann's witless "Turn Back, O Man." This album does not include "Alas for You," presumably because Pate as Jesus just didn't have the vocal goods for it. Searching for bright spots, you'll hear that Paul Reid Roman brings solid vocalism to "We Beseech Thee," and also gleaming like a relative diamond in the rough is a mostly lovely rendition of "By My Side" led by Mann and Hewett — but even here, there are a few questionable moments. Perhaps the lack of any record label identification for this release was purposeful, out of embarrassment?    — M.P.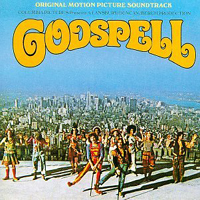 Film Soundtrack, 1973 (Bell-Arista)

(4 / 5) With several of the performers and all of the musicians from the original Off-Broadway production on hand, augmented occasionally by additional musicians playing instruments such as violins, harp, and trombones, this recording also sounds a lot like the first one, with a few notable differences. As Jesus, Victor Garber has a sweeter and fuller voice than Stephen Nathan. Lynn Thigpen brings a more authentic gospel style to "Bless the Lord" than her predecessors, and Merrell Jackson beautifully sings "All Good Gifts" as a lyrical pop ballad rather than the anthem it became in Lamar Alford's voice. Having had "Bless The Lord" taken away from her, Joanne Jonas instead offers a very funny take on "Turn Back, O Man." One new song has been added: "Beautiful City," here performed as a joyously hopeful chorale. Filmed on deserted Manhattan streets, the Godspell movie is rather hard to watch today because it prominently features the World Trade Center in its opening shot and in the "All for the Best" number. But this recording definitely has its pleasures. — M.P.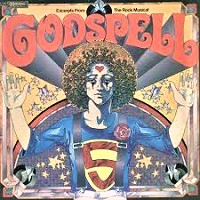 London Studio Cast, 1973 (Pickwick/no CD) 0 stars; not recommended. In addition to cast albums of stage productions, some of the most popular musicals have received multiple studio cast recordings, often with no names among the performers and issued on budget labels. Generally speaking, this website eschews reviews of these items, which tend to remain in print only for short periods of time and are thereafter difficult to obtain; but we're making an exception here because this London studio cast album of Godspell is so extraordinary in its breathtaking, embarrassing awfulness. The LP is billed as offering "excerpts from the rock musical" — truth in advertising, as "All Good Gifts," "Learn Your Lessons Well," "Alas For You," "On the Willows," and the finale are nowhere to be found. Believe me, you won't miss them — the songs included are pitifully performed in terms of the quality of most of the voices, the shockingly ragged ensemble, and the fact that the singers are so frequently and so wildly out of tune as to make you gasp. For one of many examples, the beginning of "Light of the World" is such a debacle in terms of both pitch and ensemble that you'll find it hard to believe the track was ever released on a commercial recording.  Mercifully in this case, none of the singers are credited, nor is anyone else who was involved in this godawful enterprise. For that matter, composer-lyricist Stephen Schwartz's name is mentioned only once, in the poorly written liner notes; and although the beautiful "By My Side" is included in the song stack, there's no notice of the fact that it was written not by Schwartz but by Peggy Gordon and Jay Hamburger. One has to wonder if this recording was duly licensed and the rights paid for, or if it was made and released under the table in the hope that Schwartz et al. would somehow not notice. Epic fail. — M.P.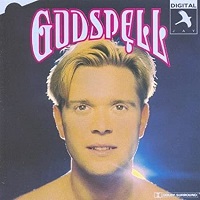 London Studio Cast, 1993 (JAY)

(4 / 5) Don't be put off by the cover image, an "artfully" lit head shot of Darren Day as Jesus with his blond hair cut in a short, stylish way that makes him look more like a '90s runway model than the Son of God; supervised and conducted by Stephen Schwartz, this is an excellent recording of the complete score of Godspell, including what is apparently the first recording of the "Tower of Babble" sequence that serves as the show's prologue. Day displays a sweet, lyrical tenor in "Save the People," yet he can muster the intensity necessary for "Alas for You," and his performance of a wistful ballad version of "Beautiful City" with new lyrics is heartfelt.  Glyn Kerslake brings a rich voice to "Prepare Ye," while Jacqueline Dankworth offers a moving rendition of "Day by Day," singing her solo parts at the beginning and end of the song in a soft, almost hushed tone but opening up when the ensemble joins in. Paul Manuel's pretty if lightweight voice is certainly better suited to "All Good Gifts" than to the role of Tony in West Side Story, in which he disappoints on another JAY studio cast album. Samantha Shaw has a lot of fun with "Learn Your Lessons Well," Clare Burt shows off powerful pipes in "Bless The Lord," Clive Rowe does some exciting wailing and riffing in "Light of the World," Ruthie Henshall is amusingly seductive in "Turn Back, O Man," and the young John Barrowman brings his pleasing, well-focused tenor to "We Beseech Thee." The overall sound quality of the recording is exemplary, allowing the arrangements and vocal harmonies to come through with full clarity as in the heartbreaking Peggy Gordon-Jay Hamburger song "By My Side," beautifully sung here by Elizabeth Sastre, Jacqueline Dankworth, and company.  — M.P.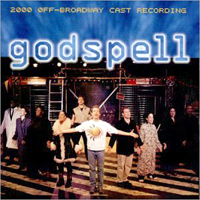 Off-Broadway Cast, 2000 (Fynsworth Alley)

(4 / 5) Here's a terrific recording of a very well-sung, hilariously funny, deeply moving production of Godspell that started out Off-Off-Broadway under the aegis of a group called the Third Eye Repertory and later had an Off-Broadway run in the Theater at Saint Peter's Church. The show boasted a wonderful cast, intelligent direction by Shawn Rozsa, and sensitive musical direction by Dan Schachner. Barrett Foa's clear, strong, youthful tenor is well suited to the role of Jesus. As Judas/John the Baptist, Will Erat adapts his full, rounded, legit voice to a pop/rock idiom impressively; he was wisely handed the haunting "On the Willows" to sing in this production. Other highlights: Catherine Carpenter's "Day by Day" is warm and sincere, Capathia Jenkins' "Turn Back, a Man" is great fun, Shoshana Bean's "Bless the Lord" is a roof-raiser, and Eliseo Roman deserves a special nod for his gorgeous singing of "All Good Gifts." All of the "Tower of Babble" sequence is included, and Foa leads the cast in a beautiful ballad version of "Beautiful City" with new lyrics that were originally written in response to the Rodney King riots in Los Angeles but now also seem eerily and movingly prescient of the 9/11/2001 attacks on the World Trace Center in NYC: "Out of the ruins and rubble, out of the smoke, out of our night of struggle, can we see a ray of hope?" — M.P.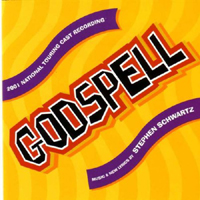 National Touring Cast, 2001 (DRG)

(1 / 5) In place of the original guitar-and piano-based arrangements, there's a whole lotta synth going on in this cast album of a 2001 Godspell tour. That approach works well in the opening "Tower of Babble" ensemble, but some listeners will soon find themselves yearning for the simpler, more natural and melodious sounds of previous recordings. Scott Schwartz — son of Stephen Schwartz, and the director of this production — wanted the flavors of alternative rock and folk-rock artists to be evoked by Alex Lacamoire's new orchestrations and arrangements. Whether or not that goal was achieved and the score is better for it is a matter of opinion. Joe Carney shows off a strong, sexy voice as Jesus, but he seems to lose the beat at the top of "Save the People," and he sounds off pitch in "Alas for You" — although the latter may be partly due to the weird, shifting harmonics in the new arrangements, which similarly work against the other cast member in other numbers. Jessica Carter has a lot of trouble zeroing in on the correct notes in "Turn Back, O Man," and she annoyingly sings "whose head is crowned with flames," rather than "…flame," thereby wrecking the rhyme with "proclaim." One of the best cuts on the recording is a terrific, uptempo version of "Beautiful City" led by Carney and Michael Yuen, but overall, this is the least commendable of all the Godspell albums. — M.P.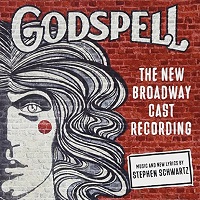 Broadway Cast, 2012 (Ghostlight)

(4 / 5) Many of the joys of the Broadway revival of Godspell were related to the show's inventive, bursting-with-energy staging by director Daniel Goldstein and choreographer Christopher Gattelli in a modified in-the-round setup at the Circle in the Square Theatre; but the musical pleasures of the production were also abundant, so the cast album is a worthy edition to the discography. Let's credit first the wonderful new orchestrations and vocal arrangements by Michael Holland — quite different overall from anything that had been heard before in this score, but not jarringly so as in the recording reviewed immediately above, and still happily hewing to traditional lines in terms of being very much acoustic-based.  In the role of Jesus, Hunter Parrish doesn't have the strong high notes one might have wished for in "Alas for You," but most of his singing is very beautiful in a contemporary rock ballad style, and his achingly wistful rendition of "Beautiful City" is gorgeous and deeply moving.  Wallace Smith is perfectly cast vocally as Judas/John the Baptist, and among the balance of the company, some of the standouts in solo moments are Nick Blaemire ("We Beseech Thee"), Telly Leung ("All Good Gifts"), Lindsay Mendez ("Bless the Lord"), Anna Maria Perez de Tagle ("Day by Day"), and Uzo Aduba ("By My Side").  — M.P.