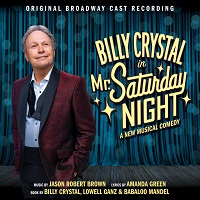 Original Broadway Cast, 2022 (Craft Recordings)

(2 / 5)
The highlight of many a Golden Age musicals is the "11 o'clock number."
Mr. Saturday Night,
a
Golden Age pastiche, has at least four of them — without earning even one. This show was
written as a vehicle for Billy Crystal, star of the movie that served as its source
material. It tells the story of aging comedian Buddy Young, Jr., who is reduced to
playing nursing homes until an "in memoriam" section of an awards show lists him as dead and
inspires a career renaissance. This is a character we're supposed to fall in love with, but lyricist
Amanda Green (here writing in the style of her father Adolph) and composer Jason Robert Brown make it
hard to do so. Right from his first song, "A Little Joy," it's clear that Buddy is a bitter, nasty man — beaten
down by bad breaks, sure, but spiteful, and funny only in his anger. Shoshana Bean as his
recovering alcoholic daughter expresses her frustration with him in the show's third song,
"There's A Chance," compounding the case against him. The essential problem here is
that nothing about Buddy redeems him
— at least, nothing that's expressed on the cast album. That proviso is necessary because some of the funniest moments in
the show were contained in the book, co-written by Crystal with Lowell Ganz and Babaloo Mandel. For
this reviewer, the highlight was a montage in which Buddy humiliated himself on various game shows,
meanwhile endearing himself to the audience. Also, as heard on the album, Mr. Saturday Night can feel disjointed; an unexpectedly
long flashback sequence (which, due to a lack of interstitial dialogue on the recording, may not even be obvious as a flashback to
listeners) does include one of the score's few truly funny songs, "At Farber's," but still seems like an
excuse to draw out the skimpy plot. Two of the strongest numbers come towards the end
: "Broken," acted beautifully by David Paymer as Buddy's long-suffering brother,
which adds some variety to the overall sound of the score; and "My Wonderful Pain in the Ass," a
genuinely sweet duet between Buddy and his wife, Elaine (Randy Graff), that's reminiscent of
"Do You
Love Me?" from Fiddler on the Roof
.
Overall, though, Shoshana Bean's songs prove to be the highlights of the show. In t
he finale,
"Stick Around," Bean as Buddy's daughter tells the audience to "stick around — though you sometimes may
wonder why." When you're listening to this recording and the better songs aren't playing, those words may seem very well chosen.
—
Charles Kirsch