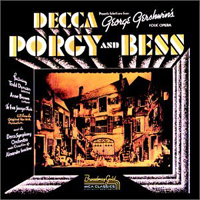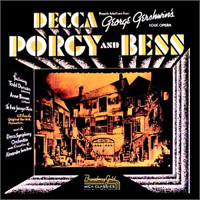 Original Broadway Cast Members, 1940/1942 (Decca)

(5 / 5) Porgy and Bess may be the most fabulous failure in musical theater history, although it can only be judged a failure in that its original 1935 run of 124 performances at the Alvin Theatre was brief by Broadway standards, and not financially successful. George Gershwin's iconic work is based on the play Porgy by Dorothy and DuBose Hayward; the latter was the primary librettist-lyricist for Porgy and Bess, with Ira Gershwin collaborating on the lyrics. It might be argued that recordings of this full-fledged opera should not be reviewed along with those of musicals, but Porgy and Bess has become part of the fabric of American culture in a way that Regina, The Consul, and other operas that played on Broadway never did. If critics and audiences didn't fully appreciate the work in 1935, they certainly came to do so in the years following George Gershwin's tragic, early death in 1937. The first recordings reviewed here were made by members of the original Broadway cast and others several years after the fact, under the leadership of the opera's original conductor, Alexander Smallens. Todd Duncan and Anne Brown sing gloriously in the title roles, and their rendition of the beautiful duet "Bess, You Is My Woman Now" has served as a benchmark for every subsequent recording. This compilation also offers Duncan and Brown performing several songs that were written to be sung by other characters: She does Clara's "Summertime" and Serena's "My Man's Gone Now," he does Sportin' Life's "It Ain't Necessarily So" and Crown's part in "What You Want Wid Bess?" John Bubbles, the original Sportin' Life, is not among the singers here; Avon Long, who played the part in the 1942 revival, does "There's a Boat That's Leavin' Soon for New York" and is also heard in a bonus track of Porgy's "I Got Plenty o' Nuttin" that features a jazzy arrangement for the Leo Reisman Orchestra. The only other original cast member represented here among the leads and featured players is the rich-voiced Edward Matthews as Jake, singing "A Woman Is a Sometime Thing" and "It Take a Long Pull To Get There." This album represents only a small fraction of the three-hour score, and it has unfortunate interior cuts in some of the selections — for example, "Porgy's Lament" is bereft of the wonderful counterpoint parts for Maria and Serena. Still, the wonder of these recordings lies not in their completeness but in their authenticity. (Note: Three months before the opera's Broadway premiere, excerpts from the score were recorded in a CBS studio with Gershwin conducting several of the original cast members and a 43 piece orchestra. Those recordings are available on the MusicMasters CD Gershwin Performs Gershwin. They are precious in allowing us to hear "Summertime" and "My Man's Gone Now" as conducted by the composer and sung by their original interpreters, Abbie Mitchell as Clara and Ruby Elzy as Serena.) — Michael Portantiere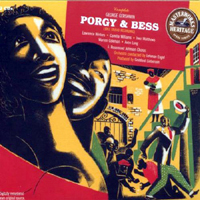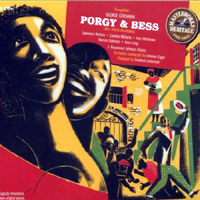 Studio Cast, 1951 (Columbia, 2CDs)

(5 / 5) While this recording is not "complete" as advertised, it contains so much more of Porgy and Bess than had previously been recorded that the exaggeration can be forgiven. Of the many fine studio recordings of great musical theater scores conducted by Lehman Engel and produced by Goddard Lieberson, this one is the cream of the crop. Among the singers are original cast members Warren Coleman as Crown, Edward Matthews as Jake, J. Rosamond Johnson as Frazier, and Helen Dowdy, who sings Maria in addition to her original role of Lily. Coleman lunges at some of the notes and speaks rather than sings much of Crown's music, but he makes the character dramatically potent and truly menacing. Avon Long is back as Sportin' Life, and although his voice isn't ideal for the part as written, his performance oozes with personality. Camilla Williams is somewhat disappointing as Bess; although she displays a strong and beautiful soprano that enabled her to sing such roles as Madame Butterfly and Aida with great success, she comes across as a bit too refined and lacking in sensuality for Bess, and her avoidance of chest tones makes her lower register sound weak at several key moments in the score. But Lawrence Winters is absolutely magnificent as Porgy, in both musical and dramatic terms.  His ringing high-baritone sounds ideal throughout, and then, just when you think he couldn't possibly top himself, his delivery of the climactic line "I gotta be wid Bess" in the final scene is thrilling beyond description. Engel's conducting is always on point, and the sound quality of the recording is excellent for 1951 mono. Overall, a triumph. — M.P.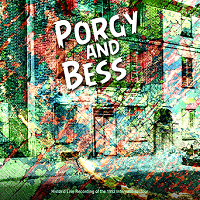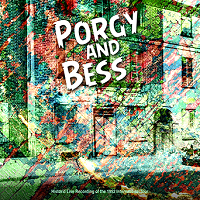 Touring Cast, 1952 (Guild/Kritzerland, 2CDs)

(5 / 5) In remarkably vivid, clear, and full sound for its era, here's a live performance of an international touring production, taken from a radio broadcast of a performance in Berlin.  Alexander Smallens, conductor of the original Broadway production of Porgy and Bess as well as the 1942 revival, leads the RIAS Unterhaltungorchester and the Eva Jessye Choir in a performance that more than compensates in visceral excitement for whatever its flaws may be in terms of the editing of the score and other decisions. Those who know this work well in its complete form as written will immediately notice several oddities in this performance, a major one being the fact that a fair amount of the opera's sung dialogue is declaimed over music rather than actually sung. There's an awful lot of shouted ad-libbing by the chorus members in the group scenes, and though this does ramp up the excitement level, it also partly obscures some gorgeous melodies and orchestrations. And while much of the opera's final scene is excised, Porgy's frequently cut "Buzzard Song" is inserted there, at a point far too late in the action for it to make any dramatic sense or effect. But, but, but…..overall, this is a thrilling performance headed by two brilliant singers whose careers were  boosted tremendously with this production, Leontyne Price and William Warfield. The pair would go on to record a phenomenal album of highlights from the opera years later (see review below), but it's nice to hear them here in a fuller statement of the score.  The balance of the cast is wonderful, with two disappointing exceptions: the Crown, John McCurry, appears to have been in poor voice for this performance, and Cab Calloway takes far too many liberties in the role of Sportin' Life, often scatting around in a weird falsetto when he should just be singing the notes, thank you very much. Little matter. If the quirks and lapses of the performance make this recording far from definitive, it's essential as an aural document of a viscerally exciting production that went a long way towards establishing this work as a masterpiece in the eyes and ears of the world at large. — M.P.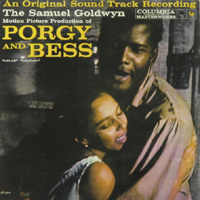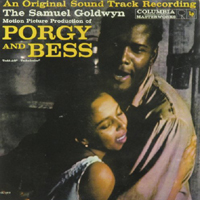 Film Soundtrack, 1959 (Columbia)

(3 / 5) This is an aural memento of a troubled film. The movie itself was withdrawn from circulation decades ago because it was despised by certain people who controlled the Gershwin estate, which held ownership of the rights, and even the soundtrack album has been out of print for years; I somehow acquired a Japanese CD pressing that sounds like it was transferred directly from the LP master tape, with no digital processing or remastering whatsoever. The film stars Sidney Poitier as Porgy, Dorothy Dandridge as Bess, Sammy Davis, Jr. as Sportin' Life, Pearl Bailey as Maria, Brock Peters as Crown, Ruth Attaway as Serena, and Diahann Carroll as Clara, but only Davis, Bailey, and Peters do their own singing — and, for contractual reasons, Davis is not heard at all on this album. Instead, Cab Calloway sings Sportin' Life's "It Ain't Necessarily So" and "There's a Boat That's Leavin' Soon for New York" with an engaging personality that lacks the sense of evil necessary for the character. (At least Calloway here sings most of the notes as written, in contrast to the 1952 live performance recording reviewed above.) Another oddity of the film and the soundtrack recording is that, due to the rapidly changing racial sensibilities at the time, some of the performers sing the Catfish Row denizens' dialect as originally written, but others do not; for example, in "I Can't Sit Down," the chorus sings "Today, I is gay and I's free," but Pearl Bailey sings "Today, I am gay and I'm free." What we have presented here are pretty much the songs of Porgy and Bess; the movie retained very little of the opera's sung dialogue, and there is none on the album. Despite its flaws, this recording is worth tracking down if only for baritone Robert McFerrin's extraordinary performance of Porgy's music, dubbed for Poitier, and Adele Addison's lovely singing for Dandridge. Both rein in their operatic voices somewhat for the film medium, but they still sing beautifully under the skillful, respectful musical direction of André Previn and Ken Darby. — M.P.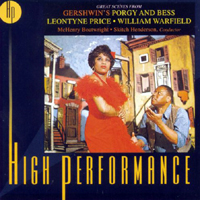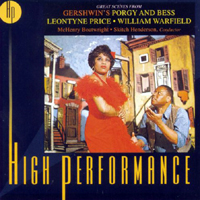 Studio Cast, 1963 (RCA)

(5 / 5) There are many recordings of highlights from Porgy and Bess, but this one is exceptional for its superb singing, conducting, and sound quality. Opera diva Leontyne Price had one of the most beautiful voices of the 20th century. She toured in the role of Bess for two years (1952-54), and posterity should be grateful that she commercially recorded large portions of this score when she was in her vocal prime. Her Porgy on tour and on the album is William Warfield, to whom Price was briefly wed; the marriage may not have worked out, but they sure make beautiful music together, she with her glorious soprano and he with his warm baritone. Less successful is McHenry Boatwright, who brings a somewhat stuffy operatic sound to the role of the brutal Crown, but it's great to have original Sportin' Life John Bubbles on hand. Although his voice had weakened with age by the time of this recording, Bubbles still gives us style for miles. Price and Warfield also sing sections of the score that were written for other characters, but this compromise in faithfulness to the narrative is justified when we hear Price's thrilling renditions of "Summertime" and "My Man's Gone Now." Skitch Henderson conducts with tremendous verve, and the technical quality of the recording is astoundingly good. Be sure to attenuate the volume control of your sound system during the orchestral postlude to "There's a Boat That's Leavin' Soon for New York" if you don't want to disturb your neighbors. (Fun bit of trivia: In the album's final track, in the sung dialogue section leading into "I'm on My Way," one of the supporting singers comes in late for her entrance with the line "It's way up north, past the custom house"  but the producers didn't bother to do a retake.) — M.P.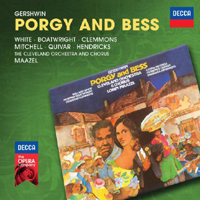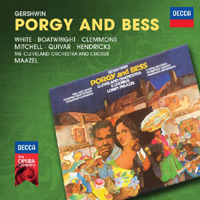 Studio Cast, 1976 (London, 3CDs)

(4 / 5) For 40 years after the premiere of Porgy and Bess, no truly complete recording of the score was available. Then, two such recordings were released in 1976. This one features the first-rank conductor Lorin Maazel leading the Cleveland Orchestra, and if some of his choices of tempo are a little eccentric, none of them are damaging, and the performance is very laudable overall. Willard White is a strong Porgy, if perhaps a bit too bass-sounding for some tastes, while Leona Mitchell is in fresh and lovely voice as Bess. McHenry Boatwright, who was Crown on the 1963 recording, is back, and he sounds even stodgier here. But Barbara Hendricks as Clara, Florence Quivar as Serena, and Francois Clemmons as Sportin' Life are very well suited to their roles, and the large chorus sounds fine even though it's apparently not authentic in terms of racial makeup. The excellent quality of the recorded sound helps make this a full, rich, and exciting recording that probably would have achieved greater popularity if not for its having been bettered by the one reviewed immediately below. — M.P.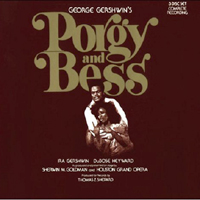 Houston Grand Opera Cast, 1976 (RCA, 3CDs)

(5 / 5) A superb production of a great American work marked the country's bicentennial when the Houston Grand Opera's Porgy and Bess came to Broadway in 1976. Because this complete recording was based on an actual stage production (which was performed live with a fair amount of cuts), it has a palpable theatricality, and John DeMain's conducting of the score is beyond criticism. The solo singers are generally excellent, if only definitive in one case: Larry Marshall is the best Sportin' Life on records. Donnie Ray Albert displays a strong baritone as Porgy, but his voice may strike some listeners as a bit too darkly "operatic" for the part, and his sibilant esses are somewhat distracting. As Bess, Clamma Dale proves herself to be a great singing actress, and one of the sexiest-ever exponents of the role. The other singers on hand help to make this recording really special: Betty Lane offers an ethereally beautiful performance of "Summertime," Wilma Shakesnider is immensely moving in Serena's "My Man's Gone Now," Carol Brice's Maria is a force to be reckoned with, and Andrew Smith has just the right voice for  Crown. The large chorus and orchestra sound fabulous throughout. Although Albert's Porgy is not quite all that we might wish it to be, this set still rates five stars because it's by far the most satisfying of the three note-complete recordings of a true American masterwork. — M.P.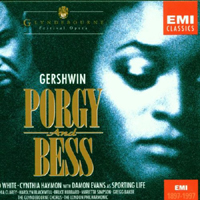 Studio Cast, 1989 (EMI, 3CDs)

(1 / 5) What might have been an estimable recording of a Glyndebourne Festival Opera production of Porgy and Bess is sabotaged by Simon Rattle, whose work here comes across as that of a maddeningly willful conductor more interested in calling attention to his presence at the podium than in interpreting this work according to the composer's intentions. Several of the tempi that Rattle sets for the London Symphony Orchestra are ridiculously fast, others are absurdly slow, and there is no sense of dramatic cohesion throughout the opera. That's unfortunate, because the singers are strong: Willard White is back as Porgy, sounding even better than before, and he's superbly partnered by the Bess of Cynthia Haymon. Also happily on hand are Gregg Baker as the sexiest Crown imaginable, Damon Evans as a slick, very well-sung Sportin' Life, and Harolyn Blackwell as a pure-toned Clara. After the fact, this recording served as the soundtrack for a 1993 video version of Porgy and Bess that's deplorable not only because it's so badly lip-synched, misdirected, and poorly conducted, but also because it was apparently sanctioned by the Gershwin estate in lieu of a TV telecast of the contemporaneous Metropolitan Opera production. — M.P.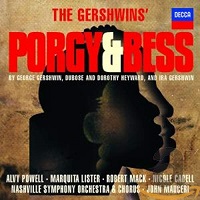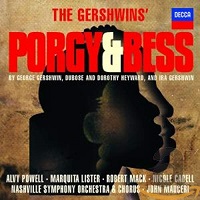 Nashville Symphony Concert Cast, 2006 (Decca, 2CDs)

(3 / 5) A major impetus for the Nashville Symphony's 2006 concert performances of Porgy and Bess, and this subsequent recording, was to present the score as heard in the original Broadway production, with cuts that were sanctioned by the composer, rather than with excisions (and restorations) made by others for various other productions and recordings. The issue here is that some of the cuts made for Broadway were approved by Gershwin only with reluctance, to reduce the sheer length of the massive work and also because he realized that the full-length title role would be basically unsingable for eight performances a week. Also, some of the edits here seem to have been done after recording, and by no means seamlessly. At any rate, the cuts are what they are, and the performance overall is creditable if nothing special. Mauceri has done a lot of American musical theater as well as opera, so his reading of the score is somewhat more effective than Simon Rattle's or Nikolaus Harnoncourt's, but nowhere near as assured as Lehman Engel's, Skitch Henderson's, or John DeMain's. The cast is strong across the board, headed by the excellent Alvy Powell and Marquita Lister, who had previously appeared together as the title couple in performances at the New York City Opera. — M.P.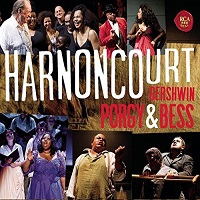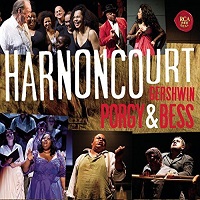 Styriarte Festival Cast, 2009 (Sony Music-RCA Red Seal, 3CDs)

(2 / 5) The packaging of this recording makes it clear who's intended to be its main focus: Nikolaus Harnoncourt, an Austrian conductor known for his historically informed performances of music primarily from the Classical and pre-Classical eras, which predate the time of the composition of Porgy and Bess by a great many years. Here,  he leads the soloists, the Chamber Orchestra of Europe, and the Arnold Schoenberg Choir (?!)  in a live performance that has many moments of ineffable beauty and great power when heard in isolation. But sadly, much of the musical direction and choral singing is overly precious, and the movement of the drama is so lugubrious  that the whole is lesser than the sum of its parts. Contributing to this problem is the fact that bass-baritone Jonathan Lemalli as Porgy has a sound so dark and cavernous in tone that he's unable to bring any lighter vocal or emotional colors to the role, and the weight of his voice sometimes drags down the pitch. Faring somewhat better is Isabelle Kabatu as Bess, but she also sounds a bit too "operatic," and her diction is wanting. (Both leads occasionally display obvious non-American accents, particular in some of their spoke-sung lines.) As for the rest of the cast, while Michael Forest's Sportin' Life is plagued by an unfortunate wobble, it's great to hear Roberta Alexander — once famous as a lyric soprano — in the character mezzo role of Maria, and to have Gregg Baker back as Crown years after his triumphs in the role in several previous presentations of this work, including the 1983 Broadway run and the 1989 Glyndebourne Festival Opera production that yielded the Simon Rattle recording. (Note: For these performances, Harnoncourt edited the score to more or less accord with what was originally performed on Broadway in 1935, but a major, historically significant restoration is the unique "Symphony of Noise," played by the percussionists at the start of the final scene. ) — M.P.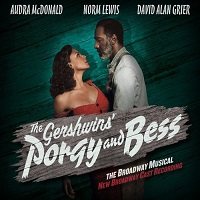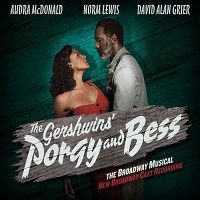 Broadway Cast, 2012 (PS Classics, 2CDs) 0 stars; not recommended. The use of the high-handed, offensive, and inaccurate title The Gershwins' Porgy and Bess for this production, with the annoying subtitle "The Broadway Musical," is only the beginning of its problems. (In a nutshell, and for the record: DuBose Heyward wrote the vast majority of the original work's libretto to George Gershwin's music, with Ira Gershwin collaborating only as far as penning a very small percentage of the lyrics himself, apparently including Sportin' Life's songs, and polishing others.) On the other hand, in a sense, this isn't a re-titling of what used to be known in all of its various versions as Porgy and Bess, but rather a still-incorrect label for a radical revision of the piece that has resulted in a foul concoction. What has been done to the score here in terms of editing, rearrangements,  re-orchestrations, and transpositions to make it more of a "musical" than an opera is well-nigh criminal, and believe it or not, there are actually rewrites of a few of the lyrics — some with a nod toward "political correctness," others for who knows what reasons. If the great musical theater singer Audra McDonald had trained and developed her voice in the operatic sphere, she might have been a Bess for the ages, but here she's done in by all of that futzing with the music, as well as by an overly dark and inward misconception of the character. Norm Lewis has displayed his gorgeous, warm, pop-tinged baritenor to great advantage is many musical theater roles, but he's over-parted as Porgy; in "I Got Plenty of Nothing," as it's titled here, he has to keep switching octaves because not all of the notes as written are in his range, even with modulations of key within the song. Some of the other cast members, notably Phillip Boykin as Crown and David Alan Grier as Sportin' Life — here, "Sporting Life" — somehow manage to emerge from this debacle relatively unscathed, but the minuses of this recording so greatly outweigh the pluses that, in sum, it can't be recommended for listening. — M.P.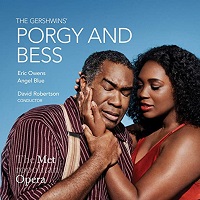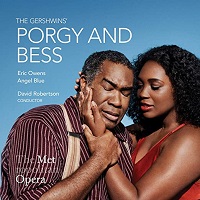 Metropolitan Opera Cast, 2020 (Metropolitan Opera, 3CDs)

(4 / 5) When Porgy and Bess was created in the mid 1930s, there were discussions about having the world premiere presented by the Metropolitan Opera. That didn't happen, largely for logistical reasons, including the fact that the Met would have had to engage an entirely new company of black singers. So the work was first produced on Broadway, as noted above. The Met didn't get around  to this American masterpiece  until 1985, with a production that starred Simon Estes and Grace Bumbry — and, yes, with most of the rest of the company jobbed in. That production was granted no official audio or video recording, but the Met's new production in 2019 has been well documented in both media. Here is an audio recording of a live performance that offers much in the way of first-rate musical values. Eric Owens is a solid but rather stolid Porgy,  lacking in energy and personality as compared to his recorded predecessors in the role. Closer to ideal is Angel Blue's vocally resplendent and dramatically vital Bess, missing only perhaps a little bit of passion in the character's more desperate moments. Standouts among the remainder of the cast are Latonia Moore as Serena, Golda Schultz as Clara, Alfred Walker as Crown, Frederick Ballentine as Sportin' Life, and the veteran, star mezzo Denyce Graves as Maria. The Met's world-class orchestra is skillfully conducted by David Robertson with a full grasp of the work's proper style. Although there were significant cuts in the gargantuan score for this production — as compared to the Met's first P&B, which was presented virtually complete — the recording still spreads over three 3CDs. — M.P.