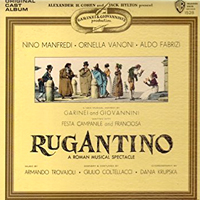 Original Broadway Cast, 1965 (Warner Bros./no CD)

(3 / 5) One of the oddest musicals ever to hit Broadway, Rugantino first opened in Rome and became an enormous hit. On a visit to Italy, American producer Alexander H. Cohen became so enchanted with the show that he brought it to New York with its Italian libretto and lyrics intact. That was long before sub-or super-titles were in common use in opera houses or elsewhere, so the failure of this "Roman Musical Spectacle" on Broadway had more to do with the language barrier than with the quality of the show. The cast album was recorded in Italy, with the second leading lady replacing the original, and a different singer as the Troubadour. The souvenir program included with the LP provided an extensive synopsis, but translations of only a few songs. The librettists-lyricists are Pietro Garinei and Sandro Giovannini; the music is by Armando Trovaioli, composer of numerous Italian film scores and song hits. The score is unique; it has an unclassifiable style that will either entrance you immediately or leave you cold. On the cast album, the songs are not presented in proper sequence, so even if you read the synopsis as you listen, you may have trouble following the plot. Many musical sections of varying length and importance were not recorded, but what's included here is performed well. As Rugantino, Nino Manfredi clearly communicates emotion through the Italian lyrics, and so do the other featured singers: Ornella Vanoni, Aldo Fabrizi, and Bice Valori. One of the traditions of a Garinei-Giovannini musical was to take a single song and have it endlessly repeated, reflecting the different characters' points of view in the lyrics. In Rugantino, the song given such treatment is "Roma, non fa la stupida stasera,' which was recorded by a few American singers as "The Lights of Roma" and became a standard in Italy. — Jeffrey Dunn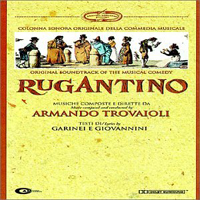 Italian Television Cast, 1978 (CAM)

(3 / 5) When Rugantino was revived in Italy, it was videotaped for TV broadcast. This cast album of that production is the recording of the score that you're most likely to find, and its lavish booklet has a few of the lyrics translated into English. This is a more complete aural document of the score than the Broadway album, with extra dance music and so on. The new Rugantino is a crooning Enrico Montesano. Bice Valori and Aldo Fabrizi repeat the roles they originated, Alida Chelli is a fetching Rosetta, and Aldo Donati is a raspy-voiced Troubadour. — J.D.
Italian Cast, 1998 (CAM)

(4 / 5) Here is the most complete recording of Rugantino. The orchestrations are new, and the inclusion of some beautiful incidental music makes the score seem more cohesive than on the previous cast albums. Valerio Mastandrea is strong in the title role. The top-billed Sabrina Ferilli is a fiery Rosetta, while Maurizio Mattioli sings the Headsman's songs powerfully. Fabrizio Rusotto's Troubadour is also very effective. — J.D.