Original Broadway Cast, 1963 (MGM/Polydor)

(5 / 5) "Charming, romantic, perfect" — those words from the song "Dear Friend" define She Loves Me, a true masterpiece of the American musical theater. A two-LP recording transferred to one fabulous CD preserves almost the entire score. Based on a play that inspired the films The Shop Around the Corner, In the Good Old Summertime, and You've Got Mail, the show tells of warring Budapest shop clerks who don't realize they've been sending anonymous love letters to each other. The songs, by composer Jerry Bock and lyricist Sheldon Harnick, blend seamlessly with the work of librettist Joe Masteroff, and the recorded performances of the cast are flawless. Barbara Cook is so much more than a typical ingenue, finding nuance and complexity in the role of the needy, neurotic, vulnerable Amalia; her renditions of "Dear Friend," "Ice Cream," and "Will He Like Me?" exemplify what great musical theater singing is all about. When Cook does "I Don't Know His Name" with Barbara Baxley as "bad girl" Ilona, the vocal contrast is divine; and it's a moment to treasure when Cook raises her voice to a hysterical soprano-belt in the frenzied "Where's My Shoe?" duet with Daniel Massey.  As "Dear Friend" Georg, Massey is convincingly shy and nervous in "Tonight at Eight," and winning in the exultant title song. Baxley rips into "I Resolve" and then simply oozes out "A Trip to the Library." Jack Cassidy, as the suave roué Kodaly, caresses "Ilona" seductively and makes the grandest of exits in "Grand Knowing You." The roles of Maraczek ("Days Gone By"), Sipos ("Perspective"), and Arpad ("Try Me") are done to a turn by Ludwig Donath, Nathaniel Frey, and Ralph Williams, and Wood Romoff is very funny as the Headwaiter in "A Romantic Atmosphere." I defy you to listen to the finale of Act II as sung and acted by Cook and Massey without getting tears in your eyes.  — Jeffrey Dunn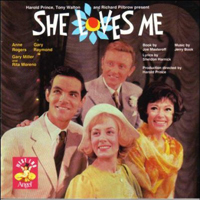 Original London Cast, 1964 (HMV/Angel)

(4 / 5) An abridged recording of a great score, this cast album lacks "Days Gone By," "Goodbye, Georg," "Tango Tragique," "Where's My Shoe?", "Will He Like Me?" and the dialogue leading into the finale. "I Resolve" is replaced by a new song for Ilona titled "Heads I Win," sung here with blistering strength by Rita Moreno, who also does an amazing job with "A Trip to the Library." The "Three Letters" sequence for Amalia and Georg was reconceived for London and features members of the ensemble as other lovelorn correspondents. Anne Rogers is a sweet if somewhat bland Amalia, Gary Raymond is a believable Georg, and Gary Miller is a dashing Kodaly. Gregory Phillips sings adorably as Arpad, but Carl Jaffe as the Headwaiter is shockingly off-key throughout "A Romantic Atmosphere." For this first London production of She Loves Me, many of the show's lyrics were Anglicized, and some were rewritten to rhyme with the British pronunciations.  — J.D.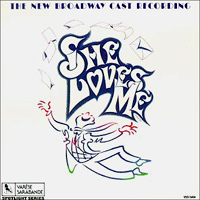 Broadway Cast, 1993 (Varèse Sarabande)

(5 / 5) This energetic recording of the Roundabout Theatre's revival of She Loves Me has the skillfully reduced orchestrations by Frank Matosich, Jr. and David Krane that were heard in the theater, and there are a few changes to the original score: Georg's "Tango Tragique" is heard only as an instrumental, a brief reprise of "Days Gone By" is eliminated, and some adjustments are made in "Twelve Days to Christmas." A nice amount of dialogue, underscoring, and incidental music gives the album a real sense of theatrical flow. Diane Fratantoni (later known as Diane Sutherland) sings well as Amalia. Boyd Gaines may sound too emotionally secure as Georg, but he's still charming, adding some nice touches to "Tonight at Eight" and "She Loves Me." As Kodaly, Howard McGillin makes deceit and conceit almost likable in "Ilona" and "Grand Knowing You." Louis Zorich, Lee Wilkof, and Brad Kane as Maraczek, Sipos, and Arpad are all fine in their solos. Sally Mayes is distinctive in Ilona's numbers, Jonathan Freeman is a terrific Headwaiter, and the ensemble is high-spirited. — J.D.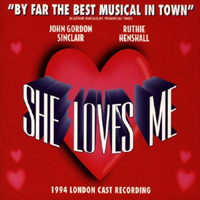 London Cast, 1994 (First Night)

(4 / 5) The astonishingly versatile Ruthie Henshall is a delight as Amalia, and her chemistry with John Gordon Sinclair as Georg is palpable on this recording. The supporting cast is good, particularly Barry James as Sipos, Simon Connolly as Arpad, and Tracie Bennett as Ilona. Only Gerard Casey as Kodaly is outclassed by his predecessors in the role. This is another highly theatrical recording of She Loves Me; intriguingly, the lyrics that were Anglicized for the original London production have reverted back to the American originals. — J.D.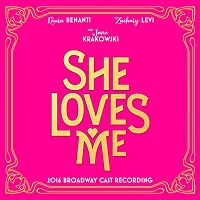 Broadway Cast, 2016 (Ghostlight) 

(3 / 5) This is the cast album of the Roundabout Theatre Company's second revival of She Loves Me, more than 20 years after their first successful production in 1993. Here we have bigger star power, a larger orchestra, and grander orchestrations by Larry Hochman. In fact, if you  listen in chronological order, the two Roundabout recordings serve as bookends framing the company's progression from a humble non-profit organization to a major Broadway heavyweight, providing us with a flashier She Loves Me the second time around. But therein lies a problem. This show has endured as an intimate musical comedy; its appeal lies in the fact that its characters are well defined and relatable, even when at their silliest. While this recording arguably offers the best sung rendition of the score, songs such as "Will He Like Me?" and "Dear Friend" lose some of their charm, and the wit of "Sounds While Selling," "Ilona," and other numbers gets lost, amid the quick tempos and lush, new orchestrations. Oddly enough, one of the more empowered songs in the score, Ilona's "I Resolve," is given a largely tearful rendition here by Jane Krakowski, though it eventually builds to a commanding finish. Once again, Roundabout has assembled an excellent ensemble cast, yet the generally broad approach of the production keeps them from being definitive in their roles. Laura Benanti is the funniest Amalia recorded, and Zachary Levi is an endearing Georg, but he is a less powerful presence than she, which leads to an imbalance in the pair's chemistry. The rest of the company, including Krakowski, Nicholas Barasch as Arpad, and Michael McGrath as Sipos, all do fine work, though Gavin Creel could be a touch smarmier as Kodaly. For a more fulfilling listening experience overall, you might want to try the original or 1993 revival cast albums; but if you're interested in a fizzier, highly energetic interpretation of one of Broadway's best scores, this recording certainly has something to offer. — Matt Koplik