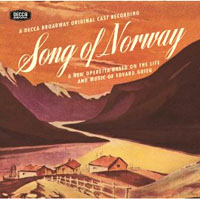 Original Broadway Cast Members, 1944 (Decca)

(4 / 5) "Hurry, Countess! The boys' names are in the cakes! They're starting the drawing!" So runs a typical line of dialogue in this peerlessly fruity operetta that's supposedly based on the life of composer Edvard Grieg. Song of Norway was a smash hit and an auspicious Broadway debut for musical adapters and lyricists Robert Wright and George Forrest. The fanciful plot — Grieg loves Nina but is intercepted by a temperamental diva, escapes her clutches and writes the A Minor Concerto — hasn't an original moment in it. The original production featured super singers, and this cast album, with its generous song-scenes and purple dialogue, certainly is an earful. Lawrence Brooks and Helena Bliss are appealing in the leads, even if, after yodeling the hit ballad "Strange Music," Brooks has to rhapsodize: "Oh, Darling, to think we've just found each other!" And tenor Robert Shafer, as their poet comrade Nordraak, is spectacular. The role of the vexing diva Louisa Giovanni, played on Broadway by Irra Petina, is sung here by Decca's house soprano, Kitty Carlisle. Although she doesn't possess a magnificent voice, Carlisle dives head-first into the ridiculous text, and her classic vocal performance is something to treasure. — Marc Miller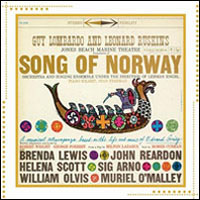 Jones Beach Marine Theatre Cast, 1959 (Columbia/Masterworks Broadway-Arkivmusic)

(3 / 5) Brenda Lewis is a trouper of a Louisa here, savoring her character's temperament and attacking her high notes with mastery. Unfortunately, this cast album of a successful Song of Norway summer production — "One of the largest and costliest musicals ever presented on the living stage," the liner notes crow — stints on the ripe operetta dialogue, so we're left with a fairly straightforward presentation of material that shouldn't have its silliness masked. The recording also omits some of the show's most charming musical moments ("Midsummer Eve," "At Christmastime") to make room for the entire Piano Concerto in A Minor. Still, as conducted by Lehman Engel and backed by a chorus of 200, it's a pretty grand performance. John Reardon is a rich-voiced Grieg, Helena Scott a pretty but brain-dead Nina. Sig Arno, a veteran of the original Broadway cast, still purrs ably through "Bon Vivant." And, as Nordraak, William Olvis has a vibrato that could drill through cement. — M.M.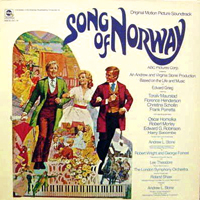 Film Soundtrack, 1970 (ABC/no CD)

(2 / 5) The cinematic success of The Sound of Music inspired a parade of family-friendly movie musicals, but none followed the climb-ev'ry-mountain template as closely as this one. It features hillsides, streams,  and Florence Henderson standing in for Julie Andrews. While the film itself is an atrocity, the soundtrack, surprisingly, is not. Grieg is Grieg, after all, and his music is played here by the London Symphony. The film retains just a few songs from the stage version; Wright and Forrest raided the Grieg catalog further and set others of his melodies to florid but not unintelligent lyrics. Toralv Maurstad as Grieg has no voice, so most of the male vocals are assigned to Frank Porretta, a fine singer who nevertheless strains as the notes sail high above the staff. Fortunately, Harry Secombe steps in for three tracks, his ringing tenor as thrilling as ever. Henderson is her usual competent, unexciting self, though unexpectedly affecting in "The Little House" and "Wrong to Dream." Roland Shaw is the very busy musical supervisor. — M.M.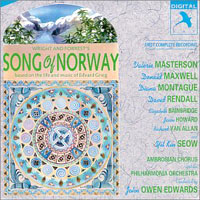 Studio Cast, 1990 (JAY, 2CDs)

(3 / 5) Spreading Song of Norway over two CDs has its advantages: more Grieg (with a smattering of Verdi in a Traviata excerpt), more imperishable dialogue, and more complete song scenes. The Act I finale, for instance, builds and builds before fading into a satisfying pianissimo. But John Owen Edwards' conducting is slightly stolid, and the overall performance style is more dutiful than inspired. As compared with the cast of the 1944 recording, the singers heard here don't have the sort of natural artificiality that's required. Diana Montague comes close as Louisa, her killer soprano hitting the right notes of haughtiness. But Donald Maxwell's chirpy Grieg sounds like a first reading; David Rendall's Nordraak is resonant but flat-out boring; and the usually reliable Valerie Masterson is a so-so Nina, shrill in her upper register. Concert pianist Yit Kin Seow plunges avidly into the concerto, and Wright and Forrest contribute an informative if self-serving essay to the accompanying booklet. — M.M.