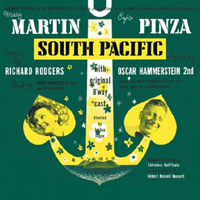 Original Broadway Cast, 1949 (Columbia/Sony)

(5 / 5) Romantic and durable, this great Rodgers and Hammerstein score ranges from operatic to 1940s swing to quasi-Polynesian to Americana, yet each song is perfectly appropriate in terms of character and situation. Hearing the unsurpassed portrayals of the expatriate French planter Emile de Becque and U.S. navy nurse Nellie Forbush created by Ezio Pinza and Mary Martin is a sheer joy. Wonderful songs like "Some Enchanted Evening" and "A Cockeyed Optimist" were written specifically for their talents, and their interpretations of these classics remain untouched. No subsequent recording presents a more glowing performance of South Pacific. Pinza's performance of "This Nearly Was Mine" will give you goose bumps, and the charm and heartfelt optimism of Martin's Nellie leaps from the recording in every one of her songs, from her aforementioned introductory number to "I'm Gonna Wash That Man Right Outta My Hair" to "A Wonderful Guy" to "Honey Bun." Juanita Hall as Bloody Mary is terrific in "Bali Ha'i" and "Happy Talk," and as Lt. Cable, William Tabbert sings "Younger Than Springtime" and "You've Got to Be Carefully Taught" sweetly. Note that this album was recorded in two formats: on acetate discs, as heard on the CD edition that was released in 1998, and on magnetic tape, as heard on prior and subsequent releases. The recordings drawn from the tapes are technically superior, so be sure to acquire those through CD purchase, digital download, or whatever method you prefer. — Gerard Alessandrini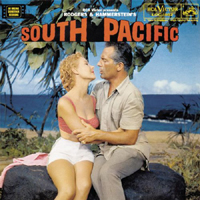 Film Soundtrack, 1958 (RCA)

(5 / 5) It's too bad that the film version of South Pacific isn't as fulfilling as the soundtrack album it yielded. This is a beautiful reading of the score, with excellent vocal performances by Mitzi Gaynor and Giorgio Tozzi (dubbing for Rossano Brazzi). Gaynor's "A Wonderful Guy" is especially good, but she has many other lovely moments. Tozzi's renditions of "Some Enchanted Evening" and "This Nearly Was Mine" differ from Pinza's but are very beautiful in their own right; often sung pianissimo, his performances are perfect for the intimacy of film, and they come across very well on the album. Bill Lee and Muriel Smith, the vocal doubles for John Kerr and Juanita Hall, offer very satisfying renditions of Lt. Cable's and Bloody Mary's songs. (Hall did her own fine singing as Bloody Mary on Broadway, as evidenced by the original cast album, so it's odd that she was dubbed for the movie by Smith, who had played the role in the London production of the show.) Also heard on the soundtrack is "My Girl Back Home," a song dropped from the stage score but reinstated for the film, and other music that was cut before the movie's release. But the real triumphs of the film and this album are the spectacular orchestrations, played by as many as 125 musicians, and Ken Darby's splendid choral arrangements, all under the supervision of Alfred Newman.  — G.A.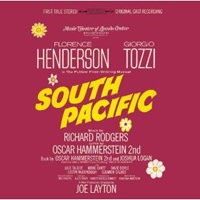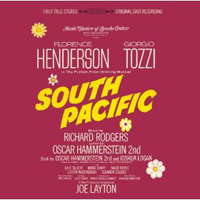 Music Theater of Lincoln Center Cast, 1967 (Columbia/Masterworks Broadway)

(3 / 5) Produced by Richard Rodgers himself at what was then called the New York State Theater, this South Pacific revival starred Florence Henderson, a Broadway singer in her pre-TV-sitcom days, and Giorgio Tozzi, the acclaimed operatic bass-baritone who had dubbed the singing voice of Emile for the film version about nine years earlier. Both are very impressive in their roles, and except for some flaws in the sound quality of the recording, this is a fine cast album. (It's interesting to note that Tozzi sings "Some Enchanted Evening" in a higher key than the original as sung by Pinza. For some strange reason, that song was placed right after, rather than just before, "Bloody Mary" on the LP issues of this album, but the order has been corrected for the Masterworks Broadway CD edition. ) Irene Byatt is perfect as Bloody Mary, and Justin McDonough does a good job with Cable's songs. As a little bonus, another future TV star, David Doyle, makes a very brief vocal appearance as Luther Billis.  — G.A.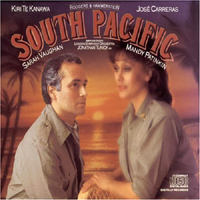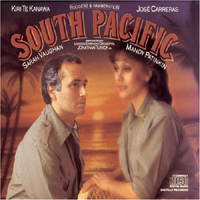 Studio Cast, 1986 (CBS/Sony) No stars; not recommended. Although it stars opera greats Kiri Te Kanawa and José Carreras, this recording is an out-and-out failure. Te Kanawa's voice is too sophisticated and grand for the young, naive Nellie Forbush, and Carreras' tenor is inappropriate for the older, wiser Emile de Becque. In supporting roles, Sarah Vaughan as Bloody Mary and Mandy Patinkin as Cable are also miscast. While the recording features the London Symphony Orchestra conducted by Jonathan Tunick, the score sounds lethargic here. — G.A.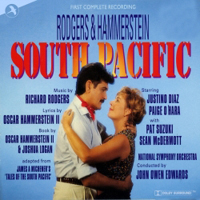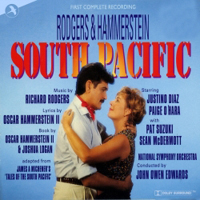 Studio Cast, 1997 (JAY, 2CDs)

(2 / 5) This is a note-complete recording of the South Pacific score, but it's not very good overall.  It boasts operatic bass-baritone Justino Diaz as Emile, and Paige O'Hara, the vocal star of Disney's wonderful animated film Beauty and the Beast, as Nellie, but their renditions of the songs lack charisma. Pat Suzuki brings spunk and mystery to Bloody Mary's numbers, and Sean McDermott as Cable also comes across well, his beautiful tenor adding to the album's credibility. However, John Owen Edwards' conducting isn't up to his usual high standards; some of his tempi are sluggish, and  the performance lacks vibrancy. It's a big plus that this is a full document of the score, including the complete overture, the entr'acte, and the scene-change music. Still, it's more worthwhile for research than for its entertainment value. — G.A.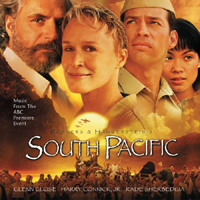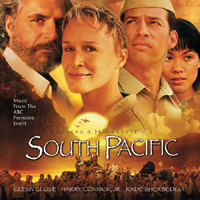 Television Film Soundtrack, 2001 (Sony)

(2 / 5) In this soundtrack recording of the 2001 ABC-TV production of South Pacific, a mature Glenn Close is Nellie Forbush — a character who's supposed to be no older than her late teens or early twenties. From a dramatic standpoint, Close somehow pulls it off, substituting naïveté and optimism for youth. She also sings quite adequately, having come from a Broadway musical background; her renditions of "I'm Gonna Wash That Man Right Outta My Hair" and "A Wonderful Guy" are effective. In the men's roles, Rade Serbedzija's voice lacks the musicality and resonance for Emile de Becque's ballads, so his performances of these beautiful songs are very disappointing. Harry Connick, Jr. as Lt. Cable sounds like a crooner and lacks enthusiasm in his rendition of "Younger Than Springtime." Lori Tan Chinn as Bloody Mary does fairly well singing "Bali Hai," but "Happy Talk" is not in the TV film and not on this recording. However, included as a bonus track is "My Girl Back Home," a charming song that was dropped from the original Broadway stage production and was recorded by Connick and Cose but not restored for this film itself. Overall, the recording leaves a lot to be desired. The best number is "There Is Nothin' Like a Dame," performed with spirit and energy. (Robert Pastorelli as Billis is a lot of fun.) But most of the arrangements and orchestrations are moody, overly atmospheric, and ultimately quite bland. If you are a wild fan of Glenn Close, this one's for you, but, if you want a satisfying recording of the score of South Pacific, there's no need to consider it as an option. — G.A.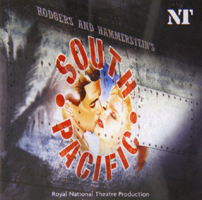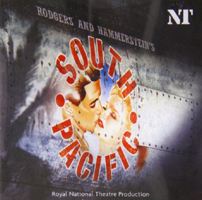 Royal National Theater Cast, 2002 (First Night)

(2 / 5) Although the score is conducted with passion by Stephen Brooker, this cast album of Trevor Nunn's production of South Pacific features some less-than-stellar vocal performances and some unfortunate rearrangements of the music. As Emile, Philip Quast is the most effective of the four leads; his rich baritone is melodic, despite the bleat in his vibrato at times, and he conveys the right romantic fervor in the role. But Lauren Kennedy's Nellie has a twang and nasality that can be cloying. Although Sheila Francisco is well cast as Bloody Mary, the throatiness of her voice is distracting. Edward Baker Duly as Cable displays a tenor that's fine, yet not distinctive. On the plus side, this recording includes "Now Is the Time," a brisk, march-tempo song for Emile and Cable that was dropped from the score before the show's New York premiere. There is also a good amount of dialogue and underscoring, plus some reprises not included on previous recordings. — G.A.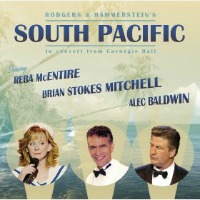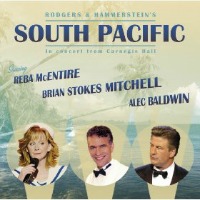 Carnegie Hall Concert Cast, 2006 (Verve)

(2 / 5) This recording is taken from a concert performance at Carnegie Hall that was also telecast on PBS.  It has a tentative quality that many quickly assembled concerts tend to have, and it lacks the pace and energy of a cast album of a full stage production. It also features, for better or worse, the kind of famous names that can draw a crowd for a concert in a major hall and a TV broadcast. In this case, Reba McEntire and Brian Stokes Mitchell are fairly well suited to the roles of Nellie and Emile, while Alec Baldwin as Luther Billis falls more into the category of stunt casting than perfect casting. McEntire gives a colorful and spirited performance, but her country singer's twang is far too exaggerated to permit a proper interpretation of Ensign Nellie Forbush. While Mitchell sings magnificently, his contemporary stylistic choices seem anachronistic to the score; his renditions of the classic songs "Some Enchanted Evening" and "This Nearly Was Mine" are better characterized as "good covers" than effective dramatic performances. Jason Danieley is well cast as Lt. Cable, but Lillias White as Bloody Mary also gives more of a star turn than a valid interpretation of this character role. Further working against the appeal of this recording, the large chunks of dialogue from the show's book seem under-rehearsed to the point of annoyance, while the Orchestra of St. Luke's also sounds a bit unrehearsed and sometimes lacking in energy as conducted by Paul Gemignani. Overall, the album is interesting and occasionally fun, but it's not a good representation of this magnificent musical as a piece of theater. — G.A.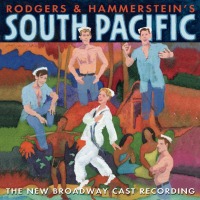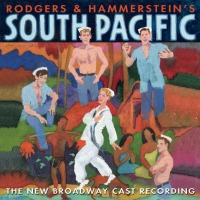 Broadway Cast, 2008 (Masterworks Broadway)

(4 / 5) Here is an excellent recording of the classic Rodgers & Hammerstein score. In many ways, it's the best audio-only representation of South Pacific as a dramatic piece. The completeness of the recording and its superb sound quality give a vivid aural picture of the wonderful Lincoln Center Theater revival, with what may be the best cast since the original production in 1949. The performances of Kelli O'Hara as Nellie and Paulo Szot (2008 Tony Award winner for Best Actor in a Musical) as Emile are very honest and never give in to show-biz campiness, as is sometimes found in recordings of older scores; the two stars take the material seriously and give us three-dimensional characters as written by Rodgers & Hammerstein and Joshua Logan, co-author of the show's book. Danny Burstein as Billis and Loretta Ables Sayre as Bloody Mary are just as well cast, while Mathew Morrison as Lt. Cable adds youth, sex appeal, and vigor to the recording. The orchestrations are the originals, and as captured here in digital stereo, they have never sounded better. The score is presented with drama and grandeur; this is an authentic South Pacific, with all of the well-known songs in a variety of styles. The album also contains some interesting hidden bonus items, such as the orchestral portions of "A Wonderful Guy" and "Some Enchanted Evening" minus the vocal tracks, so you can sing 'em yourself like Karaoke! The great success of this production proved that classic musicals needn't be re-written, re-orchestrated, or cast with pop stars to achieve favor with modern audiences, and the album is a must for anyone wanting a first-rate, 21st-century recording of a timeless show. — G.A.