Original Broadway Cast, 1959 (Columbia/Sony)

(5 / 5) Although excellent, this recording of the Rodgers and Hammerstein classic has been so overshadowed by the spectacularly popular film soundtrack album that it's difficult to judge it on its own merits. Mary Martin is in good voice as Maria and seems perfectly matched to the material, yet her interpretation of the character differs greatly from that offered by Julie Andrews; Martin is more wistful, delivering the title song with a deeper, plaintive quality. As conducted by Frederick Dvonch, the score in general has a more legit tone here than it does on the soundtrack recording, and Patricia Neway brings full operatic beauty and power to the role of the Mother Abbess. Theodore Bikel is a strong presence as Captain Von Trapp. Kurt Kasznar and Marion Marlowe as Max Detweiler and Elsa Schraeder are also standouts; they perform "How Can Love Survive?" and "No Way to Stop It" delightfully. The children, including Lauri Peters as Liesl, exude warmth. From a technical and musical standpoint, this Sound of Music album is highly commendable, and as a record of the final Rodgers and Hammerstein score, it's a must for serious collectors of transcendent musical theater. — Gerard Alessandrini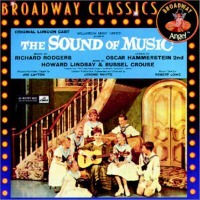 Original London Cast, 1961 (HMV/Angel)

(4 / 5) The first London production of The Sound Of Music opened in  May of 1961, a year and a half after the show premiered on Broadway. By that time, Oscar Hammerstein had died, and the show had attained a growing respect from critics, some of whom were skeptical when it first opened in New York in 1959. Also, the title of the show had gained international fame, so major stars weren't needed to launch this West End production. On the recording, we hear Jean Bayless as Maria, Constance Shacklock as the Mother Abbess, and Roger Dann as Captain Von Trapp. Eunice Gayson and Harold Kasket are Elsa and Max, and their performances are very appealing and appropriate. Although none of this quintet are thought of as major stars, they all make lovely sounding music — and the emphasis here is on the music. By 1961, practically the whole world had come to agree on the excellence of Richard Rodgers' score for this show, and here it's treated with the utmost respect and care. Compared to the 1959 original and the later 1965 motion picture soundtrack, the album has more of a classical sound to it, with some slower tempos. Bayless has a lovely, strong, legit soprano voice, and her interpretation of Maria is warm and compelling. Shacklock also has a fine operatic instrument; her performance of "Climb Every Mountain" is quite grand, even a bit Wagnerian. Overall, this recording of The Sound Of Music isn't at the top of the list, but it's very enjoyable in its own right. — G.A.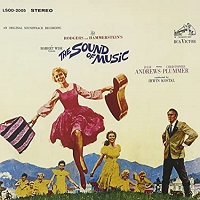 Film Soundtrack, 1965 (RCA)

(5 / 5) One of the principal reasons for the enduring appeal of the hugely successful Sound of Music film and soundtrack album is the fresh approach given to the material. Julie Andrews brings wit, spirit, and buoyancy to the role of Maria. Perfectly sung and brilliantly acted, Andrews' great performance is also notable for her clear but unaffected diction, and she knows exactly which lines to sing, which ones to exclaim. The songs of the Captain and the Mother Abbess are very well sung by Bill Lee and Margery McKay, respectively, dubbing for Christopher Plummer and Peggy Wood. McKay's rendition of "Climb Every Mountain" is notably stirring. Charmian Carr does her own singing as Liesl; she's charming in "Sixteen Going on Seventeen" with Dan Truhitte as Rolf, and in all of her tracks with the children. Since the two songs allotted to Elsa and Max in the show score, "How Can Love Survive?" and "No Way to Stop It," are not included in the film, neither Eleanor Parker nor Richard Haydn (nor any vocal doubles for them who might have been employed) are heard on the soundtrack album. The arrangements and orchestrations of the film's music overall are bright, uplifting, and thoroughly delightful from beginning to end. — G.A.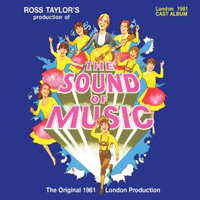 London Cast, 1981 (Epic/no CD)

(4 / 5) Here's a vibrant performance of The Sound of Music. In fact, this is the only stage cast album of the score that seems to catch the joyous excitement of the forever popular movie, due in part to rich new orchestrations and the exceptionally clear sound quality of the recording. Petula Clark comes off very well as Maria and is firmly supported by her fellow cast members, all of whom excel in their roles: Michael Jayston as Captain Von Trapp, Honor Blackman as Elsa, and June Bronhill as the Mother Abbess. "My Favorite Things," "Sixteen Going on Seventeen," and many of the show's other songs were moved around for this production, but it's all done tastefully and effectively.  — G.A.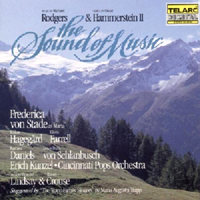 Studio Cast, 1987 (Telstar)

(2 / 5) This  recording features a large orchestra and several classically trained singers, so it has a grand-opera feel about it, yet it lacks the theatrical energy often heard on stage cast albums. Frederica von Stade sings Maria's songs with rich, round tone. While she may not be fully convincing in this role from a dramatic standpoint, her lovely voice mostly lends itself well to the beautiful Rodgers and Hammerstein score. But the nuns, some of the children, and Rolf (Neil Jones) sound a little stiff, and the charm of the character roles of Max and Elsa are obliterated by the hugely operatic performances of Lewis Dahle von Schlanbusch and Barbara Daniels; their rendition of the comic gem "How Can Love Survive?" is way off the mark. As Captain Von Trapp, Håkan Hagegård sounds more appropriate, but not very exciting. The vocal highlight of the recording is Eileen Farrell's exquisite rendition of "Climb Every Mountain." Erich Kunzel conducts the Cincinnati Pops Orchestra with no particular zest. In sum, the recording is of interest primarily to those who are curious to hear what this musical might sound like if it entered the repertoire of the Metropolitan Opera. — G.A.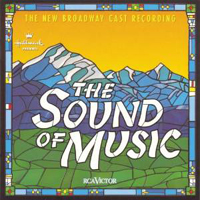 Broadway Cast, 1998 (RCA)

(2 / 5) Although this cast album of the first (and, to date, the only) Broadway revival of The Sound of Music is pleasant, with competent work by Rebecca Luker as Maria and Michael Siberry as the Captain, there's nothing outstanding about it. Luker has a lovely soprano, but she lacks a distinctive personality in the role. Patti Cohenour seems vocally miscast as the Mother Abbess; her beautiful but very youthful-sounding voice is disconcerting in "Climb Every Mountain." The performances of the other cast members are tepid, and the orchestrations are weak. — G.A.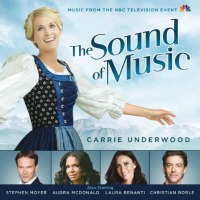 Television Cast, 2014 (Sony Masterworks )

(3 / 5) This is a fresh and largely wonderful new recording of a classic score. Carrie Underwood leads the cast as a Maria Von Trapp for the new century. Although her acting skills in the live television presentation left much to be desired, her musical performance is very sweet on its own Country/Western terms.  Audra McDonald sings beautifully as the Mother Abbess, even if she doesn't posses the type of mezzo/contralto voice usually associated with the role. As Elsa and Max, Laura Benanti and Christian Borle are both excellent. Stephen Moyer is no more than adequate as Captain Von Trapp,  but all the children and the nuns' chorus are nearly as good as those heard on the finest of the other recordings. Overall, this performance breathes new life into songs that have become almost too familiar because they are so beloved. It's a testament to Rodgers and Hammerstein that the score of The Sound of Music can be interpreted in so many different ways, even sometimes by actors who are miscast, and still come shining through. — G.A.