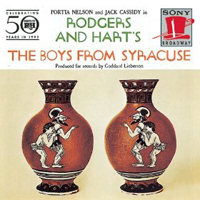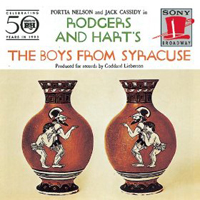 Studio Cast, 1953 (Columbia/Sony)

(3 / 5) Rodgers and Hart's 1938 adaptation of The Comedy of Errors is one of their most sublime achievements. The score, melodically and harmonically unsurpassed and lyrically ingenious, has ensured frequent revivals of the show, so it's no surprise that there are several recordings. The first, an early entry in Lehman Engel's series of then-unrecorded musicals, is well cast and gratifyingly near complete; it even includes the entire Act II ballet. Casting Jack Cassidy as both Antipholuses (Antipholi?) is a little less fun than hiring two actors, but he's at his vocal peak and is a persuasively sensuous balladeer; when Cassidy sings "You Have Cast Your Shadow on the Sea," you know he's not talking about refracted light. Portia Nelson delivers the goods in"Falling in Love With Love," Bibi Osterwald as Luce lands all of her comic songs, and Engel conducts at a good clip. The orchestrations aren't quite the Hans Spialek originals, but are modeled upon them. (The one exception is a bizarre, jazz-combo-backed version of "This Can't Be Love" that Rodgers himself went on record as loathing.) Some of Columbia's subsequent studio cast albums were mired in star casting and '50s orchestral bloat; this one is closer to the real thing, with the correct spirit of silliness and a knockout of an overture. — Marc Miller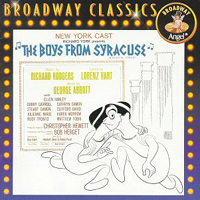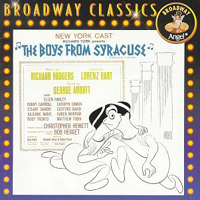 Off-Broadway Cast, 1963 (Capitol/Angel)

(4 / 5) The orchestrations here are scaled-down approximations of the original Spialek charts; by Off-Broadway standards, the orchestra is quite large. The cover art features that great Al Hirschfeld drawing of Jimmy Savo and Teddy Hart in the 1938 original, and what's on the recording is pretty delectable, too. Karen Morrow's brazen voice richly mines the comedy songs, Clifford David and Stuart Damon split the ballads ably, and Ellen Hanley breaks your heart with "Falling in Love With Love." Also on hand are Danny Carroll, Julienne Marie, and Cathryn Damon. The Encores! album (reviewed below) may be the gold-standard recording of this score, but this one is more persuasively about hot-blooded young folks jumping into the wrong beds. — M.M.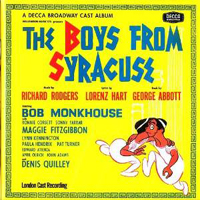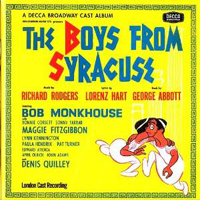 Original London Cast, 1963 (Decca)

(3 / 5) Apparently, when The Boys From Syracuse made its belated London debut, the elements didn't quite jell; a three-month run was all that the show could muster in the West End. But the album has good ensemble work from a big-name British cast headed by Bob Monkhouse, Denis Quilley, and Maggie Fitzgibbon. The production is a bit boisterous; all that hearty chorus laughter at Hart's jokes tells us that the director (Christopher Hewett) didn't trust the audience to identify the funny bits. Still, this is an above-average recording of a fabulous score. The CD reissue booklet boasts an excellent essay on the show, including a scholarly mini-course in Rodgers and Hart appreciation by John Hollander. Six vintage tracks by Frances Langford and Rudy Vallee are included on the disc as bonuses, but they're soporific. — M.M.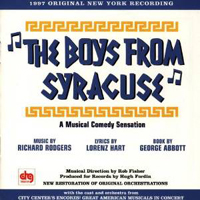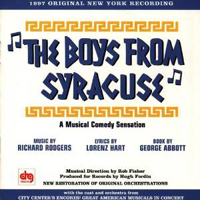 Encores! Cast, 1997 (DRG)

(5 / 5) A treat under any circumstances, the score of The Boys From Syracuse never sounded better than in this recording of the City Center Encores! production. First and foremost, it restores Hans Spialek's original orchestrations, and that alone is like scraping several coats of paint off an antique that never should have been tampered with. Exquisite details emerge, like the orchestra tacet in "This Can't Be Love" when Sarah Uriarte Berry sings that her heart "skipped a beat." Also, this is the most complete rendition of the score on record, featuring the seldom-heard "Big Brother" and the premiere recording of "Let Antipholus In!" The casting, while not uniformly inspired, is perfectly sensible. If Debbie Gravitte as Luce never produces an unexpected inflection, she does the job, and she's well partnered by Michael McGrath as Dromio of Ephesus; their mutual disgust in "What Can You Do With a Man?" is palpable. The strong Antipholuses are Davis Gaines and Malcom Gets. Rebecca Luker as Adriana is all that you want her to be, and Patrick Quinn injects mock-Romberg testosterone into "Come With Me." But it's McGrath who taps directly into the show's spirit, as when he delivers one of my favorite Hart couplets: "Come on, crystal, act like ya know me / Come on, crystal, show me Dromie!" — M.M.