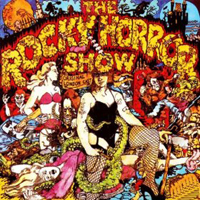 Original London Cast, 1973 (First Night)

(1 / 5) The first recording of Richard O'Brien's kinky cult classic is weak. The cast members include O'Brien himself, Patricia Quinn, Little Nell, Jonathan Adams, Rayner Bourton, and — of course — Tim Curry. Quinn sounds unpleasant singing "Science Fiction Double Feature," and Bourton is even squeakier in "Sword of Damocles." Richard Hartley's orchestrations for a five-piece band are guitar-heavy and unexciting. At under 40 minutes, this Rocky Horror cast album is shorter than any of the others that follow; missing are "Charles Atlas Song," "Eddie's Teddy," and "Planet, Schmanet, Janet."  — Seth Christenfeld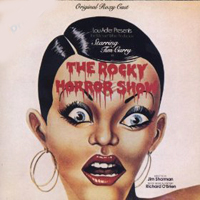 Original Roxy Cast, Los Angeles, 1974 (ODE)

(3 / 5) Tim Curry is the only holdover from the London production, and the Stateside cast members do a better job with a show that's rooted in American monster-movie culture, even if it was written by a Brit. Jamie Donnelly gets things off to a great start with a giggly "Science Fiction Double Feature." If B. Miller is a weakish Brad and Bruce Scott a subpar Riff-Raff, the rest of the company shows high energy: Abigale Haness is enjoyable as a deliriously belty Janet; Meat Loaf offers his first blazing performance as Eddie, and also has a ball as Dr. Scott. Richard Hartley (billed here as Richard Hartly) reorchestrated the score for a larger band that's led by D'Vaughn E. Pershing. — S.C.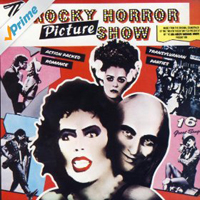 Film Soundtrack, 1975 (ODElRhino)

(2 / 5) The thing about The Rocky Horror Picture Show, as the property became known on film, is that it's iconic and indelible but not very good. Without an audience full of rowdy geeks screaming out callbacks, Rocky Horror feels incomplete: "He told us where we stand" should be followed by "on our feet," damn it! Still, some of the performances on the soundtrack recording are definitive. Tim Curry is superlative as Frank, and several of the others are very good, but the best to be said about Susan Sarandon's singing is that she isn't totally awful. The first CD edition of the soundtrack (ODE) is missing "Sword of Darnocles" and "Once in a While" but has two versions of "The Time Warp"; one is a boring remix, the other a karaoke version. The other CD (Rhino) includes both songs dropped from the first one, plus lots of dialogue — too much, in fact). — S.C.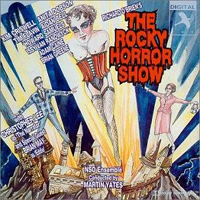 Studio Cast, 1995 (JAY) No stars; not recommended. Christopher Lee as the Narrator and Queen's Brian May as Eddie are, in theory, amusing stunt casting — but only in theory. Both performances are unsatisfying. Everyone else on this recording — Tim Flavin, Kim Criswell, Aidan Bell, Anita Dobson, Issy Van Randwyck, Adam Caine, et al. — seems to be doing third-rate imitations of the film cast. The band plays the less-than-good arrangements from the original London production, and the cover art is terrible. — S.C.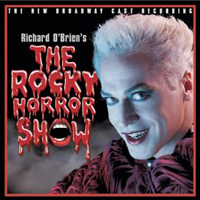 Broadway Cast, 2001 (RCA)

(4 / 5) At last, a really great recording of Rocky Horror. The Broadway revival was dazzling, and so is the cast album. Tom Hewitt, Alice Ripley, Jarrod Emick, Raúl Esparza, Daphne Rubin-Vega, Dick Cavett, Sebastian LaCause, and Kristin Lee Kelly perform the hell out of the score. Hewitt is hilarious as Frank, especially in his "Sweet Transvestite" number. The one weak link in the cast is Lea DeLaria, a bad choice for Eddie/Dr. Scott. Doug Katsaros' new orchestrations for a six-piece band are terrific. All that's missing is the audience participation; Cavett was a deliciously funny Narrator who bantered regularly with the crowd. But what's here is fantastic. — S.C.