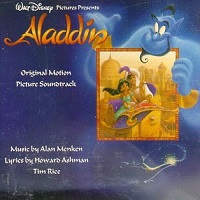 Film Soundtrack, 1992 (Walt Disney Records)

(3 / 5) Following the immense success of The Little Mermaid and Beauty and the Beast, Disney Animation firmly solidified what is now known as "The Disney Renaissance" with the critical and financial success of Aladdin in 1992. The film features a score with music by Alan Menken and lyrics by Howard Ashman, previously best known for their work on Little Shop of Horrors. Aladdin was a passion project for Ashman, who envisioned the story of a teenage hoodlum who happens upon a magic lamp and genie as a madcap romp set in the Middle East. However, Ashman succumbed to complications from AIDS before he could finish work on the project, and some of the songs he co-wrote were ultimately not used. In fact, only three songs with lyrics by Ashman remain in the film — "Arabian Nights," "Friend Like Me," and "Prince Ali" — with Tim Rice providing lyrics for two additions , "One Jump Ahead" and "A Whole New World." If Rice's lyrics don't have the same level of wit and character as Ashman's, they're still fun and don't feel like a jarring departure.  This is a fun recording, and it boasts what remains the best vocal leads of any Aladdin recording. Brad Kane is a charismatic Aladdin, blending well with Lea Salonga's Princess Jasmine on the Oscar-winning "A Whole New World," and Robin Williams is definitive as the genie of the lamp. Note: The deluxe edition of this soundtrack album includes bonus tracks of Howard Ashman singing demos for two songs cut from the film, the moving "Proud of Your Boy" and the fun "High Adventure." — Matt Koplik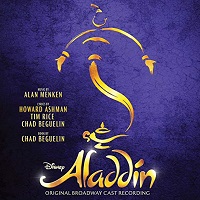 Original Broadway Cast, 2014 (Walt Disney Records)

(3 / 5) The success of Aladdin as an animated film led to a stage adaptation two decades later. The good news is that the results here are far more successful than many other Disney transfers, though with some caveats. Choosing to underline Ashman's original concept of presenting the story as a zany romp, the Broadway Aladdin is shinier, zippier, and sillier than the film. But while the show benefits from the inclusion of three songs with lyrics by Ashman that did not make it into the movie ("Proud of Your Boy," "High Adventure," and "Babkak, Omar, Aladdin, Hassim"), Chad Beguelin's libretto isn't quite clever enough to hold it all together. Although this is less of a problem on the cast recording than it was on a stage, enough of Beguelin's meta-commentary jokes are peppered throughout ("Everyone here has a minor in dance!") to make you roll your eyes. On the bright side, the score is given loving treatment in Danny Troob's vibrant orchestrations and Michael Kosarin's tight vocal arrangements. The one major misstep is turning the Genie's "Friend Like Me" into a nearly 10-minute-long production number. While it's performed energetically by James Monroe Iglehart, the song now feels overstuffed and tiresome. Iglehart is given a much better opportunity with "Prince Ali," which has also been expanded from the film version, but to more satisfying effect. New additions to the score, such as "These Palace Walls" and "A Million Miles Away," are pleasant enough, with Menken once again proving his gift for ear worms, but Beguelin's lyrics are not on the same level as his predecessors'. Adam Jacobs gives an earnest performance as Aladdin, which works in ballads like "Proud of Your Boy" and "A Whole New World" but less well in peppier songs like "One Jump Ahead." Courtney Reed's Jasmine is mostly serviceable, though her voice is not as comfortable a fit for "A Whole New World" as Lea Salonga's. And in a fun bit of déjà vu, Jonathan Freeman vamps it up as the evil villain Jafar, the part he voiced in the 1992 film. If this recording doesn't have the overall charm of the original soundtrack, it's still enjoyable, and it introduces audiences to some wonderful Ashman/Menken songs that had previously gone unheard. — M.K.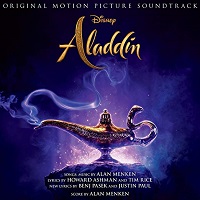 Film Soundtrack, 2019 (Walt Disney Records)

(1 / 5) This is the soundtrack recording of Disney's recent live action remake of Aladdin, a trend the company has continued ever since the massive financial success it had with its remake of Beauty and the Beast. The Aladdin soundtrack is not nearly the disaster that Beast was: the arrangements are mostly the same as the originals (though some pop and hip hop influenced percussion has been added), and the cast is of a higher vocal caliber (if still auto-tuned).  Yet, the recording is mostly free of personality. Everything is clear and pleasant enough, but it's missing energy and character. Nowhere is this more evident than in Will Smith's performance as the Genie. Whereas both Robin Williams and James Monroe Iglehart gave everything they had to their performances in the role, Smith goes for a more laid back, casual approach to the magical sidekick. This is a mistake, and though he doesn't completely bungle his two big songs "Friend Like Me" and "Prince Ali," they barely register. Mena Massoud and Naomi Scott are both fine as, respectively, Aladdin and Princess Jasmine, but they certainly don't wipe away memories of the originals. Scott has been given a new number written by Menken with lyrics by Benj Pasek and Justin Paul, "Speechless," but the lyrics are so nondescript and the melody so jarringly different from the rest of the score that it doesn't do anything to distinguish Scott's Jasmine from Salonga's or Reed's. So, while this isn't the worst soundtrack of a Disney remake, it's the blandest of all three Aladdin recordings and is really more for completists than for anyone who want to be exposed to the score for the first time. — M.K.