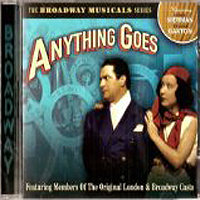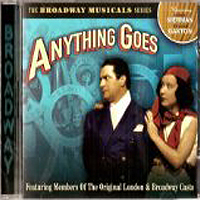 Recordings by Original New York and London Cast Members, 1934 (various labels/Prism)

(3 / 5) While it wasn't Cole Porter's first success or biggest hit, Anything Goes has always seemed the quintessential Porter musical. Its screwballs-at-sea plot and score filled with standards still exude a vintage 1934 smartness even as revivals fool around with the book and pad the score with other Porter tunes. Ethel Merman, indelibly cast as evangelist-turned-chanteuse Reno Sweeney, recorded a couple of the songs, and the first London cast laid down several tracks. The results, as collected here, are intriguing and mixed. Merman, of course, is swell in "You're the Top" and "I Get a Kick Out of You." The disc also includes an extremely rare live cut by William Gaxton, the original Billy and a key Broadway leading man of the time. Meanwhile, the 1935 London production of Anything Goes was quite a different show; American brashness was traded in for a somewhat more decorous cheekiness, and Jack Whiting is a much more juvenile Billy than the wiseacre Gaxton. As for Reno Sweeney, what's about as far from Merman as it's possible to get? Try a light soprano, add a French accent, et voila: You have the London Reno, Jeanne Aubert. She's certainly spirited as she trills "Blow Gabriel Blow," but whether or not she fits the role is another matter. As this disc also features Porter's own recordings of three songs from the score plus extras, it's a good bargain all around. — Richard Barrios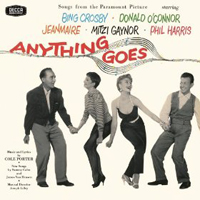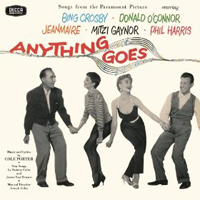 Film Soundtrack, 1956 (Decca) No stars; not recommended. Although perennially popular onstage, Anything Goes has not fared well in its transfer to other media. A 1936 film version with Merman and Bing Crosby was truncated and compromised, and two 1950s TV productions — one with Merman, the other with Martha Raye — were severely cut. Worst of all was the mess that Paramount made of the property in 1956, again with Crosby. There are a few Porter songs and a boat in the movie, but that's about as faithful to the original show as it gets. This soundtrack album tells the tale. It features Crosby, Donald O'Connor, Jeanmaire, and Mitzi Gaynor in dispirited renditions of the Porter numbers and some woeful new efforts by Sammy Cahn and James Van Heusen, of which "Ya Gotta Give the People Hoke" is a fair example. The experience of listening to this recording lacks some of the pain and ennui of watching the film itself, but that doesn't even qualify as faint praise. — R.B.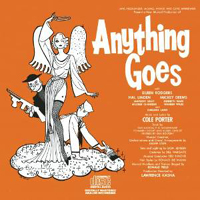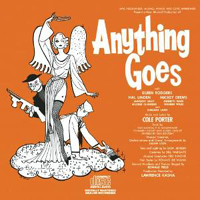 Off-Broadway Cast, 1962 (Epic)

(3 / 5) This revival managed to respect the show even as it tinkered with it, adding several Porter songs and souped-up arrangements. The album is sprightly and enjoyable. Eileen Rodgers is very good in a sort of girlish-Merman way, and Hal Linden — years before his Broadway and TV fame — is one of the best Billys ever, brash in the Gaxton manner yet able to sustain a romantic vocal line with panache. Barbara Lang and Mickey Deems are fine as Hope and Moonface Martin, and as Bonnie, chirpy-voiced Margery Grey has fun with a little-known Porter interpolation: "The Heaven Hop." Also added to the score are "It's De-Lovely" (from Red, Hot and Blue) and "Friendship" (from DuBarry was a Lady). Best of all, there seems to be a concerted effort to evoke the original spirit of Anything Goes without camping up the material or playing down to it. — R.B.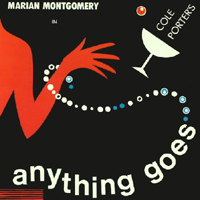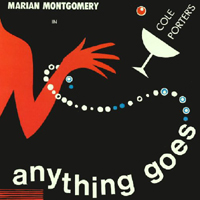 London Cast, 1969 (Decca/TER)

(1 / 5) This version of Anything Goes had still more alterations, so extensive that the name of Guy Bolton, who co-wrote and revised the original book, was nowhere credited. The production was an instant flop; in fact, it was such a disaster that the cast album was packaged but remained unissued for a long time. (Years later, one vagrant copy sold for £1 ,000.) When it was finally released, everyone yawned. Some of the new orchestrations sound cheesy, but they're a good match for Marian Montgomery, whose Reno is pathetically unworthy of over-the-title billing. She's toneless, humorless, and graceless in the role; Britney Spears as Magnolia in Show Boat would be better casting. The recording can't survive such a major liability, but it should be mentioned that James Kenney is almost as good a Billy as Linden was, and Valerie Verdon's Hope is charming. — R.B.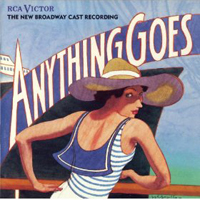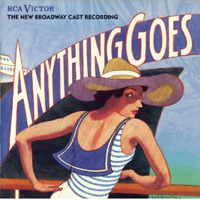 Broadway Cast, 1987 (RCA)

(3 / 5) Renewed interest in Anything Goes, after its absence from Broadway for more than 50 years, brought the show back in this Lincoln Center Theater production. There was again some tinkering with the score: "Friendship" and "It's De-Lovely" were interpolated once more, as was "Easy to Love" — and the evening began with Porter's own voice in an old recording of the title tune. The show once again held up under all the changes, making for one of the happier Broadway events of its time. As for casting, Howard McGillin's Billy, with his attractive baritenor voice and earnest manner, worked somewhat better onstage than it does on records. Opposite him in the role of Reno Sweeney, Patti LuPone seems to be zapped in from a different galaxy; her portrayal is both magnetic and quite controversial. As always, her authority and commitment are never in doubt, but her vocal style will annoy some listeners even as it enraptures others. The rest of the cast is less formidable, with the Tony-winning Bill McCutcheon a particularly sweet Public Enemy 13. As always, this score seems to inspire an enthusiastic performance from all forces involved. — R.B.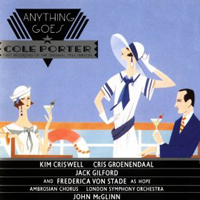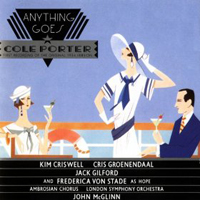 Studio Cast, 1988 (IIMI)

(3 / 5) While the 1987 Lincoln Center production was still packing them in, the first full recording of the Anything Goes score as it was originally heard on Broadway was put together by the team responsible for the magnificent 1988 Show Boat recording. Once again, conductor John McGlinn leads a cast of musical theater and opera singers. But, while that blend worked fine for the epic Show Boat, here it's a different story. The wonderful mezzo Frederica von Stade, so great as Kern's Magnolia, seems too substantial an ingenue for Anything Goes, overpowering the role of Hope. Tenor Cris Groenendaal is a light, acceptable Billy but is poorly matched with his Reno, the soubrette-belter Kim Criswell. Only Jack Gilford is perfectly cast, his endearingly scratchy character voice just right for Moonface. — R.B.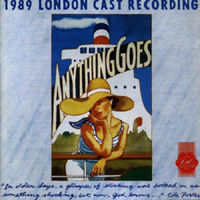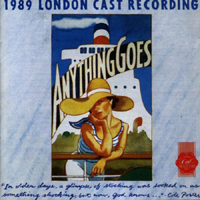 London Cast, 1989 (First Night)

(3 / 5) The success of the Lincoln Center revisal of Anything Goes generated a London production, and Howard McGillin crossed the Atlantic to play Billy opposite Elaine Page. He sings the role with more authority here than he did on the earlier disc. Veteran character actor Bernard Cribbins is another good Moonface and Ashleigh Sendin is an attractive Hope. But, even more so than in New York, this production was obviously intended as The Reno Sweeney Show. Paige is more vocally reliable than LuPone, though she occasionally sounds a bit too enraptured with her own divadom. Still, a performer's self-confidence never did Anything Goes any harm (Marian Montgomery excepted), and a good time is had by all, including the listener. — R.B.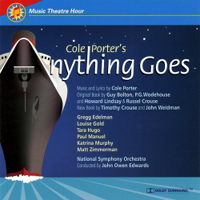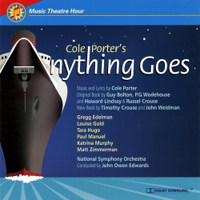 Studio Cast, 1995 (JAY)

(1 / 5) In 1995, the world was not holding its breath for another studio recording of Anything Goes, but that didn't stop JAY Records from assembling a group of singing actors who had replaced Paige, McGillin, and Cribbins in the 1989 London stage production. Unlike other JAY studio cast recordings of complete musical theater scores as originally written, this one was based strictly on the 1987/'89 revival version, with new orchestrations by Michael Gibson and the same tune stack. Comparisons with the cast albums of those productions are inevitable; this entry lacks the excitement and theatrical luster of its rivals. Gregg Edelman conveys some of Billy's brashness, but Louise Gold lacks LuPone's charisma and Paige's tower of vocal strength. No one else is either offensive or magnetic in this unnecessary recording. — R.B.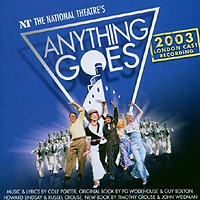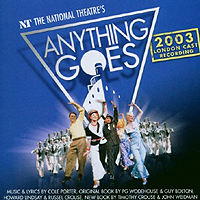 London Cast, 2003 (First Night)

(3 / 5) The British fascination with Anything Goes continued in 2003 with a National Theatre revival of the late-'80s version. Directed by Trevor Nunn, this production strayed a bit further from the original than its predecessors, but it did so with high style and energy. Nunn treated the show as an ensemble piece rather than a star vehicle, so there's no Merman/LuPone/Paige sort of dominance, but if Sally Ann Triplett is a somewhat dainty Reno, she can simulate a belt when she needs to. John Barrowman is a Billy with lots of juvenile charm, the supporting cast is spirited, the chorus is strong, the orchestra is having a great time, and "Blow, Gabriel, Blow" raises the roof.  — R.B.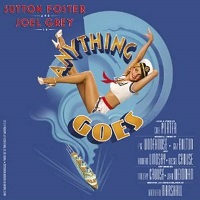 Broadway Cast, 2011 (Ghostlight)

(2 / 5) During the first two decades of the 21st century, Sutton Foster gained enough of a name as a Broadway musical star that she eventually began to be miscast in revivals of classic shows simply on the basis of her box-office bankability. The most recent example as of this writing was The Music Man (2022), but the first occurrence came when Foster took on the role of Reno Sweeney in the Roundabout Theatre Company's Anything Goes (2011). The character was conceived, and heretofore has been played, as a brassy, sexy, mature, 1930s broad, someone who has been around the block enough times to have had a career as a nightclub singer before becoming an evangelist. In contrast, Foster as Reno came across as an exceptionally talented, peppy, young college girl essaying the role. Nor is her recorded performance satisfying from a purely musical standpoint, as her belt voice, though strong and clear, is fairly colorless and lacking in character for songs that had previously been sung so well by Ethel Merman, Eileen Rodgers, Elaine Paige, et al. Happily, the other leads are better suited to their assignments, with Colin Donnell an appealing Billy Crocker and the honored Broadway veteran Joel Grey a wonderfully impish Moonface Martin. (Grey was 79 at the time of this production, but his advanced age is not apparent on the recording.) John McMartin is luxury casting as Elisha Whitney, and his rendition of "The Crew Song" is a sheer delight, while Adam Godley as Lord Evelyn Oakleigh has a high time with "The Gypsy in Me," and Jessica Stone as Erma is charming in "Buddy Beware." But though Laura Osnes displays a pretty soprano as Hope Harcourt, her performance (like Foster's) is wanting in terms of period style. The song stack here is pretty much the same as that of the 1987 cast album. Despite Foster's miscasting and some other flaws, this recording is enjoyable enough to demonstrate why Anything Goes has become an evergreen title with multiple, major revivals since its Broadway debut in 1934. – Michael Portantiere