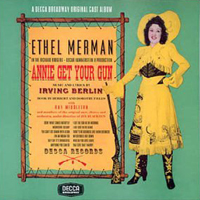 Original Broadway Cast, 1946 (Decca)

(2 / 5) When this recording was made, cast albums were still a fairly new concept. It's a major disappointment that the classic Irving Berlin score for Annie Get Your Gun is presented here as little more than a collection of songs from the show, with little or no attempt to recreate the theatrical experience. Yes, Ethel Merman is on hand to raise her golden voice, and she is at her peak vocally in such brilliant songs as "Doin' What Comes Natur'lly," "You Can't Get a Man With a Gun," "Moonshine Lullaby," and "I Got the Sun in the Morning" — but this makes it even more disappointing that she doesn't really play Annie Oakley on the recording, and instead simply introduces the Berlin songs as potential standards. It's also unfortunate that a good amount of the show's music and lyrics were not recorded: There's no overture, no "Colonel Buffalo Bill," no "I'm a Bad, Bad Man." Most unhappily of all, Merman does not sing the anthem "There's No Business Like Show Business" with other members of the original cast, as she did on stage; rather, the song is given a bland choral rendition. On the plus side, Ray Middleton has a glorious voice that's perfectly suited to the role of Frank Butler. His performance comes through a bit more theatrically than Merman's, and he sounds very appealing and even sexy. As wonderful as it is to hear the two original stars singing this score, this album is largely unsatisfying, but it served its purpose until better recordings came along. (See below.) — Gerard Alessandrini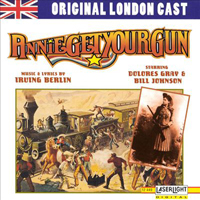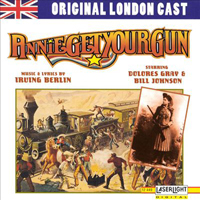 Original London Cast, 1947 (World Records/various CD labels)

(1 / 5) This production made a star of Dolores Gray. As recorded here, her unique voice marks her as someone destined for greatness. Gray's interpretation of Annie Oakley is very different from Ethel Merman's, but it's wonderful to hear her sing Berlin's tuneful songs so smoothly–especially "I Got Lost in His Arms" and other ballads. As Frank Butler, Bill Johnson sounds equally terrific. Issued in four large 78-rpm platters, these recordings are very quaint-sounding, much more so than American cast albums of the same period. Although it's fun to hear Gray and Johnson, the selections are so brief and the sound quality so fuzzy that this set will only be of interest to historians. — G.A.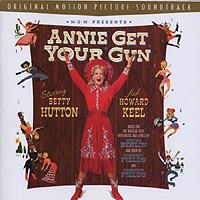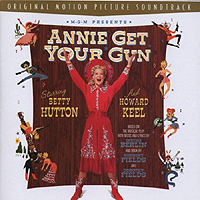 Film Soundtrack, 1950 (MGM/Rhino-Turner)

(4 / 5) When MGM prepared to film Annie Get Your Gun, the studio pulled out all the stops. The soundtrack recording exemplifies the high standards set for the movie, which raised the bar for screen versions of stage musicals. Great care was taken in expanding the show's orchestrations and choral parts. Howard Keel was cast as Frank Butler; he had just come to Hollywood via the Broadway and London stages and was still fresh, theatrical, and gorgeous-with a big, bright, melodic baritone to boot. The really questionable aspect of this recording is the performance of Betty Hutton as Annie Oakley. Although she was a huge star in her day, beloved for her rowdy comic style, Hutton never had the vocal range of an Ethel Merman. As a result, Annie's songs are shortchanged here. But wait! Included as bonus tracks are those songs as sung by the great Judy Garland, who was to have starred in the film. (The reasons for her dismissal are detailed by George Feltenstein, producer of the CD, in his notes on the release.) Garland's renditions of "They Say It's Wonderful" (with Keel) and the reprise of "There's No Business Like Show Business" are spine-tingling. Her comic timing and wit come through sharp and clear in "Doin' What Comes Natur'lly" and "I Got the Sun in the Morning," putting Hutton's over-the-top performances to shame. It's a safe guess that this generally excellent stage-to-screen transfer would have been one of the best movie musicals of all time if Garland had completed the film. Note that the disc includes both Hutton's and Garland's renditions of "Let's Go West Again," a song that was apparently written by Irving Berlin for Annie in 1946 but was cut before the show opened. The number was to be reinstated for the film, but never made it, so it's nice to find it here in two different performances. — G.A.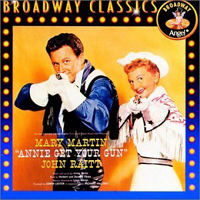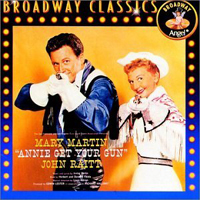 Studio Cast, 1957 (Capitol/Broadway Angel)

(2 / 5) Mary Martin and John Raitt were acclaimed for their stage performances in Annie Get Your Gun, but this recording fails to capture the excitement, personality, or vocal artistry of their interpretations. It's less a cast album than a recording of songs from the show with 1950s pop orchestrations that bear little or no resemblance to the originals and are quite untheatrical — a very strange artistic choice, considering that this score contains the anthem "There's No Business Like Show Buisness." Martin and Raitt starred in a fine television production of the musical around the time of this recording, and it's a shame that Capitol Records didn't produce a true TV cast album. In the surviving kinescope of the broadcast, the stars are as vibrant and thrilling as any other Annie Oakley or Frank Butler, but the Capitol recording is flat, dry, and altogether forgettable. — G.A.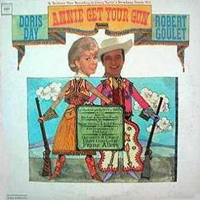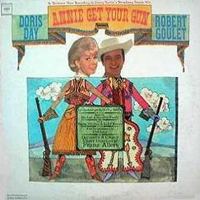 Studio Cast, 1963 (Columbia/no CD) 0 stars; not recommended. This is one of the most disappointing studio cast recordings of any Broadway score. It's conducted by the great Franz Allers and was produced by Columbia Records, the company responsible for many  of the classiest cast albums ever issued. But almost every choice made here was misguided and the result is embarrassing. Doris Day should have been terrific in this role (as she was in the film Calamity Jane), but her performances of Annie Oakley's songs are sleepy and tepid. As Frank Butler, Robert Goulet probably seemed perfect in theory, but what might have been dream casting is sabotaged by his Vegas-like renditions of songs that require a robust, legit sound. To compound this misuse of talent, there are pallid new orchestrations by the usually reliable Phil Lang. It's a shame that Day, Goulet, and Allers didn't offer a more straightforward reading of Irving Berlin's greatest score. — G.A.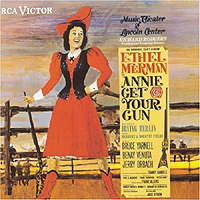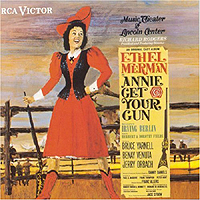 Music Theater of Lincoln Center Cast, 1966 (RCA)

(5 / 5) Here's the gem, the most enjoyable recording of Annie Get Your Gun. Even though it was made years after the original Decca album, it's a more accurate representation of the score as a theatrical experience — and Ethel Merman, two decades after creating the role on Broadway, never sounded fresher. Her vibrato is tight, her pitch perfect, her acting and comic timing impeccable. By 1966, stereophonic recording was at its peak, and the spacious, crisp sound of the recording makes you feel as if you've got a front-row seat for the performance. Supporting Merman is Bruce Yarnell, who possessed one of the most thrilling musical theater voices ever. His big baritone is melodic and hearty, and he delivers every wonderful Berlin lyric with absolutely clarity. Also in the cast is Jerry Orbach in the character role of Charlie Davenport; his performance leaps out of the speakers in the opening number, "Colonel Buffalo Bill," and "There's No Business Like Show Business." This Music Theater of Lincoln Center production was also notable for introducing "An Old-Fashioned Wedding," the last new Irving Berlin song to be performed on Broadway, it's a terrific contrapuntal duet between Annie and Frank. And this recording was the first to include all of the verses to "You Can't Get a Man With a Gun." Masterfully performed by Merman, the number is a laugh-out-loud exercise in lyrical perfection; it's Berlin at his most witty and playful, and it doesn't get any better than this. The score is conducted to perfection by the great Franz Allers. — G.A.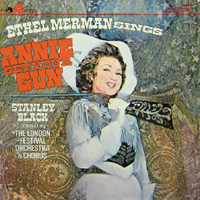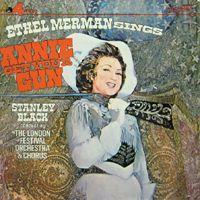 Studio Cast, 1973 (London)

(4 / 5) In the 1960s and '70s London Records embarked on a high-end series of albums labeled "London Phase 4 Stereo." The studio performances were recorded on multiple tracks and then mixed down for a ping-pong stereophonic experience. In 1973, Stanley Black conducted Ethel Merman in a new Phase 4 recording of Annie Get Your Gun, and the results were quite phenomenal — the first phenomenon being that Merman was well into her sixties by this time, yet she still sounds fresh and vibrant. Her voice plows right through the waves of super stereo, and in particular, her rendition of "I Got The Sun In The Morning" is the best version she ever recorded. As for the rest of the cast: Nelson Taylor as Frank Butler is as leading-man-baritone-legit as Howard Keel ever was;  Neil Howlett,  also quite legit sounding, is fine as Charlie Davenport; and Merman's real life best friend, the wonderful Benay Venuta recreates her original Broadway and film role of Dolly Tate. The orchestrations are expanded and souped up as they might have been for a multi-million-dollar 1960s movie musical, and are quite fun to hear.  Even though Stanley Black was primarily a concert and classical conductor, he certainly knows how to deliver a razz-ma-tazz Broadway sound, and here he pulls out the stops. The only real drawback of the album is that the meticulous, hyper-mixed sound keeps it from having a live theatrical presence, but both Merman and composer-lyricist Irving Berlin must have been very happy with this brassy yet classy recording. — G.A.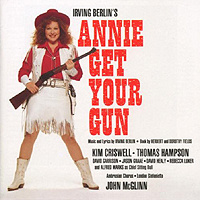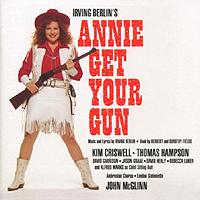 Studio Cast, 1990 (EMI)

(2 / 5) John McGlinn, the masterful conductor who created complete digital recordings of such classic shows as Show Boat and Brigadoon, does the same here for Annie Get Your Gun, but much less successfully. The album suffers from less-than-perfect casting and from the decision to use the original score and orchestrations with none of the improvements, cuts, and additions that were made since the show premiered in 1946. ("An Old-Fashioned Wedding" is included as an addendum.) As Annie Oakley, Kim Criswell displays a strong belt voice, but there's something about her personality that doesn't quite mesh with the role; she's sassy, but she's not the equal of Ethel Merman, Mary Martin, Judy Garland, Judy Kaye, or even (can you believe it?) Betty Hutton. Although Thomas Hampson has the big baritone bravura required for Frank Butler, he's too operatically trained to pull off the laid-back, cowboy crooner aspects of the part, and he lacks the comic ability to interact effectively with Criswell in "Anything You Can Do." Jason Graae and Rebecca Luker are fine as Tommy and Winnie, yet this recording makes it clear why these roles are usually eliminated from the show in revival; their songs are somewhat interesting from a historical standpoint, but otherwise negligible. As Charlie Davenport and Colonel Buffalo Bill, respectively, David Garrison and David Healy are well cast but don't do much to help this album sound particularly theatrical or exciting. — G.A.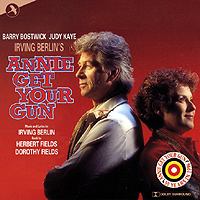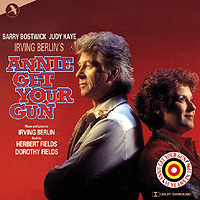 Studio Cast, 1995 (JAY, 2CDs)

(5 / 5) This is an excellent, complete recording of the show as revised for the 1966 Lincoln Center production, with its superior orchestrations and the added showstopper "An Old-Fashioned Wedding." Annie Oakley is played by Judy Kaye at her best. Her voice is melodic and rich, her characterization full of wit and bite. In fact, Kaye is the best Annie on record next to Merman. Barry Bostwick is also well cast as Frank Butler, totally believable as a bragging, hunky cowboy. Robert Russell Bennett's fine orchestrations are remarkably well conducted by John Owen Edwards; his tempo choices are interesting and fresh, and it's all the more enjoyable to hear every note of the score in full, clear, digital stereo. — G.A.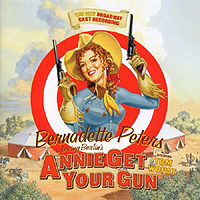 Broadway Cast, 1999 (Broadway Angel)

(3 / 5) By 1999, much of the content of Annie Get Your Gun seemed politically incorrect, so the show was edited and reinvented. Therefore, this cast recording is not a true interpretation of the musical as originally written. It presents a crisp, new version showcasing Bernadette Peters — a star who, in her own way, is as vibrant and beloved as Merman. Some contemporary listeners may find this revision of the classic score more palatable than what's heard on earlier recordings, but the orchestrations and some of the vocal performances leave a lot to be desired. Still, the great Irving Berlin songs and the dynamic star performances compensate for those shortcomings. Peters has great range; she handles the comedic lyrics (edited here) hilariously, and delivers the ballads with lots of emotion. Tom Wopat is always an appealing leading man, and his attractive baritone gets a chance to shine here in "The Girl That I Marry" and "My Defenses Are Down." On the whole, this album is perhaps more successful than the 1999 revival itself; without the drab scenery and questionable book revisions to distract us, the brilliant score is allowed to shine. — G.A.