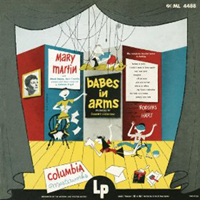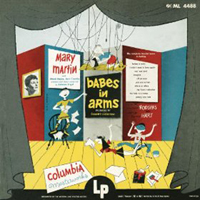 Studio Cast, 1951 (Columbia/Sony)

(2 / 5) Richard Rodgers and Lorenz Hart's 1937 classic, the father of all those hey-kids-let's-put-on-a-show movies with Mickey and Judy, has an expendable book and a gold-plated score: The first song on this recording is "Where or When," and only a few tracks away are "I Wish I Were in Love Again," "My Funny Valentine," and "The Lady Is a Tramp." While Babes in Arms was a good show to inaugurate Lehman Engel's studio cast series, this 36-minute sampler LP plays more like "Mary Martin and Friends Sing Songs from Babes in Arms." Miss M. commandeers most of the hit songs and overworks her adorableness, yet she delivers a spectacular "The Lady Is a Tramp." Engel's orchestrations reflect the originals, but they're heavy on strings and include some obvious effects — whistles in "Johnny One Note," clip-clops in "Way Out West." Jack Cassidy leads a stirring performance of the title song, with chorus; he also brings intensity to "You Are So Fair," but he doesn't get to do the whole number. And Mardi Bayne, rather than singing both great verses of "Way Out West," does the first one twice! How nuts is that? — Marc Miller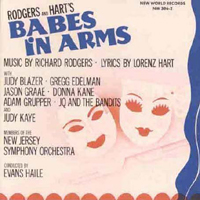 Studio Cast, 1989 (New World)

(4 / 5) Now, this is more like it: a nearly complete recording with restored Hans Spialek orchestrations, all the ballet music (Babes in Arms was a George Balanchine show), and Evans Haile energetically conducting the New Jersey Symphony Orchestra. All that's missing is the now-unacceptable "All Dark People," written by R&H as a specialty for the Nicholas Brothers. Although the ballet music isn't all that interesting, the orchestrations are terrific, from the pearly celesta in "My Funny Valentine" to the twangs and woodwinds in "Way Out West." There's also some spiffy close-harmony work from the guy group JQ and the Bandits. While the casting is vocally deluxe, Judy Blazer, Gregg Edelman, Judy Kaye, and Jason Graae aren't convincing age-wise as the needy teen offspring of down-on-their-luck vaudevillians. But it would be hard to top Blazer's reading of "My Funny Valentine," Kaye's sarcasm in "Imagine," or the sheer joy of the title song. It makes you want to go paint a barn, wheel the piano in, and start the auditions! — M.M.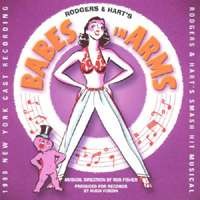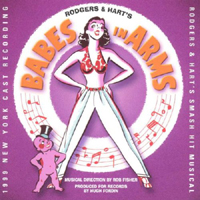 Encores! Concert Cast, 1999 (DRG)

(4 / 5) This is a welcome addition to the musicals-in-concert canon. Surprisingly, it doesn't surpass the 1989 studio version in terms of theatricality; the lead-in dialogue to the songs merely betrays what a wispy book Babes in Arms has. Rob Fisher's conducting isn't as vibrant as that of Evans Haile, but the orchestrations come through with more clarity here. Melissa Rain Anderson is no vocal match for Judy Kaye, nor can Erin Dilly wring nuances from a ballad as Judy Blazer can. But David Campbell is more ingratiating than Gregg Edelman and, in general, this cast is more age-appropriate than the other. The New World album has more ballet music, but this one has "All Dark People" — although it's listed as "Light on Their Feet," and only the verse lyrics are included. Which of the two most recent recordings to buy? The New World, 10 minutes longer, is for the archivists; the DRG has a less expert but more persuasively up-and-coming cast. As listening experiences, both are just dandy. — M.M.