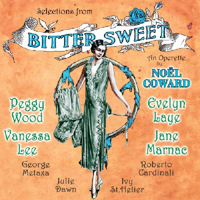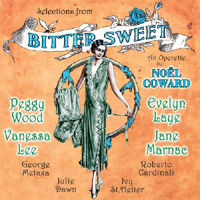 Studio Cast, 1960 (Angel/Sepia)

(1 / 5) It seemed a radical idea in 1929: an operetta with believable characters, literate dialogue, first-rate lyrics, and a minimum of the coyness associated with the form. With Noël Coward providing all of the above, plus the music, a classic was born — a sentimental love story with grace, intelligence, wit, and irony. Alas, the recording industry has yet to do the show full justice. Aside from a few tracks featuring the original London cast (including Peggy Wood, whose "Zigeuner" sounds like a madwoman's hysterics), Bitter Sweet has rated only two studio cast recordings and one stage revival cast album. The first studio effort is this atrocity, issued in over-emphatic early stereo and clocking in at a modest but by no means brisk 40 minutes. Are the singers at fault? Not really. Vanessa Lee's Sarah has spirit and excellent top notes, while Roberto Cardinali's sturdy tenor lends romantic presence in the role of Carl. On the other hand, Julie Dawn's Manon — who sings "If Love Were All" and "Kiss Me" — is a sexy French kitten, not the world-weary chanteuse so superbly embodied by Ivy St. Helier in the original. But don't blame Dawn or even Michael Collins' turgid conducting; blame the orchestrations, by Brian Fahey and Ray Terry. Overwhelmed by violins, they spread a thick, maple sugar glaze over Coward's delicate story. The Sepia CD compilation is far more interesting for its inclusion of the few recordings by the original cast. — Marc Miller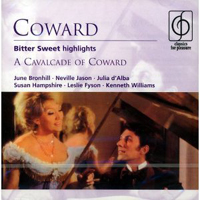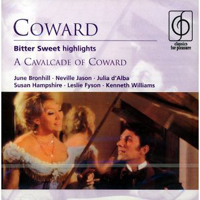 Studio Cast, 1969 (EMI)

(2 / 5) If the preceding album represents operetta performance at its most clueless, this entry isn't far behind. Johnny Douglas' orchestrations are a step above the primordial soup of the earlier set, but they proceed from the same premise: Disguise an operetta's age by pretending it's a 1960s musical, loading it up with too many strings, too many brass flourishes, and even jazz-combo drums (at the end of "Ladies of the Town"). The conducting is glacial, especially in the waltzes: "Kiss Me" is a dirge. But this disc does have a superior set of singers. The great Australian operetta soprano June Bronhill sings quite lusciously, trilling an audacious high C at the end of "What Is Love?" Opposite her, Neville Jason has more personality than most Carls. Julia D'Alba's Manon is another purring feline, but her throaty alto is pleasant to hear. The meaningless finale, which miraculously brings Carl back from the dead to duet with Sarah on "I'll See You Again," is a miscalculation. Nevertheless, some of Coward's material shines through the mishandling on this well-engineered album, like the sun through a British cloud cover. — M.M.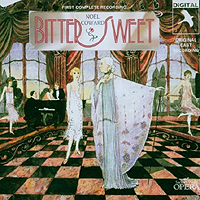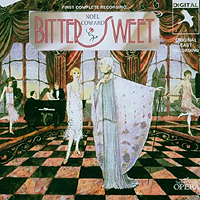 Sadler's Wells Cast, 1988 (JAY, 2CDs)

(3 / 5) Now, this is more like it. The excellent Sadler's Wells light opera company aimed for a complete Bitter Sweet, true to the spirit of Coward and definitive in its musical presentation. This is by far the most complete recording of the score: It lacks only an overture, a couple of incidental songs, and some underscoring. Finally, we get to hear all of Coward's unflinching lyrics to "Green Carnation" and "Alas, the Time Is Past." There's also an entrancing, instrumental-only "Bitter Sweet Waltz"; its flatted thirds show Coward to be a more adventurous composer at age 29 than many realized. But Bitter Sweet needs inspired casting to catch fire, and this is merely a pretty good operetta ensemble. Valerie Masterson is a no-nonsense Sarah, vocally secure and suitably warm — yet the character is supposed to metamorphose from a willful romantic to a wise grande dame, and the singer doesn't differentiate much between the two. As Carl, Martin Smith has scant personality and not enough voice. Rosemary Ashe is a capable Manon, up to the demands of "If Love Were All" and the saucy "Bonne Nuit, Merci," but she's not distinctive. The orchestrations aren't the originals, and there's a blandness to them, as there is to Michael Reed's conducting. Transitional dialogue is included in over-perky line readings that never convey how much smarter Bitter Sweet is than the average operetta. The lavish, dual-CD packaging promises something special, but what's really special about the album is Sir Noël's material, not this hit-or-miss rendition of it.  — M.M.