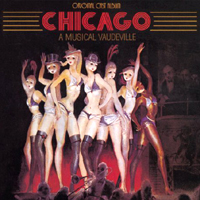 Original Broadway Cast, 1975 (Arista)

(5 / 5) Perhaps not fully appreciated during its initial run of only two years in the mid-1970s, the John Kander-Fred Ebb-Bob Fosse musical Chicago is now recognized as a model Broadway show of its kind, thanks in large part to the revivals and the film version noted below. The central role of Roxie Hart would have been a perfect fit for Gwen Verdon in her prime; indeed, Verdon and her frequent collaborator/sometime husband Fosse had been trying to get a Chicago musical off the ground for years before it finally happened. By that time, Verdon was really too old for the role and was having vocal problems that eventually caused her to take a hiatus from the show. (She was replaced, spectacularly, by Liza Minnelli.) Still, despite these handicaps, Verdon brings her notable brand of charisma  — which earned her four Tony Awards over an extraordinary career — to Roxie, as heard on this original cast recording. Her partner, Chita Rivera, will always remain the definitive Velma Kelly in the minds of many theatergoers and cast album devotees. Jerry Orbach is ideal as Billy Flynn — smooth in "All I Care About," sexy in "Razzle Dazzle," and hilarious in "We Both Reached for the Gun." M. O'Haughey is a riot as Mary Sunshine and has all of the required high notes, while Barney Martin's Amos Hart stands up well in comparison with such later, terrific exponents of the role as Joel Grey, Nigel Planer, and John C. Reilly.  Ralph Burns' orchestrations are exemplary, and conductor Stanley Lebowsky does a bang-up job. — Michael Portantiere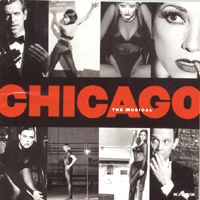 Broadway Cast, 1996 (RCA)

(2 / 5) Here's a cast album that unfortunately does a disservice to the production it represents. Inspired by a rapturously received City Center Encores! concert version of Chicago, the 1996 Broadway revival was thrilling, largely due to Ann Reinking's hot-hot-hot choreography in the style of her mentor Bob Fosse. But listening to the recording without the visual component highlights the fact that the vocal performances of all three of the leads are unsatisfying in one way or another. Never famous as a chanteuse, Reinking is in terrible vocal health here as Roxie Hart, sounding so raspy throughout that it almost hurts to hear her. On top of that, her weird mannerisms of pronunciation are distracting; for example, her spoken line "Nobody walks out on me!" sounds like "Nobody walks out on Mae!" Also, it's clear that the key of "My Own Best Friend" was damagingly lowered for this production and the recording because this Roxie would not have been able to get through the song otherwise. As for Reinking's co-stars: Although the timbre of James Naughton's voice is perfect for Billy Flynn, he has some pitch issues, and while Bebe Neuwirth is vocally strong as Velma Kelly, her performance is somewhat lacking in sex appeal and humor. On more positive notes, Marcia Lewis is sassy as Mama Morton, Joel Grey is felicitously cast as Amos Hart, and the band really swings under Rob Fisher. — M.P.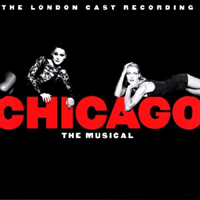 London Cast, 1998 (RCA)

(4 / 5) This audio memento of the London edition of the City Center Encores!/Broadway Chicago revival is markedly superior to the album reviewed immediately above. In terms of vocal strength, Ruthie Henshall is the most impressive Roxie Hart on records. Many will find the performance of the Roxie-Velma duet "My Own Best Friend" on this album to be the best ever recorded. (Gwen Verdon's delivery of the song on the original album is tremulous, and the number had to be transposed downward for Ann Reinking to get through it at all in the New York revival.) While Henshall as Roxie and Ute Lemper as Velma are terrific singers, both leading ladies do sound somewhat stilted in their spoken lines, probably because they were working to tone down their thick accents — Henshall's British and Lemper's German. Henry Goodman is suavity personified as Billy Flynn, and he sports a decent American accent, as do Meg Johnson (Mama Morton) and Nigel Planer (Amos Hart). C. Shirvell fakes some of the high notes in Mary Sunshine's "A Little Bit of Good," but then really knocks one out of the park in the final phrase of the song. The score is conducted by Gareth Valentine with more style than British conductors normally bring to American musicals, perhaps partly because Valentine worked under the supervision of Rob Fisher. — M.P.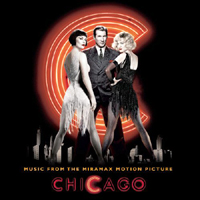 Film Soundtrack, 2002 (Epic)

(4 / 5) Like the Chicago movie itself, this soundtrack CD is almost too good to be true. Renee Zellweger, who apparently had no real training or experience as a singer (or dancer!) prior to being cast as Roxie by director Rob Marshall, is just right for the part; her sexy, kewpie-doll voice can rise to an impressive belt when she needs it to do so, as at the end of "Funny Honey" and elsewhere. Catherine Zeta-Jones was a musical theater performer in England before becoming a movie star, and is therefore in her element as Velma. (She won an Academy Award for her performance.) Richard Gere, who did a couple of Broadway musicals early in his career, sings with charming artlessness as Billy. John C. Reilly is a fully sympathetic Amos, while Queen Latifah is so well cast as Mama Morton that the role might almost have been written for her. The excision of some of the stage musical's songs — most notably, "My Own Best Friend" — is regrettable, but what's here is very well done. And the album does include the Zeta-]ones/Latifah duet "Class," cut from theatrical release prints of the movie. On top of everything else, Doug Besterman and Larry Blank did a superb job of adapting Ralph Burns' original orchestrations for the soundtrack.  — M.P.