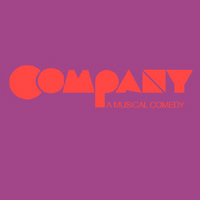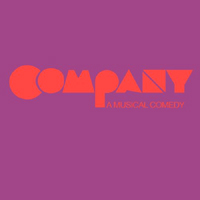 Original Broadway Cast, 1970 (Columbia/Sony)

(5 / 5) A shocking musical when it first opened, and still an insightful if somewhat dyspeptic view of modern romantic relationships, Company explores the games, angst, loneliness, and badinage of love and marriage in an alternately brittle and heartfelt manner. In a sense, it's a revuesical — a string of nonlinear scenes built around a single theme. When it first burst onto Broadway, the show was revolutionary: no chorus, no legs (save Donna McKechnie's in the dance number "Tick Tock"), no salve for the tired businessman. Instead, it boasted one of Stephen Sondheim's most brilliant scores, Jonathan Tunick's ingeniously metallic orchestrations, Boris Aronson's architectural sets, George Furth's sharp book, and Hal Prince's sparse, savvy staging. The original cast album, produced by Thomas Z. Shepard, is a marvel of clean, no-nonsense theatricality, an exemplary souvenir of a momentous turn in the history of musical theater. (Company unfortunately led to numerous second-rate imitations by Sondheim wannabes.) The highlight of the recording is "The Ladies Who Lunch," exclaimed by Elaine Stritch in career-capping fashion. Other standouts in the cast are Pamela Myers, Beth Howland, and Teri Ralston. The album preserves the performances of central character Bobby's songs by Dean Jones, who left the cast shortly after the show's opening. Larry Kert took over for Jones, and his wonderful renditions can be heard on the "Original London Cast" recording of Company. Since that cast was pretty much identical to the Broadway cast, sans Jones, all the label did was take out his vocals and slap in Kert's. If you can find the album, listen closely and you'll hear ghosts of Jones' voice in the background. Spooky!  — Ken Bloom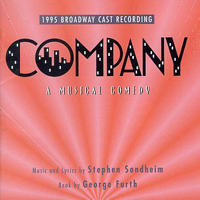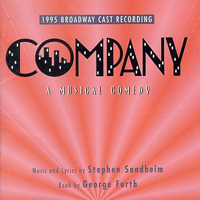 Broadway Cast, 1995 (Angel)

(2 / 5) The cast members here are not up to their counterparts in the company of the original production. Somehow, the performances aren't as cynical or pointed, and that definitely includes Boyd Gaines as Bobby. Debra Monk is an exception: She isn't quite as hard-bitten a Joanne as Elaine Stritch, but she comes close. Others in the cast who were notable names at the time and/or became so in future include Danny Burstein, Kate Burton, Diana Canova, Veanne Cox, Charlotte d'Amboise, John Hillner, Jane Krakowski, and LaChanze. Company is a hard show to revive because it was so much of its time, and we're still close enough to that era to know when a production doesn't capture the right flavor. That's the major flaw of this recording. — K.B.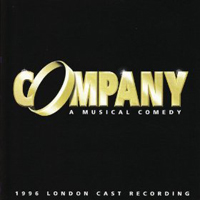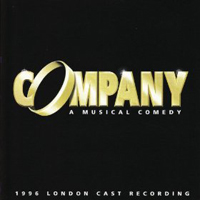 London Cast, 1996 (RCA)

(2 / 5) Face it: Americans don't do Shakespeare all that well, and the English can't get American musical theater quite right. They're fine with falling chandeliers and helicopters, but less well versed in U.S. attitudes, accents, and performance style. This Company is rather subdued, and none of the cast members sound really comfortable in their roles; they all seem too concerned with impersonating Americans rather than inhabiting their characters. Although Bobby is the focal point of the show, he is not the most interesting character — but at the end, he's got the bang-up number "Being Alive," in which he has to be really honest with himself and the audience. Adrian Lester just doesn't make it; he's more of a cipher who substitutes technique for honest emotion at his big moment.  — K.B.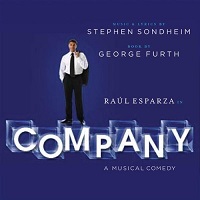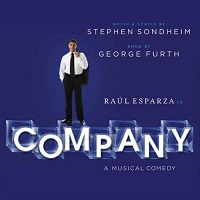 Broadway Cast, 2006 (Nonesuch)

(4 / 5) The inclusion of so much spoken dialogue on this recording allows the listener to appreciate a brilliant acting choice made by Raúl Esparza in the role of Robert. When speaking, he affects the studied cool of a stereotypical, rather jaded New Yorker, but when he sings, Esparza brings forth all of the emotions lying beneath the surface, culminating in a searingly intense, cathartic performance of "Being Alive." Standouts among the rest of the cast are Elizabeth Stanley's April as heard in "Barcelona" and Heather Laws' Amy as heard in "Getting Married Today," while Barbara Walsh gives a smart account of "The Ladies Who Lunch," a song that will always be irrevocably associated with Elaine Stritch. Beyond that, enjoyment of this recording will depend largely on one's feelings about Mary-Mitchell Campbell's new orchestrations — played by the actors themselves in this sleek, minimalist production directed by John Doyle, who had previously set forth the same actors-doubling-as-musicians concept in the 2005 Broadway revival of Sondheim's Sweeney Todd. To this listener's ears, Campbell's work here is stellar, and indeed, she won a Drama Desk award for her efforts. [Note: This Company opened on Broadway on November 29, 2006, but the recording was released in 2007.] — Michael Portantiere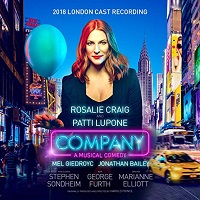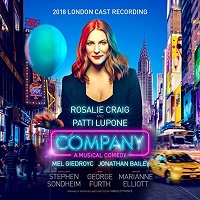 London Cast, 2019 (Arts Music)

(2 / 5) One's reaction to this recording will depend largely on how one feels about the concept of the production it represents, a radical revisal of the musical that opened on Broadway in 1970.  Whereas Company as originally written was set at the time of the show's premiere and told the story of a 35-year-old, single male New Yorker and his relationships with his married friends (five couples) and three of his girlfriends, here the time period has been shifted to the present (i.e., circa 2019), and the central character is now a woman called Bobbie. The genders of the girlfriends have also been switched, so they are now boyfriends, and the couple that endures all that pre-wedding drama in "Getting Married Today" is now a gay male couple.  Though this version of Company received many favorable notices in London, some critics (and audiences) felt that the retrofitting of the show did not work at all, either in terms of the sex changes or the updating of the action. Some of Stephen Sondheim's rewrites of lyrics he wrote 50 years ago are clever, but others may displease fans of the originals; many of the changes were made to accommodate the gender switches, some for other reasons. The re-conception of "You Could Drive a Person Crazy" is a total misfire, and there are several egregious revisions of various lyrics in other songs. ("Poor Baby" includes one of the worst examples: "Robert ought to have a woman" is now "Bobbie ought to have a fella.")  In the midst of all this, Rosalie Craig brings a lovely voice and charming personality to Bobbie's songs on the cast album. American musical theater superstar Patti LuPone reprises the gender-maintained role of Joanne, miscast as she was when she first essayed the part in the New York Philharmonic's 2011 staged concert performances of Company. The rest of the cast varies in terms of singing ability and their facility at American accents; if there weren't some references to the fact, you probably wouldn't guess that the show is supposed to be set in New York City.  The orchestrations are not as full as the originals, but quite alright in themselves. [Note: This production later transferred to Broadway, with an entirely different cast other than Patti LuPone, and managed an eight-month run there.] — M.P.