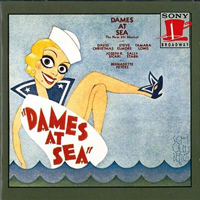 Original Off-Broadway Cast, 1969 (Columbia/Sony)

(5 / 5) Jim Wise, George Haimsohn, and Robin Miller's ingenious salute to the Busby Berkeley movie musicals of the early '30s never hits a false note. The show's spoofing is so expert and affectionate that its first production in a Greenwich Village cafe soon made its way to the Bouwerie Lane and then to the Theatre de Lys, where it ran and ran. This album replaces the show's two-piano accompaniment with wonderful full-orchestra arrangements by Jonathan Tunick, an orchestrator as talented as the hopefuls onstage. The central joke of the original production was staging huge production numbers in a tiny space with a cast of six. Of those original players, only Bernadette Peters went on to stardom. While she's an adorable Ruby, the others are just as expert and lovable: Tamara Long's temperamental star; Sally Stark's best-buddy blonde; Steve Elmore as the producer and sea captain; and David Christmas as Dick, a songwriting sailor ("Why, I can see it now! As if it were happening on this very stage!"). As Lucky, Joseph R. Sicari partners Stark nimbly in "Choo-Choo Honeymoon" and is ingratiating in "Singapore Sue." A nod to the CD booklet's evocative production stills and to Marc Kirkeby's smart notes. — Marc Miller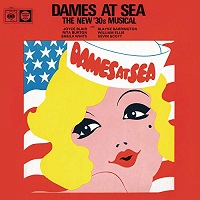 Original London Cast, 1969 (Columbia/Sony Masterworks Broadway)

(3 / 5) After its New York success, Dames at Sea quickly sped across the Atlantic, and this cast album shares some of the pluses and minuses of the later London revival recording: extra dialogue, an extra dance break or two, and orchestrations that are annoyingly thin reductions of the Jonathan Tunick originals. The cast seems to have listened to the original off-Broadway recording a fair amount, and Sheila White's winsome, corn-fed Ruby evokes Bernadette Peters, sometimes to a scary degree. Her Dick, Blayne Barrington, is appropriately earnest and enthusiastic. William Ellis's Lucky has a little more voice and a little less personality than Joseph Sicari's, while with Rita Burton's Joan, it's vice versa. Joyce Blair, a popular U.K. leading lady, plows through Mona's songs without much individuality; her "Beguine," opposite Kevin Scott, doesn't achieve the rapturous heights attained by Tamara Long and Steve Elmore. As is the case with the recordings reviewed below, this one isn't a must-have, but it's nice listening with some enjoyable moments.  — M.M.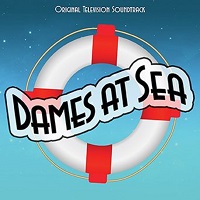 Television Cast, 1971 (Kritzerland)

(2 / 5) NBC-TV trotted out Dames at Sea as a starry one-hour special in 1971, with a chorus, new orchestrations, and even a smattering of new lyrics. No soundtrack album was commercially released at the time, only a promo LP. Nearly 50 years later, Kritzerland cleaned up that mono tape and released it on CD . The recording is notable for its cast, especially the three ladies: Ann-Margret (Ruby), Anne Meara (Joan), and a divinely brassy Ann Miller (Mona). Also nice to hear are Harvey Evans in a rare lead as Dick, ably supported by Fred Gwynne as Hennessy and Dick Shawn as the Captain. Elliot Lawrence conducts ably, and nobody can sell "Wall Street" or "That Mister Man of Mine" like Ann Miller. That said, the album only presents about half the score, with ultra-brief renditions of "It's You" and "Good Times Are Here to Stay." Anne Meara really can't sing, and even Ann-Margret sounds rather wispy on "Raining in My Heart." Track down a video if you can, as the show is fun to watch, but there are better Dames at Sea recordings out there. [Note: This CD also includes selections from I'm a Fan, a 1972 TV special with music by LeRoy Holmes, lyrics by Carolyn Leigh, and a cast including Dick Van Dyke, Carol Channing, Donna McKechnie, Karen Morrow, and Mary Louise Wilson.] — M.M.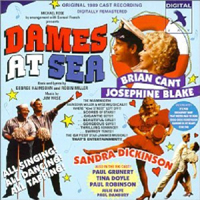 London Cast, 1989 (JAY)

(3 / 5) It's hard to top the original cast album of Dames at Sea, and though this recording has its pleasures, it offers no real competition. However, it does contain more dialogue — lines that are so grin-inducing, you'll wish the original recording had more. Josephine Blake is a terrific Mona Kent, a larger-than-life cartoon of the Temperamental Star with a snarling delivery and a versatile voice. Paul Robinson is appealing as Dick, and the other men are fine, too, but Tina Doyle's Ruby lacks individuality, and Sandra Dickinson's squeaky-voiced Joan lacks color. Jonathan Tunick's orchestrations have been reduced and synthesized; the results have so little to do with a '30s sound that going back to the original two-piano arrangement would have been smarter. Two chorus people have been added to the cast of six, and in a musical with a postage-stamp quality as the soul of its wit, that feels like cheating.  — M.M.