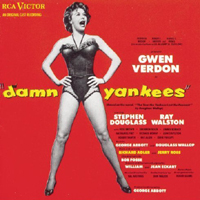 Original Broadway Cast, 1955 (RCA)

(4 / 5) For many musical theater buffs, Damn Yankees defines 1950s Broadway style: all-American in subject matter aria treatment, songs by the hot new team of Richard Adler and Jerry Ross (whose hit The Pajama Game opened the year before), direction by old-pro George Abbott. Baseball may be the show's surface theme, but it also deals with questions of aging and disappointment as refracted through a modern retelling of the Faust legend with a number of fantasy elements at play, including a natty but nasty devil, a suddenly young hero, and a sassy temptress. Also, the show teases audiences with a sort of April-November romance between the young man and the wife of his former, older self. That's not to say this is a dark musical in sum; its serious notions never become grim and, midway through the first act, it's galvanized by the brassy allure of Lola, the devil's choice glamor girl. Gwen Verdon created the role in 1955, and Damn Yankees has been under her flame-haired spell ever since. While the original cast album can't give us her legendary dance moves, it does present her fetching vocalism in its freshest form. "Whatever Lola Wants" is essential for the archives, and "A Little Brains, a Little Talent" is not far behind. Fortunately, the rest of the cast doesn't fade by comparison. Stephen Douglass was one of the best Broadway baritones of his time, and he's teamed with the appealingly homespun Meg of Shannon Bolin. Russ Brown expertly growls "Heart," Rae Allen is up to the belting of "Shoeless Joe," and Ray Walston reminisces amusingly in the devilish "Those Were the Good Old Days." This first recording of Damn Yankees is an apt souvenir of a show and an era. — Richard Barrios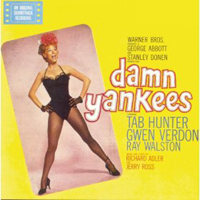 Film Soundtrack, 1958 (RCA)

(2 / 5) Co-directed by George Abbott and cinema pro Stanley Donen, Damn Yankees didn't fare as well on screen as the other Adler-Ross transfer, The Pajama Game. But most of the Broadway leads recreated their roles in the film, and movie star Tab Hunter makes a perfectly acceptable Joe Hardy; Hunter sounds OK here, partly because the role's more challenging songs ("A Man Doesn't Know" and "Near to You") were eliminated. A feeble new tune, "There's Something About an Empty Chair," is sung as a solo by Shannon Bolin. Vocally, Hunter teams well with Verdon on "Two Lost Souls." Again in blissful form, Verdon is partnered in "Who's Got the Pain?" by future husband Bob Fosse, who choreographed Yankees (and Pajama Game) for both stage and screen. Walston is an even more snide Satan, Brown sings "Heart" with brio, and Jean Stapleton's distinctive soprano wails in a supporting role. The soundtrack benefits from expanded orchestrations by Ray Heindorf; an instrumental cut of "Whatever Lola Wants," used as background scoring, is especially lush. But it should be noted that the early-stereo-era sound is somewhat shallow and glassily reverberant. This, along with that dull "Chair" song, puts this enjoyable recording a notch or two below the original. — R.B.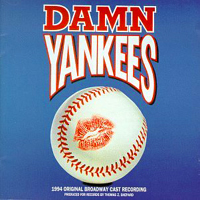 Broadway Cast, 1994 (Mercury)

(2 / 5) Perhaps Damn Yankees is too light a musical to merit a full-scale, reimagined revival in the manner of Cabaret or Carousel. Still, one might have wished for something more than the entertaining but uninspired treatment given the show in this production. In the role of Lola, Bebe Neuwirth is tireless, fun, and pert, but not great. Victor Garber makes an adequate devil without adding any new dimensions to the role. The one arresting new performer is Tony-winner Jarrod Emick, whose Young Joe winningly manages to combine Stephen Douglass' vocal authority with Tab Hunter's boyish charm (although Emick's voice has more of a tenorish timbre than Douglass's baritone). Linda Stephens is a far more youthful-sounding Meg than Shannon Bolin, so some of the poignancy of the Meg-Young Joe relationship is missing here. Vicki Lewis and seasoned pro Dick Latessa do very well with their big numbers. This is the fullest recording of Damn Yankees, with a longer Overture and the trial scene included. But having Lola sing "Two Lost Souls" with Applegate rather than with Joe Hardy makes no sense, and the numerous dialogue scenes included here do not add to the listening experience. — R.B.