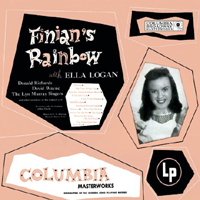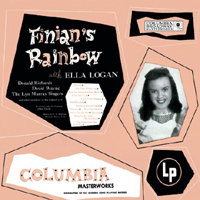 Original Broadway Cast, 1947 (Columbia/Sony)

(3 / 5) The mélange of singing styles heard on the first recording of Finian's Rainbow is intriguing, but may strike some listeners as confusing. Ella Logan is a Scottish singer playing an Irish lass; she caresses and embellishes "How Are Things in Glocca Morra?" and "Look to the Rainbow" in a way not heard on Broadway before or since. As the leprechaun Og, David Wayne makes amusing voice-cracking sounds in "When I'm Not Near the Girl I Love." Donald Richards displays a stalwart baritone in "Old Devil Moon" and other songs. Then there are the non-Broadway sounds of supporting cast members who deliver the soul-flavored "Necessity" and gospel-flavored "The Begat." After repeated listening, the score begins to shine through the mixture of styles, leavened as it is with more standard Broadway tunes such as "IfThis Isn't Love." Burton Lane's music is endlessly melodic, and E. Y "Yip" Harburg's lyrics are alternately satirical, whimsical, and romantic. The songs stand on their own, and that's a good thing, because this recording doesn't give a clear picture of the musical as a whole; it's best to hear it after seeing a staging of the show and/or listening to other recordings of the score. The latest CD edition includes bonus tracks of Harburg singing "How Are Things in Glocca Morra?" and "When I'm Not Near the Girl I Love." His performances of both are revelatory. The final bonus track is the deleted song "Don't Pass Me By," sung by Harburg, with Lane on piano. — Jeffrey Dunn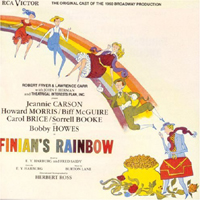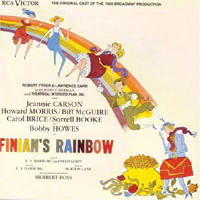 Broadway Cast, 1960 (RCA)

(4 / 5) The City Center revival of Finian's Rainbow moved to Broadway for a brief run. Happily, the cast album exhibits a more theatrical approach to the score than was taken for the original recording. Jeannie Carson is a vibrant Sharon in "Look to the Rainbow" and "How Are Things in Glocca Morra?" while Biff McGuire is an effortlessly romantic Woody in "Old Devil Moon." They team with the excellent chorus for rousing performances of "That Great Come-and-Get-It-Day"and  "If This Isn't Love." Howard Morris as Og is particularly funny in"When I'm Not Near the Girl I Love" and the reprise of "Something Sort of Grandish." The monumental Carol Brice leads the ladies in "Necessity," and "The Begat" is given a gleeful rendition by Sorrell Booke, Jerry Law, Tiger Haynes, and Bill Glover that reveals all the humor and wit in this number. The CD features the cover art of the first LP edition and includes a previously unreleased track, a finale reprise of "How Are Things in Glocca Morra?" that brings the disc to a satisfying conclusion. This is one of those cases where a revival cast recording is preferable to the original. — J.D.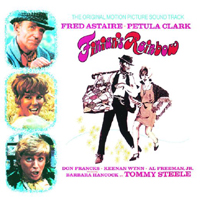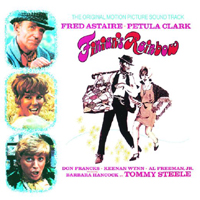 Film Soundtrack, 1968 (Warner Bros./Rhino)

(3 / 5) It took more than 20 years for Finian's Rainbow to get from stage to screen. This was the first and only musical film directed by Francis Ford Coppola, and though it's surprisingly faithful to the Broadway script and score, it really doesn't work. Yet the soundtrack album has many delightful things to recommend it. The most important contributions come from Petula Clark, who brings her pop-singing style to Sharon Mcl.onergan's songs in a way that seems altogether appropriate. The recording starts with her beguiling performance of "Look to the Rainbow"; equally charming is her rendition of "How Are Things in Glocca Morra?" Indeed, Clark is a pleasure to hear throughout the album. The title character of Finian's Rainbow, Sharon's father, doesn't sing much in the stage version,  but Fred Astaire was given a fair amount of singing to do when he took on the role for this, his final movie musical. He sounds wonderful. Don Francks performs Woody's songs handsomely, and Tommy Steele plays Og with enough energy to burst through the speakers. Some of the movie's arrangements try a little too hard to be "up-to-date" (for 1968). Still, this soundtrack recording is definitely worthy of attention. — J.D.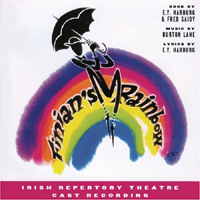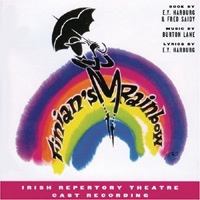 Off-Broadway Cast, 2004 (Ghostlight)

(3 / 5) The Irish Repertory Theatre production of Finian's Rainbow had a fairly small cast performing an edited version of the script, and the score was presented in a two-piano arrangement. Very few overtures (if any) can truly survive that sort of reduction, so this recording gets off to a shaky start. But it recovers quickly with a spirited "This Time of the Year" and continues to grow in strength right through to the finale. Melissa Errico is a wonderful Sharon; her "Look to the Rainbow," with some lyrics not heard on previous cast albums, is ravishing. She and Max von Essen as Woody caress "Old Devil Moon," giving it a romantic, sexy, and tastefully swung performance. Malcolm Gets sings the role of Og very well and is a charmer throughout, especially in "When I'm Not Near the Girl I Love." Terri White's "Necessity" is hot, her vocal improvisations around the melody thrilling. The performance of "The Begat" recorded here is notable for the complete clarity of the witty lyrics. For this production, the musically undernourished title role was enriched with a "Look to the Rainbow" reprise, sung beautifully by Jonathan Freeman. The score is not compromised by the two-piano arrangement, thanks to wonderfully clean musical direction by Mark Hartman, and the recording has a healthy helping of dialogue (including some narration) that aids in the storytelling. There are several previously unrecorded bits of songs and reprises, as well as a delightful bonus track of lyricist Harburg singing "Old Devil Moon." — J.D.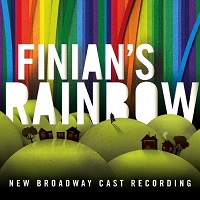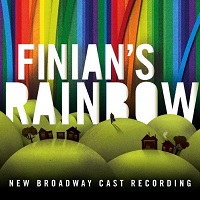 Broadway Cast, 2010 (P.S. Classics)

(4 / 5) This Broadway revival opened to rave reviews but ran for less than three months. At the time, it was speculated that this was because Finian's Rainbow is wrongly perceived by much of today's public as old fashioned and twee, rather than the witty satire it is, and also perhaps because the title doesn't have the cachet and the box-office draw of some others, due to the fact that the 1968 movie version was not a hit and never became a big seller on home video. Fortunately, P.S. Classics' cast recording preserves the musical component of an overall excellent production of a show that contains what must still be rated as one of the finest scores ever written for the theater. Kate Baldwin is a compelling and strong-voiced Sharon McLonergan — perhaps a little too strong-voiced to suit the taste of those who might wish she would have emphasized head voice over chest a little bit more in her belt/soprano mix.  Cheyenne Jackson's warm baritenor is just about ideal for Woody Mahoney's songs, Christopher Fitzgerald is a delightful Og, Terri White does a bang-up job with "Necessity," and it's nice to have Chuck Cooper on hand as the transformed and eventually reformed bigot Rawkins, joining the three Gospeleers (Bernard Dotson, Devin Richards, and James Stovall) in "The Begat."  The original orchestrations, by Robert Russell Bennett and Don Walker, sound glorious in state-of-the-art digital sound as played by a full orchestra conducted by Rob Berman.  — Michael Portantiere