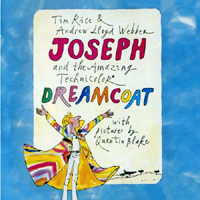 Studio Cast, 1974 (MCA)

(3 / 5) In the early years of their partnership, composer Andrew Lloyd Webber and lyricist Tim Rice were inspired by Biblical lore. Joseph and the Amazing Technicolor Dreamcoat was first presented as a brief pop cantata (about 15 minutes in length) at  the Colet Court School in London in 1968, and that short piece was recorded in 1969. Following the huge success of the original recording of Lloyd Webber and Rice's Jesus Christ Superstar,  the earlier work received stage performances beginning in 1970, and was expanded for recordings in 1971 and 1972. Joseph… was produced in London's West End in 1973, and that production led to this full studio recording.  Whereas Superstar had drawn on the New Testament, Joseph… is a soft-rock musical based on the Old Testament tale of a young man who is betrayed by his brothers before becoming a powerful figure in Egypt. The score is clever, with plenty of variety. Joseph's brothers get most of the humorous songs: a western tune, "One More Angel in Heaven"; a French-style drinking song, "Those Canaan Days"; and the "Benjamin Calypso." An Elvis takeoff for the Pharaoh is thrown in for good measure. Peter Reeves is good as the Narrator; he is the only male to sing the role on any of the recordings under review here. Gary Bond is fine as Joseph, and his "Close Every Door" is a highlight of the disc. Although this recording doesn't represent the score as later expanded, it's a nice piece of history and a good listen. — Matthew Murray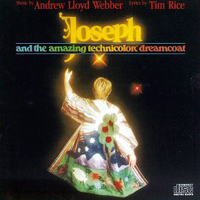 Original Broadway Cast, 1982 (Chrysalis)

(4 / 5) For this production, first seen Off-Broadway and then on,  Joseph… had a female Narrator. And what a Narrator she was! Laurie Beechman, with her vivacity and wonderful high belt, sets the standard for this role, which has been played by women in every subsequent major production. Bill Hutton is one of the best Josephs ever recorded; his rich low notes, warm middle register, and strong, secure high notes bring more colors to the character's music than is often the case. Beechman, Hutton, the brothers, the female ensemble, and the fine orchestra, skillfully led by David Friedman, make this the most dazzling recording of the show, despite a few cuts in the score and a reduced orchestra. Highlights are numerous, including Beechman's "You Are What You Feel," Hutton's "Close Every Door" and "Any Dream Will Do," and Tom Carder's rendition of the Pharaoh's number. — M.M.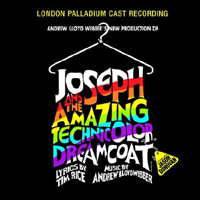 London Cast, 1991 (Polydor)

(2 / 5) This recording is most notable for its inclusion of the extensive "Joseph Megamix," a finale reprise of the score's best numbers. The album represents the show's final version, but it's far from definitive. In the title role, Jason Donovan is bland throughout, and Linzi Hateley lacks authority as the Narrator. The supporting players are also lukewarm; even David Easter's Pharaoh fails to score, because his Elvis impersonation is so overdone. For these reasons, the recording is recommended only to diehard fans of the show. — M.M.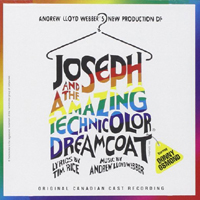 Original Canadian Cast, 1992 (Polydor)

(3 / 5) Donny Osmond began his lengthy stint as Joseph in the show's premiere Canadian production. He's not the best vocalist to have taken the part, yet he brings to the role a likeability and tremendous sense of fun that keeps audiences invested in the character from start to finish. His "Any Dream Will Do" and "Close Every Door" are among the most moving renditions of those songs. Aside from anchoring the show, Osmond's s performance reclaims star status for Joseph; as the Narrator, Janet Metz displays vocal finesse but lacks the charisma needed to make the character stand out from the ensemble. Even so, there's a lot to like here, particularly the men playing Joseph's brothers. Among them are such future Broadway names as Jeff Blumenkrantz, Timothy J. Alex, Vance Avery, Michael Berresse, and Rufus Bonds, Jr. — M.M.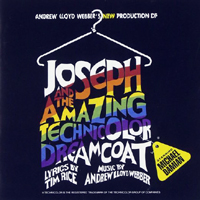 Los Angeles Cast, 1993 (Polydor)

(3 / 5) The star of this recording of Joseph and the Amazing Technicolor Dreamcoat, soap-opera heartthrob Michael Damian, compensates for his vocal shortcomings with acting ability and charm. Kelli Rabke's Narrator exhibits a great deal of vocal strength, but the singers to listen for are Broadway pros Clifford David (as Jacob and Potiphar), Bill Nolte (as the Baker and one of Joseph's brothers), and Marc Kudisch and Willy Falk (as two other brothers). Robert Torti's Pharaoh is excellent in his one big number. — M.M.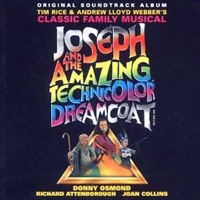 Video Soundtrack, 1999 (Really Useful Records)

(3 / 5) Donny Osmond returned to the title role for a video production of Joseph … and gave another joyous performance. Joining him as the Narrator is the eminent West End star Maria Friedman, who sings brilliantly and exudes enough star presence to match Osmond's. Richard Attenborough and Joan Collins are a hoot as Jacob and Mrs. Potiphar, respectively. The strong ensemble helps make this a fine recording of the expanded score.  — M.M.