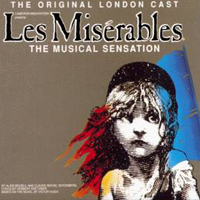 Original London Cast, 1985 (First Night/Relativity, 2CDs)

(2 / 5) Claude-Michel Schönberg  ("musique") and Alain Boublil and Jean-Marc Natel ("textes") originally created Les Misérables as what amounted to a song cycle inspired by Victor Hugo's massive novel of the same title. The 1980 French-language "concept album" of that work contains less than 90 minutes of material. No doubt assuming that every self-respecting Frenchman knows the novel well, the creators did not try to cover the entire plot in the songs they wrote. But when British producer Cameron Mackintosh saw a stage version of the work in Paris, he decided that Les Miz (or Les Mis), as it would come to be known the world over, should be translated into English and turned into a through-sung musical that would attempt to tell the full story of Hugo's epic work. Herbert Kretzmer was hired to do the English adaptation, and he performed this herculean task probably as well as anyone could have done, but that doesn't mean the result is an artistic success. The problem is that, although the Mackintosh Les Misérables is more than twice as long as the original French version, Schönberg wrote only a comparatively small amount of new music for it. The extra hour and a half contains pages of banal sung dialogue and endless recycling of music that make no sense. To offer only two examples of the latter:  The gorgeous melody that's first heard in Fantine's deathbed lament "Come to Me" is later repeated note-for-note as Eponine's "On My Own," with only the key and lyrics changed; and the tune of the prostitutes' Act I song "Lovely Ladies" recurs in Act II in a completely unrelated context, sung by a group of women mourning the dead revolutionaries. (Les Miz probably would have been much better as a book musical with spoken-dialogue scenes, rather than a sung-through work. That approach would have served the double purpose of allowing more of the plot to be covered in less time while avoiding the repetition of so many melodies with alternate lyrics.) Among the score's best moments are "At the End of the Day," a moving song for the wretched masses; the students' stirring anthem "Do You Hear the People Sing?"; and Marius' "Empty Chairs at Empty Tables," affectingly performed by the young Michael Ball on this recording. Colm Wilkinson displays a magnificent, versatile voice in the role of Jean Valjean, though some listeners may find it hard to adjust to his odd accent and mannerisms. Patti LuPone is superb in the brief role of Fantine, singing the beautiful "I Dreamed a Dream" for all its worth; and Roger Allam is dramatically committed as Inspector Javert, if a little insecure from a vocal standpoint. As Eponine, Frances Ruffelle sounds mush-mouthed and whiny. Sue Jane Tanner and Alun Armstrong are somewhat amusing as the Thénardiers, but the fact that these originally evil characters are used for comic relief in the musical is indicative of the show's larger problems. — Michael Portantiere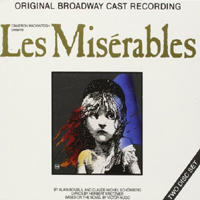 Original Broadway Cast, 1987 (Decca, 2CDs)

(2 / 5) There are a few reasons to consider this recording as an alternative or addendum to the one reviewed above. Randy Graff is a wonderful Fantine, Terrence Mann as Javert has better vocal technique than Roger Allam, and Michael Maguire is a stalwart Enjolras. This recording also contains some music not to be heard on the original London cast album, most notably Jean Valjean's "Bring Him Home" — a truly beautiful song, even if its main melody sounds like that of the "Humming Chorus" from Puccini's Madama Butterfly, a debt that Claude-Michel Schönberg has reportedly acknowledged. Otherwise, this two-disc set isn't a whole lot different from its predecessor.  Colm Wilkinson and Frances Ruffelle are back as Valjean and Eponine, the latter an unfortunate return to the ears of some listeners. — M.P.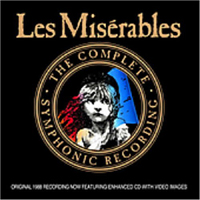 The Complete Symphonic Recording, 1988 (First Night, 3CDs)

(1 / 5) The star here is Gary Morris, an American country-western singer who had played Valjean early in the run of the original Broadway production of Les Misérables. Unfortunately, Morris' accent and mannerisms are just as odd as Colm Wilkinson's in the role, and his voice isn't nearly as good. As heard here, Morris has a vibrato so wide that it's really a wobble; every sustained note he sings is really two notes, and it isn't pretty. Given that his singing of the show's central role is almost unlistenable, the strengths of this recording seem beside the point. Still, for what it's worth: Philip Quast as Javert and Anthony Warlow as Enjolras are excellent, Michael Ball is back as Marius, and Tracy Shayne sings prettily as Cossette. Also, Debbie Byrne as Fantine delivers the high notes of "I Dreamed a Dream" without belting, and some listeners may therefore prefer her performance to Patti LuPone's and Randy Graff's. As Eponine, Kaho Shimada has a better voice than Frances Ruffelle — but, annoyingly, she seems to imitate Ruffelle's inflections and enunciations. The London Philharmonia orchestra sounds huge and impressive. This is a complete recording of the score, but none of the extra music you'll find here is worth writing home about. — M.P.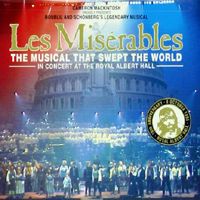 London Concert Cast, 1995 (First Night, 2CDs)

(2 / 5) This is a live recording of a concert that was given at the Royal Albert Hall to mark the tenth anniversary of the opening of Les Misérables in London, and there's quite a sense of occasion about it. In total, some 250 performers took part, and the orchestra is no less than the Royal Philharmonic, conducted by David Charles Abell. At the end of the second disc, Jean Valjeans from many worldwide companies may be heard delivering various lines of "Do You Hear the People Sing?" in various languages. If you want to choose only one recording of this score for your library, this may be your best option. To begin with, it's the only one that gives you Colm Wilkinson as Valjean while allowing you to avoid Frances Ruffelle as Eponine, should you choose to do so. Here, Eponine is Lea Salonga, whose lovely, unaffected singing of "On My Own" and the rest of the character's music is a great pleasure. Other major roles are filled by some of the most talented singing actors to have played them: Philip Quast as Javert, Ruthie Henshall as Fantine, Michael Ball as Marius, Michael Maguire as Enjolras, and Judy Kuhn as Cossette. Note that a video recording of this concert is also available. — M.P.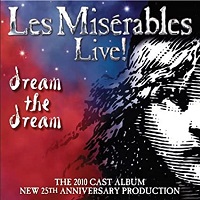 Manchester Concert Cast, 2010 (First Night, 2CDs)

(2 / 5) Here's a live recording of a concert that was presented at the Palace Theatre in Manchester, England on December 12, 2009 — but the album was released in 2010, hence the date on the packaging. With new orchestrations that were first introduced in 2006, the concert was intended to commemorate 25 years of Les Misérables in English; it should not be confused with the 25th anniversary concert that starred Alfie Boe, Norm Lewis, Nick Jonas, Lea Salonga, et al., separately available on video but not in the form of an audio-only cast album. (Some would say there are more recordings of Les Miz than necessary, and that a few of them are confusingly labeled.) The cast here is headed by John-Owen Jones as Valjean, Earl Carpenter as Javert, and Madalena Alberto as Fantine, with Gareth Gates as Marius, Katie Hall as Cosette, Jon Robyns as Enjolras, Rosalind James as Eponine, Katie Hall as Cosette, and Ashley Artus and Lynne Wilmot as the Thénardiers. All of the performances are fine if not especially distinctive, perhaps with the exception of Alberto; she brings to "I Dreamed a Dream" a sweet-yet-strong tone that allows her to communicate the emotional power of the song without sounding unpleasant when she gets to the high-belt sections of it. New orchestrations by Stephen Metcalfe and Chris Jahnke do not sound significantly different from the originals, so one might question the point behind them.  — M.P.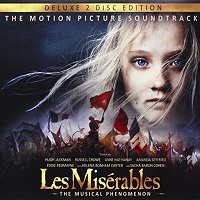 Film Soundtrack, 2012 (Republic Records, 2CDs)

(1 / 5)  A box-office hit, the film version of Les Misérables earned some critical praise for director Tom Hooper's big-screen adaptation of the musical in a way that made for somewhat clearer storytelling and more effective drama than the original stage production had to offer, yet the film and its soundtrack album must be regarded as a failure in that at least two of the stars are seriously over-parted from a vocal standpoint. Hugh Jackman began his career in musical theater, and he had great success in that sphere in such roles as Curly in Oklahoma! and Peter Allen in The Boy From Oz, but it turned out that his voice is just not right for Jean Valjean in Les Mis in terms of timbre, power, or technique, often exhibiting a buzz-saw quality and a significant wobble. Even more of a trial to hear is Russell Crowe, who as Javert sounds like exactly what he is: a movie star with lots of screen presence but almost no singing experience or ability. Vocal honors for the film, such as they are, go to Anne Hathaway as Fantine and Samantha Barks as Eponine, who respectively offer moving performances of "I Dreamed a Dream" and "On My Own." Aaron Tveit, from Broadway, brings a strong baritenor to Enjolras, and Eddie Redmayne as Marius sings surprisingly well considering that he, too, was not previously known as a vocalist, but Amanda Seyfried's soprano sounds wispy and fluttery in Cosette's music. Sacha Baron Cohen is fun as Thénardier, and as his wife, Helena Bonham Carter is not woefully miscast as she was in the film of Sweeney Todd.  Note: When this movie was released, much was made of the fact that a very large percentage of the singing in it was performed live during filming, which presumably was a further handicap for Jackman and Crowe in particular.  — M.P.