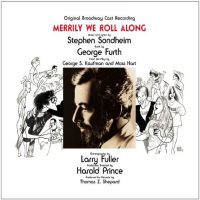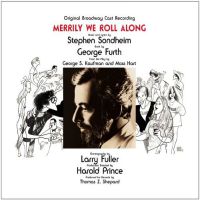 Original Broadway Cast, 1981 (RCA)

(5 / 5) A big flop in its original Broadway production, this show boasts one of Stephen Sondheim's best scores. George Furth's book, based on a George S. Kaufman-Moss Hart disappointment, follows three erstwhile best friends — a composer-turned-producer, his former lyricist partner, and an author/journalist — backward in time from adulthood to their idealistic salad days in New York, reviewing the missteps, betrayals, and compromises made along the way. With its lurid "inside" view of showbiz, the musical was dramatically unworkable. Also, the production design was disastrous; and the performers, playing gin-swilling, backstabbing sophisticates through most of the show, were too young. But none of this matters when you're listening to the recording. Savor the heartbreaking melodies and trenchant lyrics, or analyze the score's jigsaw-puzzle construction in which themes and ideas are set forth, then quoted and reworked, creating a solid emotional substructure. (The melody that's first heard as "The Hills of Tomorrow" is reused several times and serves as a strong musical through-line.) Jonathan Tunick's orchestrations are brassy and driving, and the three leads are marvelous. As composer Franklin Shepard, Jim Walton displays a piercing tenor that shines especially in "Not a Day Goes By," one of Sondheim's most wounding ballads. Lonny Price is appealing as Charley, Frank's collaborator; he easily navigates the tortuous lyrics of "Franklin Shepard, Inc." and gives a heartfelt reading of the rueful "Good Thing Going." Another plus is a young Jason Alexander as Joe. But the big revelation is Ann Morrison, devastating as Mary, the writer who descends into alcoholism while pining for Frank. She brings an overwhelming warmth and sadness to "Like It Was" and "Not a Day Goes By," and is just as strong in the invigorating "Now You Know." — David Barbour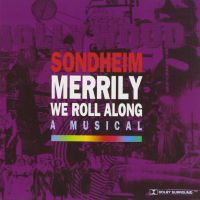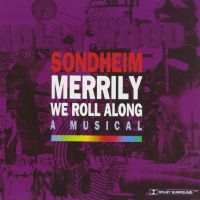 Leicester Haymarket Theatre Cast, 1993 (JAY, 2CDs)

(4 / 5) This is a recording of a heavily revised version of Merrily We Roll Along, with substantial dialogue sequences included. The story line is still plagued by a breathless view of showbiz mores, and the idea that writing Broadway musicals is a career for noble souls while working on Hollywood films is iniquitous. New material includes "That Frank," a reworking of "Rich and Happy"; "Growing Up," sung by Frank and his second wife, Gussie; and the entr'acte, bows, and exit music. Also included is a song that was cut from the original production: "The Blob," Gussie's disenchanted description of the guests at her New York party. This lively, up-tempo performance has strong work from its mostly British cast, especially Michael Cantwell as Frank and Jacqueline Dankworth as Beth, Frank's first wife. Maria Friedman strains for brittle sophistication as Mary, but she partners nicely with Dankworth and Cantwell in "Not a Day Goes By." American performer Evan Pappas is a very capable Charley, especially in "Good Thing Going." Louise Gold is an aptly cynical Gussie. Minor flaws include some shaky American accents and occasionally over-emphatic performances, but it's interesting to hear the score performed by an adult cast. — D.B.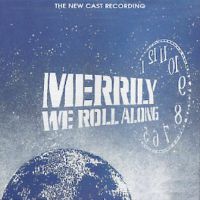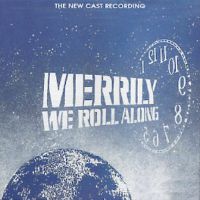 Off-Broadway Cast, 1994 (Varèse Sarabande)

(4 / 5) The York Theatre production of Merrily We Roll Along is preserved on this recording, which presents a slightly condensed version of the material heard on the Leicester Haymarket album and has a slight edge over that version because it boasts superb singing and warmer performances overall. Malcolm Gets and Adam Heller are in fine form as Frank and Charley. Amy Ryder is quite wonderful as tough-talking, heartbroken Mary.  Michele Pawk is a gutsy Gussie (her brassy rendition of "Good Thing Going" is a riot), and Anne Bobby is the most touching Beth on record, especially in "Not a Day Goes By." Jonathan Tunick's new orchestrations, for far fewer instruments than the Broadway production boasted, work quite well, giving the entire performance energy and bite. A particular standout is "Opening Doors," one of Sondheim's most dazzling numbers, in an extended sequence that shows us Frank, Charley, and Mary at the beginning of their careers. — D.B.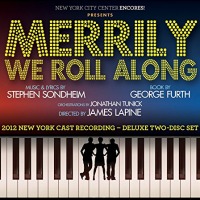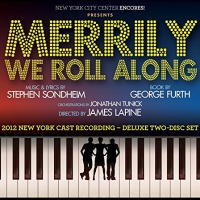 New York City Center Encores! Cast, 2012 (PS Classics)

(2 / 5) The much-anticipated Encores! concert staging of Merrily We Roll Along proved to be oddly listless, and so is this recording. The casting is partly to blame. Colin Donnell's Frank is so bland and forgettable that at times he seems to disappear from the show. Lin-Manuel Miranda is strictly pro-forma as Charley, lacking the fury (and the vocal ability) that Lonny Price brought to the role. Celia Keenan-Bolger struggles to effectively deliver Mary's acid-laced wisecracks  — e.g., PARTY GUEST: "I wrote the screenplay for Frank's movie." MARY: "Your secret is safe with me." Also, during the reprise of "Not a Day Goes By," one misses the effortless heartbreak that Ann Morrison brought to the number. Thanks to slower tempi and a general lack of urgency, one begins to notice that the song "That Frank" is inferior to the one it replaced, "Rich and Happy," and that "Growing Up" and "The Blob" are among the weaker numbers in Sondheim's songbook.  Adam Grupper and Elizabeth Stanley are fine as Joe and Gussie, with Betsy Wolfe the standout as Beth. Completists will want this recording, especially given the personnel involved, but any of its predecessors makes a better case for this famously troubled, heartbreaking show. — D.B.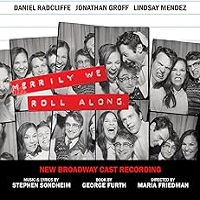 Broadway Cast, 2023 (Masterworks Broadway)

(4 / 5)  Endlessly fussed over but arguably never improved since its original production, Merrily We Roll Along finally achieved smash-hit status via Maria Friedman's 2023 Broadway revival, which yielded this cast album. With Sondheim's passing in 2021, and with the original score and script unavailable for production, this is presumably the final, standard version—alas. Dropping the framing device of two high school graduations has meant losing "The Hills of Tomorrow," the score's Rosetta Stone and the key to its many musical inventions. The title song, originally sung by the young cast members rebelling against the middle-aged Frank's commencement speech, makes an enervated stand-alone opening number that, rather than building, merely repeats itself. "Growing Up," designed to showcase the expanded role of Gussie — now a grasping, man-eating Broadway star who swallows Frank whole — is a low-energy pill inserted once into each act, its lyrics only adding to the show's oversupply of editorializing. And yet: The crisp, staccato rendering of the overture pulses with excitement, and the three leads are sensational throughout. "That Frank" plays better than usual, thanks to the tense back-and-forth between Jonathan Groff's Frank and Lindsay Mendez's Mary. Mendez brings an autumnal regret to "Like It Was" and "Not a Day Goes By." Daniel Radcliffe's intelligent, furiously intense "Franklin Shepard, Inc." may be the best since Lonny Price's. All three stars display combustible chemistry in "Old Friends" and, in "Opening Doors," their mutual affection feels natural and unforced. Katie Rose Clarke brings an interesting sense of grievance to "Not a Day Goes By." Though Radcliffe will never be primarily known as a singer, his performance of "Good Thing Going," has a touching sensitivity that contrasts effectively with the blowsy, brassy rendition of Kristal Joy Browne as Gussie, exposing how Frank and Charley's work has been vulgarized for Broadway. Merrily continues to be the ultimate heartbreaker, an unfixable show with a superb score, and an endless source of argumentation among fans. If you own the original recording and this one, you have a clear picture of what happened to it on its long, slow journey to box office success. — D.B.