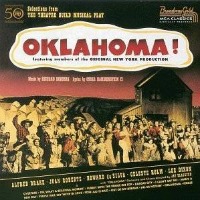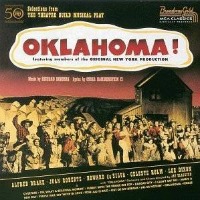 Original Broadway Cast, 1943 (Decca)

(5 / 5) This thrilling cast album of Rodgers & Hammerstein's Oklahoma! score is the one, the only, the original that's credited with starting it all. The show was a groundbreaking triumph in its day, and Decca pulled out all the stops to preserve its musical component; this was the first time a full score was recorded commercially by the entire original cast with the original orchestrations as heard in the theater. The album glories in such now-classic R&H songs as "Oh, What a Beautiful Mornin'," "The Surrey With the Fringe on Top," "Kansas City," "People Will Say We're in Love," "Out of My Dreams," and the exhilarating title tune, all delivered with enormous spirit and enthusiasm. In particular, the joyous performances of Alfred Drake as Curly and Celeste Holm as Ado Annie show us why these two stars launched major careers with this show. That said, there's an antique quality to aspects of the recording that may be jarring; the performers' enunciation is exaggerated as if for stage delivery, rather than being modified for the studio sessions, and the limitations of the era's technology also make the orchestrations sound a bit squeaky. Still, this is not only the first recording of a great American musical but also, for all intents and purposes, the original original cast album. As such, it's a must for any serious collector. Note: The two most recent editions of this classic offer all of the songs from both Volumes I and II of the recording as released back in the 1940s, including "The Farmer and the Cowman," "Lonely Room" (sung by Alfred Drake, not by Howard Da Silva, who originated the role of Jud), and a few other tracks from Volume II. Sadly missing, because it was not recorded at the time, is the music that accompanied the groundbreaking dream ballet "Laurey Makes Up Her Mind" as created and choreographed by the great Agnes de Mille. — Gerard Alessandrini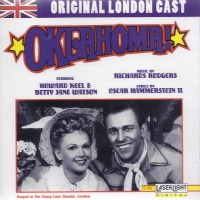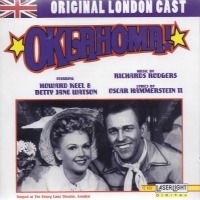 Original London Cast, 1947 (HMV/various CD labels)

(2 / 5) The original London production of Oklahoma! was recorded in severely edited fashion, with the songs laid down as medleys on 78-rpm platters — four medleys of 12 songs. Curly is sung by Howard Keel (or, as he was billed at the time, Harold Keel), whose strong voice is immediately identifiable. Betty Jane Watson as Laurey sings very nicely until the last note of "People Will Say We're in Love," when she hits a high Q-sharp above P. The result is the screechiest soprano sound since Janet Leigh screamed bloody murder in Psycho. Because so much of the score is omitted, this album is worth hearing mainly to enjoy the baritone of the young Keel as recorded a few years before he became a star of M-G-M movie musicals. — G.A.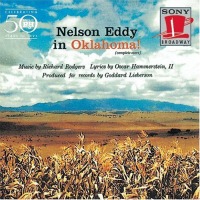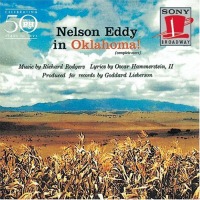 Studio Cast, 1952 (Columbia/Sony)

(3 / 5) Produced by Goddard Lieberson, this fine recording is conducted by Broadway maestro Lehman Engel. Hollywood singing star Nelson Eddy is Curly; his strong, beautiful voice is a natural for this romantic baritone role, but he may sound a bit too operatic and stodgy for some listeners. Kaye Ballard's Ado Annie is a classic turn, her belt voice and comic genius making for one of the best recordings of "I Cain't Say No." Virginia Haskins is a lovely Laurey, the great Portia Nelson is on hand as Aunt Eller, and Wilton Clary rounds out the cast as Will Parker. With its high-fidelity sound, this album gives us a better sense of Robert Russell Bennett's orchestrations than does the 1943 recording. While it's far from the best aural document of Oklahoma! in sum, there is much to recommend it. — G.A.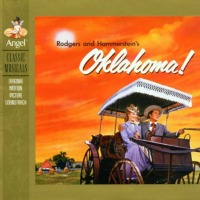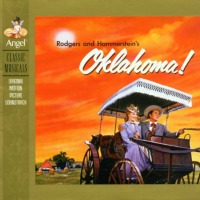 Film Soundtrack, 1955 (Capitol/Angel)

(5 / 5) Although the original Broadway cast album of Oklahoma! is a treasure, the film soundtrack recording is even more satisfying overall. Beautifully recorded in stereo, the score is even closer to complete here, and the performances remain unsurpassed. The singing of Gordon MacRae and Shirley Jones is magnificent; with their melodic voices and naturalistic diction, they offer perfect examples of how to deliver musical theater material. MacRae's renditions of "Oh, What a Beautiful Mornin'" and "The Surrey With the Fringe on Top" are superb, while Jones's singing in "People Will Say We're in Love" and "Out of My Dreams" is breathtaking. Neither of their performances, nor those of Gloria Grahame as Ado Annie, Gene Nelson as Will Parker, and the rest of the cast, sound the least bit dated. The grand orchestrations are expanded from the Broadway originals and a bit Hollywoodized, but never overblown. Angel's expanded CD contains two overtures and all of the film's (and show's) wonderful dance music, including the dream ballet. — G.A.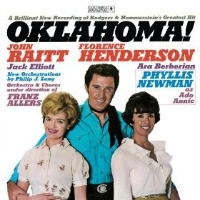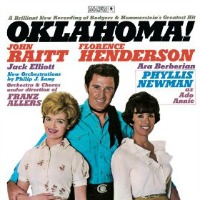 Studio Cast, 1964 (Columbia/Masterworks Broadway)

(1 / 5) John Raitt did not create the role of Curly in Oklahoma!  but he played it on tour.  (Rodgers and Hammerstein liked Raitt so much that they cast him as Billy Bigelow in their next show, Carousel.)  When Columbia decided  in the mid 1960s to make a stereo studio recording of Oklahoma! starring Raitt, it sounded like a brilliant idea. Unfortunately, a "fresh approach" to the score was taken, and the results are fairly disastrous. Philip J. Lang created new, punched-up orchestrations that have a 1960s camp edge and are nowhere near as thrilling as the originals. Columbia's famous "360 Stereo" sound is very shrill in this case, and is loaded with the electronic reverb that was popular at the time. Florence Henderson, who had played Laurey as a replacement on Broadway, is only adequate here; she might have come across better if  the recording had been more faithful to the Broadway score. Phyllis Newman makes a fine, funny Ado Annie, but, again, her work is sabotaged by the arrangements and orchestrations. Some of the supporting performances are so twangy and Hillbilly-sounding that they're hard to listen to. "Oh! What a Beautiful Mornin'" is the only commendable track on the album, because the orchestrations for this song are less phony sounding than the rest, allowing Raitt's lovely interpretation to shine through. Still, on the whole, the recording sounds nothing like a theatrical performance and is a huge disappointment.  — G.A.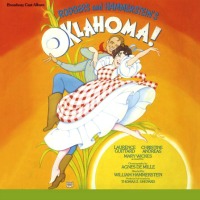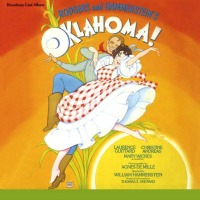 Broadway Cast, 1979 (RCA)

(3 / 5) Here's a spirited performance led by Jay Blackton, conductor of the original Broadway production of Oklahoma! as well as the soundtrack score of the film version. The 1979 Broadway revival of the show that yielded this cast album was a hit, and the sound quality of the recording is excellent. Christine Andreas is full of warmth and pluck as Laurey, Mary Wickes is perfect as Aunt Eller, and Christine Ebersole is terrific as Ado Annie. The disappointment is that Laurence Guittard, although a fine singer, seems miscast as Curly. In fact, Martin Vidnovic as Jud sounds so much sexier than Guittard that you almost wish Laurey would leave Curly and run off with him! — G.A.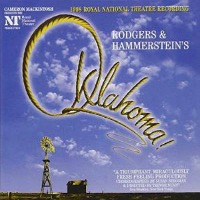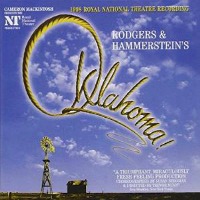 London Cast, 1998 (First Night)

(4 / 5) Director Trevor Nunn's acclaimed reinterpretation of this great American musical for London's National Theatre  brought forth elements of the Lynn Riggs play Green Grow the Lilacs, upon which Oklahoma! is based. Hugh Jackman may not sing with the beauty of Gordon MacRae, but he brings plenty of gusto and sex appeal to the role of Curly. Josefina Gabrielle was billed as the first woman ever to act, sing, and dance the part of Laurey, rather than yielding to a counterpart in the dream ballet. Of those three talents, her singing is the least impressive, but her delivery of Laurey's songs doesn't seriously compromise the recording. Maureen Lipman as Aunt Eller and Shuler Hensley as Jud Fry are both outstanding, the latter giving an emotionally complex, spine-tingling performance of "Lonely Room" that surpasses all other versions. The original orchestrations were revamped by William David Brohn to great effect, and David Krane created new dance music for the show's stunning new choreography by Susan Stroman. — G.A.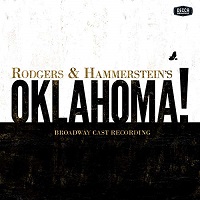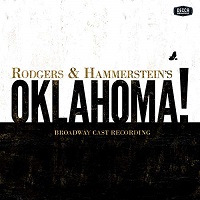 Broadway Cast, 2019 (Verve-Decca Broadway)

(1 / 5) Daniel Fish directed this radically reinterpreted production of Oklahoma! and, in so doing, largely contradicted the tone, spirit, and worldview set forth by the show's creators. Yet the disrespectful elements of this revisal were mostly limited to the staging, the choreography, and the direction of the actors — for example, the implication of a homoerotic attraction between Curly and Jud, the addition of a sex act (not seen, but clearly heard in darkness ) between Jud and Laurey,  the ridiculous re-conception of the dream ballet, and the murder of Jud by Curly in cold blood. Meanwhile, the adaptation and performance of the score were quite well done and pleasing overall, with the major exception of the dream ballet (see below). For the most part, Daniel Kluger skillfully re-orchestrated the classic R&H songs for a country-style band and, with some help from Nathan Koci, effectively rearranged the choruses for a singing ensemble much smaller than what would be heard in a traditional presentation of this score. Two of the lead singers are standouts: Damon Daunno is a warm, sexy, pleasantly yodeling Curly, and Ali Stroker a high-spirited, country-belting Ado Annie. Also very listenable are James Davis's appealing Will Parker and Patrick Vail's damaged yet empathetic Jud. But Rebecca Naomi Jones is unpleasant to hear in most of Laurey's music, especially when required to sing way above her natural alto range due to someone's strange decision not to lower the keys of certain songs far enough for her comfort; and even where the keys have been transposed to fit Jones's range, she still dissatisfies because her vocal timbre is so ill-suited to the role. Her performance and the destructive, wholesale rearrangement of the music for the dream ballet (here dominated by "fuzz guitar") drag this recording down from the higher estimation it would otherwise have received. — Michael Portantiere