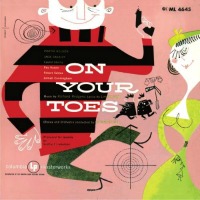 Studio Cast, 1952 (Columbia/Sony)

(3 / 5) One of musical director/conductor Lehman Engel's sturdier studio-cast efforts, this rendering of the 1936 hit by Richard Rodgers and Lorenz Hart tries harder than most in the series to sound like a cast album of a stage production. The orchestrations hew closely to Hans Spialek's originals; Engel even throws in a convincing entr'acte, and his conducting brings out all the urban excitement of the "Slaughter on Tenth Avenue" ballet. Jack Cassidy's tenor brings sensuousness to "There's a Small Hotel" and "It's Got to Be Love." Portia Nelson is equally effective with "Glad to Be Unhappy," and Laurel Shelby, a wonderfully dry musical comedian, chews her consonants stylishly in "The Heart Is Quicker Than the Eye" and "Too Good for the Average Man." The song order is quite inaccurate, some numbers are assigned to the wrong characters, and the album is capped by one of Engel's annoying greatest-hits finales. Still, it has plenty of theatrical personality — and, of course, the score is evergreen. — Marc Miller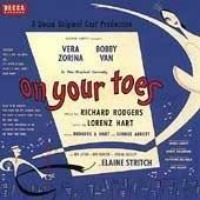 Broadway Cast, 1954 (Capitol/Angel)

(2 / 5) The 1954 revival of On Your Toes starred premiere danseuse Vera Zorina, who had starred in the 1937 London production and the 1939 movie version. But she's not heard on the cast album — because her character, Vera Barnova, does no singing. Nor is this recording at all faithful to the tone of the show as originally conceived and written; Don Walker's arrangements, adept enough in their brassy way, don't feel right for this comparatively gentle and witty score. Light-on-his-feet leading man Bobby Van is also light of voice, and his love interest, Kay Coulter, is a nonentity even in such can't-miss material as "There's a Small Hotel" and "Glad to Be Unhappy." Joshua Shelley, a reliable Broadway pro, is almost unintelligible in "Too Good for the Average Man," But this Capitol recording, long out of print and belatedly reissued on CD (with too much treble in the mix), does have its ace in the hole: Elaine Stritch, serving up an unforgettable performance of "You Took Advantage of Me." It's a rare instance of a Rodgers and Hart interpolation actually helping one of their scores. — M.M.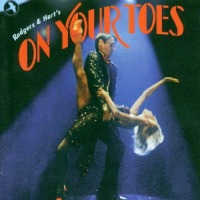 Broadway Cast, 1983 (Polydor/JAY)

(4 / 5) Director George Abbott, at age 96, returned to Broadway with this impeccably produced revival and was rewarded with a long run and critical adoration. Hans Spialek, almost as old as Abbott, was on hand to restore his orchestrations; they're as imaginative and distinctive in 1983 as in 1936, and John Mauceri conducts them like the authority he is. Ballerina Natalia Makarova danced gracefully in this show and also proved herself to be a knockout comedian, but you won't find her on the cast album. However, you will find Christine Andreas, offering a definitive "Glad to Be Unhappy." She overpowers her leading man, Lara Teeter, a brilliant dancer but an uncertain singer. Nor does Dina Merrill, thin of voice and not naturally funny, quite measure up in "The Heart Is Quicker Than the Eye" or "Too Good for the Average Man" — but, luckily for her, she's wonderfully partnered in "Average Man" by George S. Irving. Overall, this digital stereo recording is a fine preservation of a joyful production. The CD edition includes an extended "Slaughter on Tenth Avenue," the "Princess Zenobia" ballet, and a sensitive "Quiet Night" reprise by Irving. — M.M.