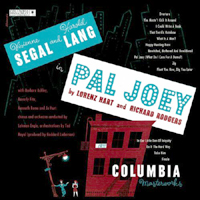 Studio Cast, 1950 (Columbia/Sony)

(5 / 5) Joey, a small-time entertainer bent on opening his own nightclub, drops his girlfriend, Linda, to bed Vera, a rich dowager who's bonkers for him and who backs his venture. When this sophisticated saga premiered on Broadway in 1940 as Pal Joey, the production did not generate a cast album. But, over the next decade, the Richard Rodgers-Lorenz Hart songs grew so in popularity that, by 1950, the score was ripe for a full recording. Conductor Lehman Engel and producer Goddard Lieberson created a cast album featuring the original Broadway leading lady, Vivienne Segal, as Vera. In place of Gene Kelly, who had been scooped up by Hollywood following his acclaimed stage portrayal of Joey, dancer Harold Lang was brought in, fresh from his Broadway triumph in Kiss Me, Kate. The results are spectacular. The performances on this recording are definitive and, for the most part, the original orchestrations are intact. Rodgers' beloved melodies and Hart's witty lyrics are a joy throughout. Segal delivers Vera's solos, "What Is A Man" and "Bewitched, Bothered and Bewildered," to perfection, and her two duets, "In Our Little Den of Iniquity" with Lang and "Take Him" with Beverly Fite as Linda, are just as great. Lang's singing of "I Could Write a Book" as a duet with Fite is very persuasive, and his rendition of "You Mustn't Kick It Around" will set you to dancing in your living room. — Gerard Alessandrini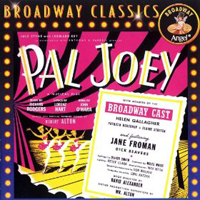 Broadway/Studio Cast, 1952 (Capitol/Angel/DRG)

(3 / 5) This first Broadway revival of Pal Joey, in 1952, was prompted at least in part by the solid success of Lehman Engel's 1950 studio recording of the score (see above). Since that album was on the Columbia label, Capitol Records had to replace Vivienne Segal and Harold Lang, who starred in the revival, with two singers from its stable for the revival cast album. So here we have a cast recording without the stars of the production it was based on. Jane Froman as Vera and Dick Beavers as Joey sing the songs well from a musical standpoint, but they don't quite connect with the caustic aspects of Hart's lyrics. The score has been re-orchestrated, and the results are pleasant enough but inferior to the originals. The recording's ace in the hole is Elaine Stritch's unsurpassed performance of "Zip," which catapulted her to stardom. Helen Gallagher's tracks are also brilliant and brassy. (Note: A DRG CD reissue of this recording includes Jane Froman performing selections from With a Song in My Heart. It's a nice match). — G.A.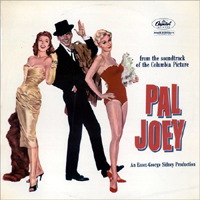 Film Soundtrack, 1957 (Capitol)

(3 / 5) Here's a terrific Frank Sinatra album that has little to do with Pal Joey as seen and heard on Broadway, seeing as how the show's score and story are all but lost in the film version. The arrangements, by Nelson Riddle and George Dunning, are swinging and cool. They make for some fine pop recordings of Richard Rodgers' music, but Lorenz Hart's brilliant work is not served as well. Most of his caustic and/or risque lyrics were changed, dropped, or clumsily "cleaned up" for the movie by an uncredited hand; gone, for example, are such great Hart lines as Vera's "I'm vexed again, perplexed again, thank God I can be oversexed again!" Some of the background scoring is pleasant, owing more to the flexibility of Rodgers' music than to Morris Stolloff's musical direction. There is also an attractive "Joey" theme running through the film and recording, but it doesn't seem to have been written by Rodgers — another uncredited mystery. The album's best selections are "The Lady Is a Tramp" and "I Didn't Know What Time It Was" as sung by Sinatra. Both are classics, but neither song is from the original Pal Joey score. — G.A.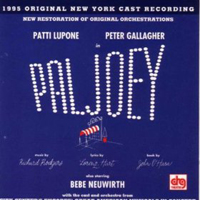 Encores! Cast, 1995 (DRG)

(2 / 5) This is a worthy attempt at a complete stereo recording of Pal Joey, but even though the production that yielded it was  performed by solid pros, the cast album is generally dull. The major exceptions are Patti LuPone's contributions. Perfectly cast as Vera, LuPone delivers Hart's wry lyrics with savvy, and her versatile, pitch-perfect voice serves Rodgers' music very well. Her standout number is "Bewitched, Bothered and Bewildered," complete and uncensored. On the other hand, Peter Gallagher is not in good vocal form here, however well suited he is for the role of Joey in other respects. Many of Gallagher's sustained notes in the ballads are slightly flat, and in the up-tempo numbers, he sounds lethargic. In the supporting role of Melba, Bebe Neuwirth doesn't come across with enough sass or brass. And while the original orchestrations are here, the orchestra sounds sloppy and sometimes lags behind the singers. In sum, this recording is worthwhile for LuPone's performance and for the inclusion of "I'm Talkin' to My Pal," a great Rodgers and Hart song that was originally slated to end the show but was dropped during the pre-Broadway run in Boston. — G.A.