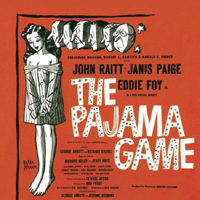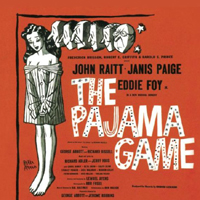 Original Broadway Cast, 1954 (Columbia/Sony)

(3 / 5) For a primer on the state of musical comedy in the mid-1950s, look no further than here. The Pajama Game was based on notably "unmusical" source material: a novel called 7 1/2 Cents that took a lighthearted look at labor-management conflict in a Midwestern pajama factory. Songwriters Richard Adler and Jerry Ross created a score full of songs that were (mostly) tied to the action yet stood on their own as pop tunes: "Hey, There," "Steam Heat," and "Hernando's Hideaway." The show ran for well over two years, followed by Adler and Ross's next hit, Damn Yankees. (Alas, further triumphs would not be possible; Jerry Ross died in 1955.) The original cast album, while acceptable, is not the best souvenir of this show. Fortunately, John Raitt is in charge as Sid Sorokin, and that tenorial baritone of his can attack a mediocre number like "A New Town Is a Blue Town" and glorify it. When he gets a truly good song, such as "Hey There," the bliss factor rises accordingly. Opposite him as Babe, Janis Paige belts with gusto even if she's occasionally off-pitch. Dancer Carol Haney, who made a major impression in the show with "Steam Heat" and "Hernando's Hideaway," is not terribly comfortable as a singer. Showbiz veteran Eddie Foy, Jr. has no such problem, and he and Reta Shaw sail happily through "I'll Never Be Jealous Again." — Richard Barrios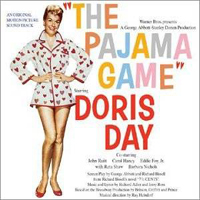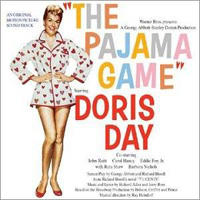 Film Soundtrack, 1957 (Columbia/Collectables)

(4 / 5) Hollywood treated The Pajama Game grandly. Most of the songs, dances, and Broadway cast were retained. As Gladys, Carol Haney comes across much better here than on the prior recording; her smoky tone in "Hernando's Hideaway" now insinuates through the number's tango rhythms with ease. As Sid, Raitt is again exemplary. "A New Town Is a Blue Town" is gone, but not much missed, and Raitt's singing of "Hey There" and everything else he does is wonderful. Where the movie really trumps Broadway is in its Babe; Doris Day is so ideally cast that such songs as "I'm Not at All in Love" seem to have been written for her. Another Hollywood addition is the memorably squeaky-voiced Barbara Nichols as Poopsie. Eddie Foy, Jr. and Reta Shaw are again in fine form, and the album contains a fair amount of dance music. — R.B.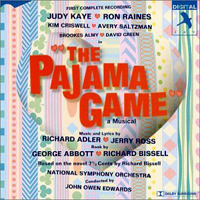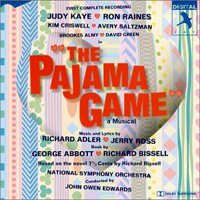 Studio Cast, 1996 (JAY, 2CDs)

(2 / 5) The Pajama Game has remained a favorite of stock companies and community theaters. The show even enjoyed a staging by the New York City Opera in 1989, and the leading lady of that production, Judy Kaye, heads this London studio cast album. Every scrap of music was recorded and, as a result, posterity now has a complete aural document of the score. The most important addition is the "Jealousy" ballet, in which Carol Haney had shone in the original production. Solid pro Ron Raines as Sid the finest of the leads, while Kim Criswell sounds a bit uncomfortable as Gladys. Kaye works hard as Babe, sometimes ratcheting up to overblown, but on balance, she comes through well. The rest of the mixed American-British cast sings enthusiastically. — R.B.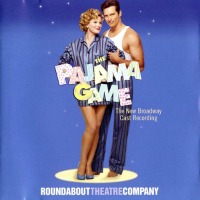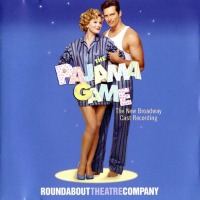 Broadway Cast, 2007 (Columbia)

(3 / 5) Since the first Broadway revival of The Pajama Game, in 1973, was both unsuccessful and unrecorded, the show was over half a century old by the time a New York revival made it to the recording studio. The limited-run production by the Roundabout Theatre Company was well received, copping Tony Awards for Best Revival and for choreography. It was less a reimagining of the show than a primary-colored hommage, and that's how it comes across on the cast album. The score holds up well, and with the exception of Megan Lawrence's over-mannered Gladys, the cast delivers commendably and with gusto. Much of the interest in the show centered around Harry Connick, Jr. making his Broadway debut as Sid. (He also co-produced this recording.) While the one-time wunderkind of jazz-pop makes for a lighter-voiced hero than is traditional, many listeners are likely to feel that his performance works, Sinatra inflections and all. Perhaps it's not too surprising that Connick gets an added piano break in "Hernando's Hideway," presumably to satisfy his fans. Fortunately, he performs opposite Kelli O'Hara, whose Babe is perhaps less gutsy than Janis Paige's or Doris Day's but, in its own right, is full of character and spunk. Michael McKean is a good Hines, and Roz Ryan a dandy Mabel. The orchestra and chorus are as polished as they are enthusiastic, and on the whole, this is about as good a version of the old show as could have been expected on 21st-century Broadway. (Note: The original issue of the cast album on CD packaged it alongside a second disc that featured Connick and O'Hara singing songs from Connick's score for Thou Shalt Not. The stand-alone Pajama Game disc was issued subsequently.) — R.B.