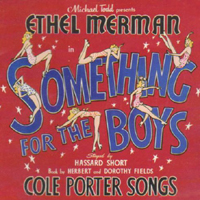 Ethel Merman and Original Cast Members, c. 1944 (AEI)

(3 / 5) Perhaps the definitive wartime musical, Something for the Boys was a hit for Cole Porter and Ethel Merman. It offers an enjoyable score, but not a major one. (Forget the book, the plot of which climaxes when the Merman character, Blossom Hart, discovers that her dental work can intercept Axis radio messages.) You keep hearing echoes of earlier, better Porter in some of the songs: "He's a Right Guy," for instance, bears more than a passing resemblance to "I Get a Kick Out of You." "By the Mississinewah" isn't clever enough to overcome its jarring political incorrectness; it might have been funny to watch Merman and Paula Laurence schlep through a faux-squaw routine, but the song itself doesn't cut it. Although the notes don't say so, these tracks were drawn from two radio broadcasts: Merman sings "I'm in Love With a Soldier Boy," which had been sung by Betty Garrett onstage, and Laurence has been replaced in Chiquita Hart's numbers by Betty Bruce, who was also in the original cast. But the recording does give us Merman in her star-spangled prime, plus the excellent Bill Johnson as her romantic interest. — Richard Barrios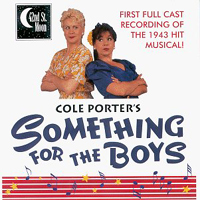 San Francisco Cast, 1997 (Music Box)

(2 / 5) Even a second-rate work by a master such as Cole Porter is worth knowing, and Something for the Boys hasn't been entirely neglected in later years. Several small-scale revivals have been staged. San Francisco's intrepid 42nd St. Moon company's production prompted this complete recording, with piano accompaniment. This show was never intended to be a piece for the ages; it's theatrical junk food that's pretty tasty and not wholly without nutrition. But it does require a pair of star voices, and here the San Franciscans come up somewhat short: Meg Mackay and Joseph Lustig are engaging, but the score needs more. At least the "Mississinewah" number, as performed by Mackay and LesleyHamilton, has some o fthe bawdy sheen that must have caused folks to cheer back in 1943. — R.B.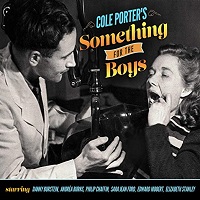 Studio Cast, 2018 (PS Classics)

(2 / 5) With this note-complete recording, Something for the Boys receives a treatment denied to a number of other Cole Porter shows, the superior Jubilee in particular. No doubt about it, Porter's rowdy wartime score has been treated with loving care by everyone at PS Classics, and they even threw in a marching band! It has to be reported, however, that the show might have benefited from a little less love and a little more dirt. The entire performance is correct and entertaining, most certainly — but a quick listen to some of those original cast recordings will show what's needed and what's missing. This is nowhere more apparent than with Elizabeth Stanley, a clear-voiced non-belter cast in the Merman role. While her dialogue is a little closer to the mark, it all sounds more gracious than boisterous, which isn't the right approach. (Stanley as Blossom Hart is reminiscent of Ann Sothern taking over for Merman as Panama Hattie.) Danny Burstein is sturdy as always, the rest of the cast is completely competent, and there are indeed moments when the 1944 swing-and-brass come through. Still, like Ms. Stanley, it's all too smooth, even dainty, for this kind of material. — R.B.